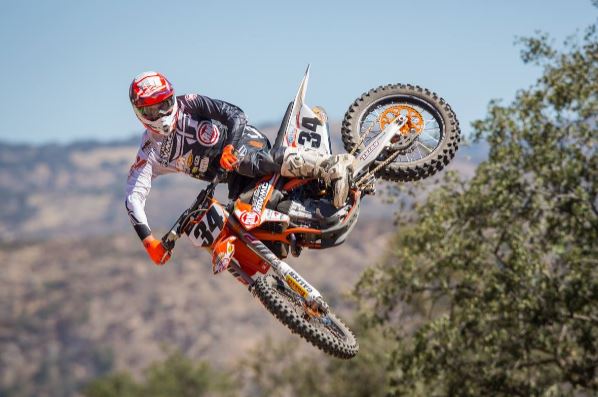 PRESS RELEASE – Guam Motorcycle and ATV Corporation, the National Motorcycle Federation in FIM (Federation Internationale de Motocylisme) is going to the FIM MOTOCROSS OF NATIONS (MXON) for the first time in history at Redbud, Michigan on September 23-25, 2022. MXON is the Olympics of Motocross, where countries with the best of the best racers in their respective countries gather once a year for their nation's bragging rights. There is a revolving trophy that goes back decades.
Guam's riders consist of our own Sean Salas Lipanovich, professional racer and owner/trainer for SLMX Motorcycle Riding School, Benny Bloss of Missouri, a professional racer for Team BBMX (Butler Brothers MX), and Joshua Varize of Perris, CA, a professional racer for Team AEO.
GMAC was able to recruit 2 American riders through Pete and his son Sean Lipanovich and their contacts in the professional motocross world. All three riders sailed through all of the FIM requirements for licenses, start permission, and qualifications. There were many other riders wanting to be on Team Guam, but the selection was made and we feel we have a very solid and consistent Team.
The team managers are Pete Lipanovich of Guam and Charlie Burgess of Diffy Smooth Photography from Indiana. They will handle all the requirements, regulations for the races/bikes and keep the team motivated. We have 4 mechanics, 1 suspension specialist, logistical support that keeps the pits or paddock organized, everybody comfortable and fed.
We have 11 support persons in our team, so we are going to be well taken care of. We have the Hoosier Tire company donating their professional pit trailer use, with major financial support from SLMX Motorcycle School, Dr. Stanley Y. Yasuhiro, DDS (Tumon Dental Office) and our very own Guam Visitor's Bureau (GVB). We have several mainland sponsors listed in our poster, but our local sponsor Kautz & Sons Glass Co. Inc stepped up as David Kautz always does, for the much needed last minute support for Team Guam. GMAC would like to thank all the sponsors and individuals that are helping to make motocross history, from both Guam and the states.
There will be 3 different classifications. MXGP (MX1) – 450cc 4 stroke, MX2 – 250cc 4 stroke, and OPEN – 290cc 4 stroke and up to 650cc. Each rider will be in one class. There will be qualifying races on Saturday, which will put the top 20 nations in for the show on Sunday.
There are 34 nations entered and only the top 20 will race MXON. Guam has a very good chance of getting in the top 20 nations list for MXON on Sunday. All 3 of our riders are very consistent riders. Most countries, including Team USA, has not been winning MXON for over a decade due to falls and crashes that injure the riders. Our strategy is to race within their comfort zone in the beginning, then slowly build up speed while sizing up the competition.
Team Guam does not have Manufacturer Factory equipment, but we have determination as seen in the recent finishes and standings of our riders in the Lucas Oil Outdoor Nationals in the states. Other Teams from FIM ASIA region are Team Japan, who has the red hot Jo Shimoda racing for them. Team Philippines has entered and will vie for one of the 20 nation slots for Sunday's MXON.
Sean Lipanovich – OPEN class rider
I am born and raised in Guam, 2007 Mini O SX champion schoolboy class , Loretta Lynn's 3rd 250 B class , 2018 FIM Asia Asian SX champion MX2 (250cc), 2nd Brazil SX championship , raced on AMA Pro SX and MX for teams Honda of Troy ,Suzuki City Arma Energy, violation KTM race teams . Owner of SLMX School.com . Test rider for KTM/WP suspension, and dirt bike magazine.
Benny Bloss – MXGP (MX1) class rider
My name is Benny Bloss and I race 450 Supercross and Motocross. I've been racing professional for 7 years. This will be my first time competing at MXON and I'm very excited to go there and represent Team Guam.
2014 Monster Energy Cup Amateur All Stars 3rd Place, 2015 Loretta Lynn's Open Pro Sport Champion, 2015 Horizon Award Winner, 2015 Grand Championships AMA Athlete of the Year, 2016 Pro Motocross 450 Rookie of the Year, 2016 450 Pro Motocross series 6th place overall, 2018 450 Supercross Rookie of the year, 2018 450 Supercross series 15th overall, 2018 450 Pro Motocross series 7th overall, 2019 450 Pro Motocross series 12th overall, 2020 450 Supercross Series 17th overall, 2022 450 Pro Motocross series 13th overall.
Josh Varize – MX2 class rider
My name is Joshua Varize, I'm 20 years old, and I ride for AEO Powersports KTM. I've been racing professionally for two years and excited to be racing MXON for the first time in my career for Team Guam.
2014 65cc 10-11 limited Loretta Lynn's Champion, 2015 Monster Energy Cup 3rd supermini class, 2021 Monster Energy AMA Supercross 250SX East 7th place overall, 2019 Lucas Oil AMA Pro Motocross 125 All Star Win, 2021 Lucas Oil AMA Pro Motocross 250 17th place overall.

QUICK HITS
The Figo Islanders 40s women's softball team took gold in the Senior Softball World Championship in Las Vegas. Figo came out of the loser's bracket and beat the Arizona Belles 17-3 in the AA division championship game Sunday afternoon.
Other Guam teams that played in the 40s tournament were: Team SOTTA (women's) and Bud Light Guam, Friars 671 and Sindalun Guahan (men's).
Sindalu finished a respectable 4th out of 24 AAA division teams.