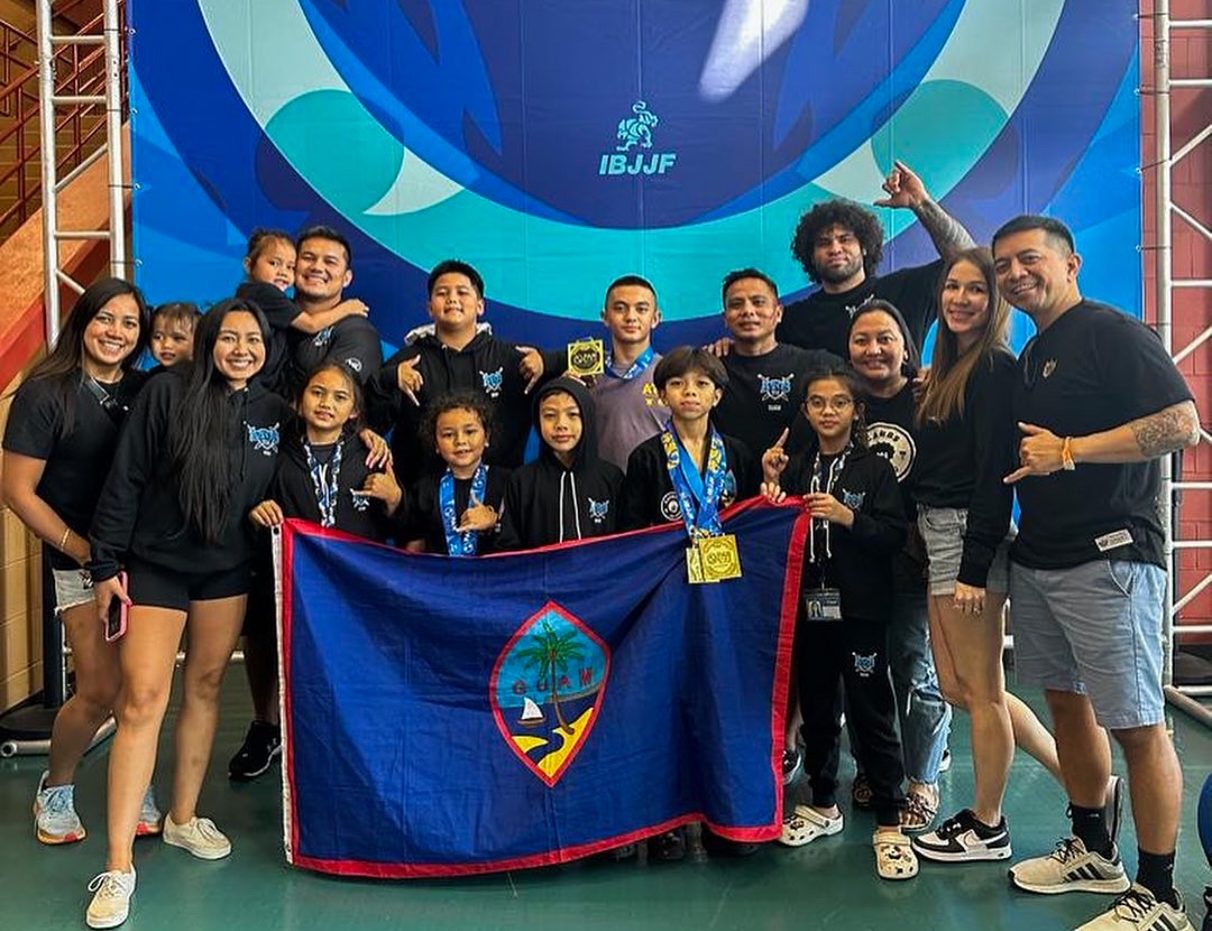 PRESS RELEASE – On July 21, 2023, Atos Jiu-Jitsu Guam sent a team of seven kid competitors all the way to Florida to compete at the 2023 IBJJF Pan Kids Jiu-Jitsu Championships. This event was held at Osceola Heritage Park in Kissimmee, Florida and is considered to be the most elite and prestigious tournament for kids in the Jiu-Jitsu world; bringing close to 600 competitors from various countries all around the world for a 3-day event. Atos Jiu-Jitsu Guam brought home 1 gold medal, 1 silver medal and 1 bronze medal.
"On behalf of myself, my family and our team, I wanted to send a big Si Yu'os Ma'ase to everyone that helped us come out to Florida to compete and represent our island at the 2023 IBJJF Pan Kids Championships. It was a great experience for our island's youth and our Academy as our 7 kids went out on the biggest stage of Jiu-Jitsu and represented what our island is all about and put our island on the global map in the world of Jiu-Jitsu. We are coming home with three medalists – Sage Cruz, Gold in the Junior 2 Yellow Belt Category, Zomu Carbullido, Silver in the Mighty Mite 3 Grey Belt Category and Troy Rosario, Bronze in the Teen 1 Grey Belt Category. All seven of our athletes fought with alot of heart and alot of pride for our island. They worked really hard leading up to this tournament, dedicating alot of time to our 8 week training camp, with multiple training sessions per day, 6 days a week, and strength & conditioning and private lessons on the side. We would like to thank the island's community, local businesses and agencies, the Guam Visitors Bureau, GEDA, and our families and friends who supported us through all this and helped allow our kids to travel and compete. Thank you to our team, our students and our instructors of Atos Jiu-Jitsu Guam who helped these athletes train and prepare for an event of this caliber. Our Academy is just a year and half open, but we are excited and will continue to work hard in accomplishing even more on island and on a global scale. We have big dreams as a team and as the head professor, I am honored and motivated every day to help our youth and adult athletes acheive their goals and accomplish their dreams, " stated Mike Carbullido, Owner and Head Professor.
For more information, contact Atos Jiu-Jitsu Guam at [email protected] or via whatsapp at 671-486-5147.
PHOTO GALLERY BROUGHT TO YOU BY:

QUICK HITS
The Figo Islanders 40s women's softball team took gold in the Senior Softball World Championship in Las Vegas. Figo came out of the loser's bracket and beat the Arizona Belles 17-3 in the AA division championship game Sunday afternoon.
Other Guam teams that played in the 40s tournament were: Team SOTTA (women's) and Bud Light Guam, Friars 671 and Sindalun Guahan (men's).
Sindalu finished a respectable 4th out of 24 AAA division teams.