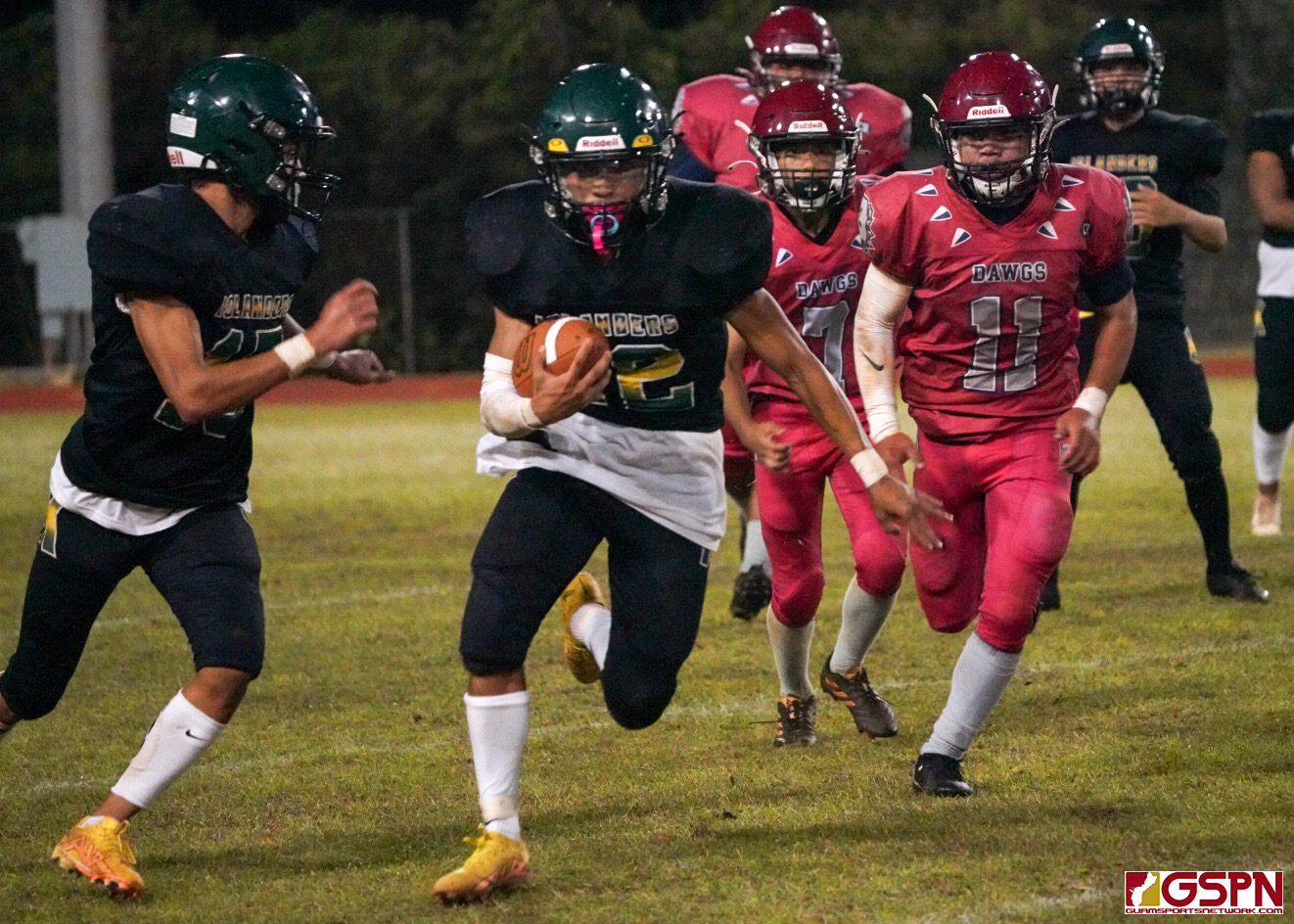 By Jay Leon Guerrero
Joshua Benavente rushed for 154 yards and a touchdown to help the JFK Islanders improve to 3-1 in the ISA Football League. After dropping their first loss last week to the FD Friars, the Islanders bounced back with a 30-0 win over the winless Okkodo Bulldogs Thursday night at Ramsey Field.
"The team did not like the taste of defeat. We came out and practiced hard and were able to capitalize tonight," said Benavente.
The Bulldogs took the field first and had two first down runs led by running back Jayven Mendiola.
The Bulldogs were forced to punt after JFK's Izaiah Sablan made a tackle for loss.
With midfield position, JFK quarterback Noah Medler found Jermaine Molo for a 48-yard connection to set up a goal line score from Pierce Pangelinan.
The Bulldog defense made three key stops on defense to trail 7-0 by halftime. Kayler Ignacio and Cohen Blas anchored the Okkodo defense to keep the Islanders out of the red zone.
JFK's big 3rd quarter
The Islanders got a 23-yard field goal set up by a pair of first yard gains from Benavente. Bryan Nakamine split the uprights to put JFK ahead 10-0 to open up third quarter.
After a Bulldog three-and-out, Benavente found daylight for an 82-yard score to go ahead 17-0.
"I have to thank the blockers on that play. They enabled me to get free on that breakaway," said Benavente.
JFK's Pangelinan had a defensive score on the ensuing Okkodo possession via a 32-yard pick-six interception to put the Islanders up 24-0.
"Coming off a bad loss to FD, our boys were hungry for a big win," said Pangelinan. "Our next game is against a tough GW team. Our coaches know they are a competitive team, so hopefully, next week, it will be a good match against them. "
Pangelinan had six rush attempts for 58 yards and also had five tackles on defense. Molo tallied 77 total yards on offense, 60 receiving and 17 yards on the ground.
JFK's Jack Aquiningoc ended the game with a 20-yard fumble recovery return to end the game with a final score of 30-0. Sablan had five tackles and two sacks. Jayden Tomagan had a team-high six tackles for JFK.
Okkodo fullback Josiah Mendiola led the Bulldogs on offense with 33 rushing yards. Jayven Mendiola rushed for 20 yards and also had an interception for the Bulldogs.
Keithen Decipulo had a team-high five tackles for Okkodo, Blas tallied four tackles. The Bulldogs will play the Guam High Panthers next week Friday at Guam High.
FRIDAY NIGHT SHOWDOWN
Friday night is the huge matchup between the FD Friars and Guam High Panthers. Tune in to GSPN's Instagram account for the latest updates throughout the game.
PHOTO GALLERY BROUGHT TO YOU BY:

COMING SOON …
GUAM SPORTS ON HOLD DUE TO SUPER TYPHOON MAWAR
QUICK HITS
Bishop Obispos beat Mt. Carmel for the IIAAG Middle School Girls Basketball championship 37-25.
—————————————-
The Benavente Roadrunners crushed the Agueda Pirates 17-1 to win the 76 PONY Middle School Baseball League. Rodney San Nicolas was a beat, striking out 13 batters in a complete game while going 4-for-4 at the plate, including a homer and 4 RBI.