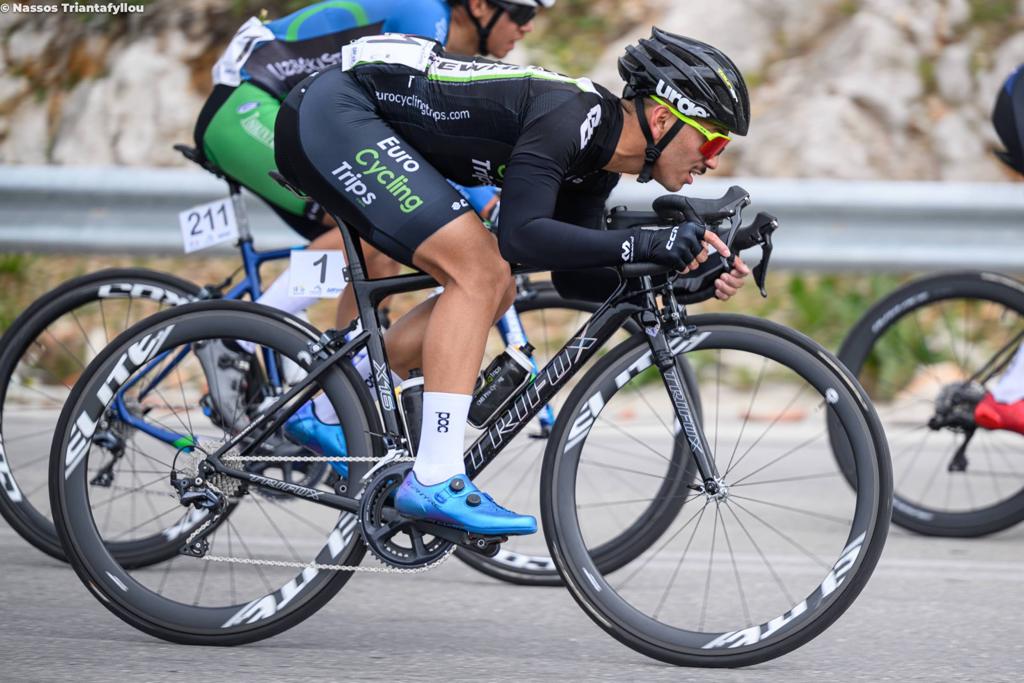 By Jay Leon Guerrero
Guam National Cycling champion Blayde Blas recently competed in the Union Cycling International (UCI) events in Rhodes, Greece.
Blas, a member of the Guam Cycling Federation, raced with the Euro Cycling Trips Team consisting of members Stefan Bennet, Rob Orr, Guillaume Soula, Simeon Green, James Jobber, Thomas Dartet and staff members Alexandre Roustain, Amédee da Fonseca and Redouane Khalil.
At just 20 years old, Blas is building up his resume with his experience in the international stage, and the future looks bright for the youngest member of the team. After graduating from Okkodo High School, Blas began mixing with the local scene and started seeing improvement.
"I would like to thank Dean Muller, Derek Horton and Dan Aponik for guiding me through my cycling journey. Dean helped me prep for my first MTB championship. After that, I got my first road bike, and that's when the training started to become more serious," said Blas.
"This is around the time I started to train with Derek (Horton) and Dan (Aponik), and my fitness level increased very fast with them," added Blas. Blas also thanked Derek and Monessa Horton from Bike Fix for helping him.
He rapidly improved in the sport and is continuing to raise the bar after being tapped to be a member of a pro team.
"The Euro Cycling Trips team is based in Guam (since 2020), so they are always looking to find new talent for the team all the time. They were following my results and improvement as a young rider since I started racing," said Blas.
"After a year of following my growth, they asked me to join from there. This was a major step in my cycling career as it opened the door to do pro races internationally. It's always someones dream to go pro and race internationally in whatever sport they are in," added Blas.
The competition in Greece featured elite riders from all around the world, which is also in the same league as the Tour de France.
The Euro Cycling Trips Team completed three races: a race in the South Aegean Islands (2 day stage race), GP Rhodes (1 day), and Tour of Rhodes (4 day stage race). Each stage is roughly over 100 miles 4-5 hours of racing.
"We are competing against 175 riders from all over the world. Personally, for me, it has been a very good learning experience. Being able to do so many races in a short span has been such a huge exposure compared to Guam, where as it'll take months to do this many local races," said Blas.
Future Goals
This is only the beginning for Blas. His experience and training will intensify this spring, and he will go off to two major competitions this year.
His plans are to compete off island again at the Cycling World Championships in Glasglow, England, in August, and the Pacific Cup in Tahiti in September.
"My long-term goals in cycling would be up win a UCI stage race and play a more supportive role for some of my stronger teammates during our races. I would love to earn a spot to compete in the Olympics as well," said Blas.
Blas' proud parents are Jason and Bernice Blas from the village of Dededo. 

QUICK HITS
Bishop Obispos beat Mt. Carmel for the IIAAG Middle School Girls Basketball championship 37-25.
—————————————-
The Benavente Roadrunners crushed the Agueda Pirates 17-1 to win the 76 PONY Middle School Baseball League. Rodney San Nicolas was a beat, striking out 13 batters in a complete game while going 4-for-4 at the plate, including a homer and 4 RBI.