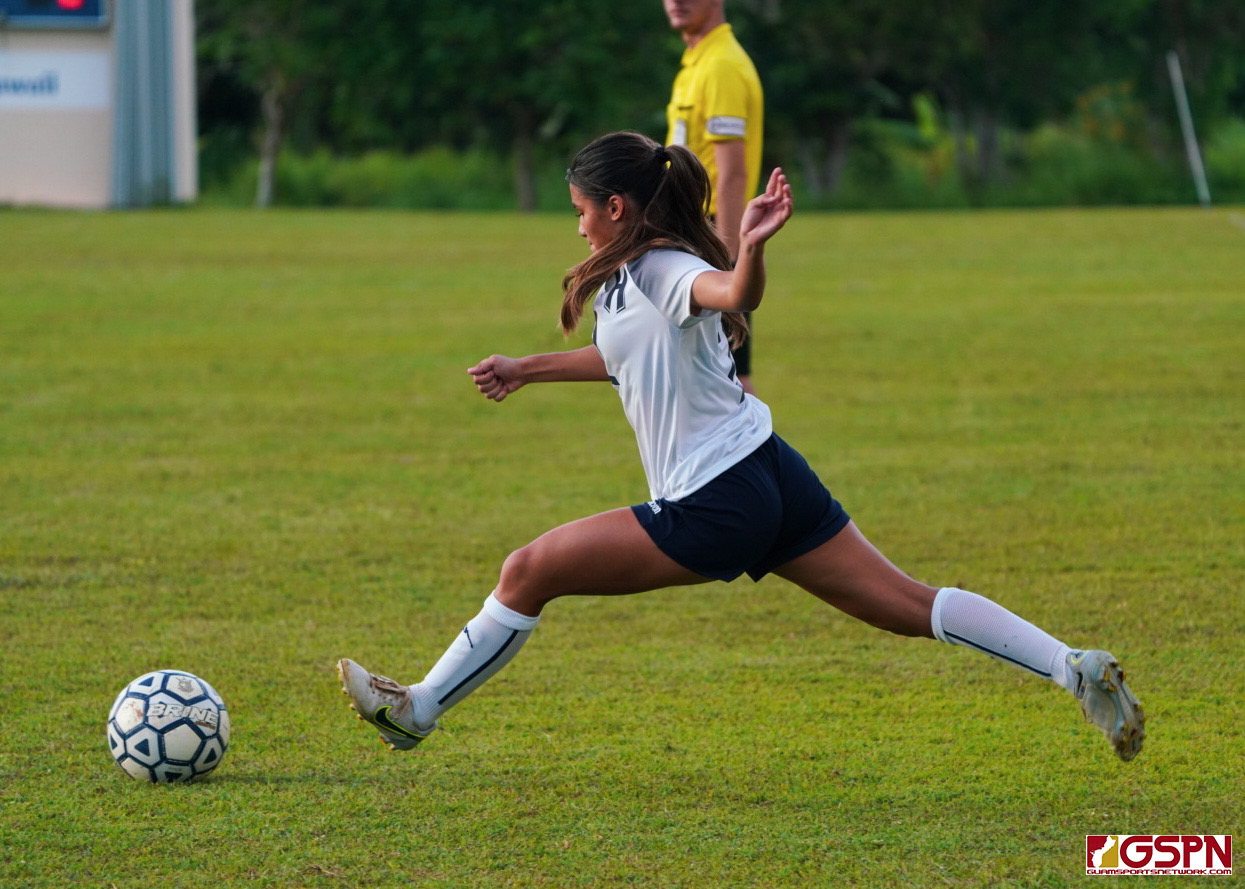 By Eriele Salas
The Harvest Eagles and Notre Dame Royals put on quite a show at the Harvest soccer field, as both teams found their way to the goal Monday evening in the IIAAG Girls Soccer League.
Harvest's Caeden Milner and Olivia Haddock were key to giving their team the three goals that handed the Eagles their fourth straight win. Notre Dame's Faith Piper and Kalle Damian also scored one goal each during the match.
Both teams were equally strong on both offense and defense, but the Eagles decided to put their foot down and had more possession of the ball. The Royals kept them on their feet, as they played with a strong line of defenders.
At just 19 minutes into the game, Haddock managed to find the net, pushed her way through the Royal's defense line and earned the Eagle's first goal of the game. In the 65th minute, she scored another crucial point from a free kick.
After losing a previous game to the Royals, Haddock said, "that really gave us the mental drive to work hard, and just push the whole game."
Scoring yet another point for the Eagles from a penalty kick, Caeden Milner made her team proud by taking advantage in the last three minutes of the game. "As a freshman center back, getting to score a goal was really a big, happy moment for me."
Royals Kalle Damian had two close goals, and Faith also tried for three more, but Harvest's goalie made it impossible for them to gain points. Eagles Olivia Haddock and Hannah Tedtaotao both tried for two more goals, but were unsuccessful in scoring.
"I think we totally have the ability to win, it all depends on our mental mindset going into it, and how we play the game," Milner said, regarding the playoffs. "We still have a really good chance as we haven't challenged Guam High yet, and they're the top team," said Haddock.
Friday's big matchup against the Guam High Panthers will likely be forfeited since the Panthers are currently participating in the Far East tournament and won't be on island.
PHOTO GALLERY BROUGHT TO YOU BY:

COMING SOON …
GUAM SPORTS ON HOLD DUE TO SUPER TYPHOON MAWAR
QUICK HITS
Bishop Obispos beat Mt. Carmel for the IIAAG Middle School Girls Basketball championship 37-25.
—————————————-
The Benavente Roadrunners crushed the Agueda Pirates 17-1 to win the 76 PONY Middle School Baseball League. Rodney San Nicolas was a beat, striking out 13 batters in a complete game while going 4-for-4 at the plate, including a homer and 4 RBI.