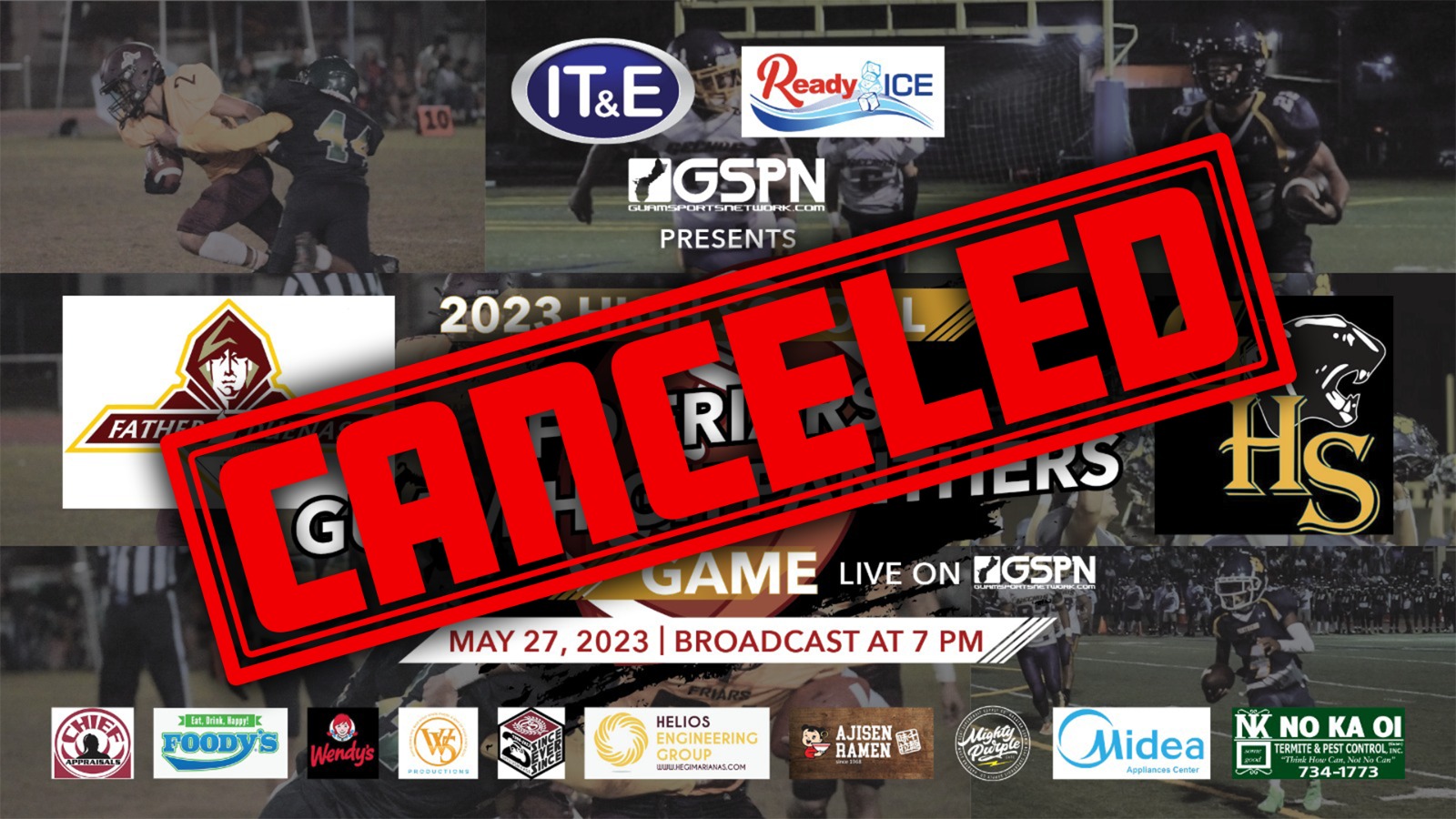 By Patrick Lujan
It will go down as the game that was never played.
The 2023 high school football season has been nothing short of anticlimactic drama, starting with the change of schedule to the 4th quarter of the school year to the championship game being officially canceled Friday morning after the schools and league officials met to discuss the possibilities.
The Father Duenas Friars have been deemed champions by virtue of the cancellation, giving them their 7th straight title.
It's far and away the path they wished to win it all. Three forfeit wins in the regular season and not a chance to face the Guam High Panthers, the team with the best shot of snapping the Friars' record-setting 66 straight wins.
The two talented squads were to face off last weekend in the championship game, but Typhoon Mawar's destruction set those plans aside.
The decision to cancel the game outright was a tough one since local fans never got to see the top two teams play it out after their regular season game was a forfeit.
"We would always prefer to make the determination on the field, but we can't fight against a natural disaster," Guam High head coach Jacob Dowdell said. "We understand that the recovery of the island comes first. Guam Strong."
"We wanted to play the championship," FD head coach Bruce Meno said. "We're out for two weeks. If we did decide to play, it would have to be another two weeks later. We were prepared for anything. It's just a bad situation right now because of the typhoon."
STRANGE FOOTBALL SEASON
It was a precarious season from the start when football, normally a 1st quarter sport in August, was moved to 4th quarter because of the delay of football equipment for the public school teams. The equipment arrived on island in December.
With the start scheduled in April, the participation numbers were evidently higher as rosters bloomed beyond 60 players.
Still, the season was delayed a week to kickoff.
"If we didn't delay a week, we would've been done," Meno added. "It's unfortunate that with football, we need to find a way to keep to the schedule."
One major concern for both teams was proper preparation and player availability. Football would require more practice time, especially for a championship game, and both teams would be affected by summer plans.
"I'm not sure in two weeks, what players we would have to play. I'm not sure what team we would have in two weeks," Meno added.
SOME POSSIBLE SOLUTIONS
ISA officials have announced that football will be going back to its original slot in the 1st quarter for the next school year. Coach Meno offers some recommendations that can make Guam high school sports better.
Trimester Seasons: Meno feels that having three seasons rather than four gives coaches and players that much more time in each sport to hone in their skills.
"Let's emulate the states programs and see their successes. It works for them, why can't we follow them."
Contracts for GDOE Schools: Every year, coaches from all sports are mandated to apply for the coaching positions. This eats into the coaching preparation. Yes, even long-time success programs (i.e. GW girls volleyball and Bobbie Quinata, GW football and Ryan Rios, Tiyan boys volleyball and Rod Pama) all require yearly application processes.
"GDOE needs to give their coaches four-year contracts and I feel bad that these coaches need to apply every year. It's not right. If you want scholar-athlete success, the coaches have to be part of the program and treated like an employee, not just from a year-to-year approach. They need to put more emphasis on athletic programs. Sports teaches leadership and team cohesion. It's a platform for higher education and life-lesson skills to succeed in life."

COMING SOON …
High School Football starts Sept. 29
Brawl 3: Oct 13
Guam's Strongest Man and Woman Competition October 29