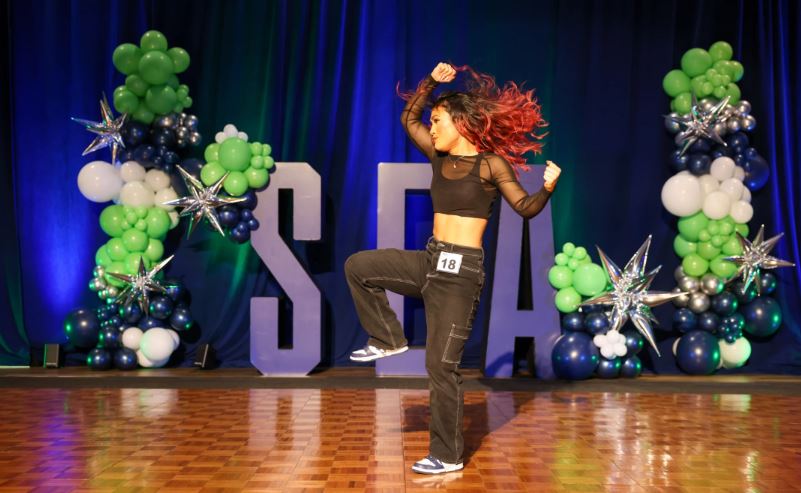 By Patrick Lujan
NFL football fanatics are chomping at the bit for the 2023 season to kick off. Guam will have someone new to root for as Bailey Concepcion makes her rookie debut on the sidelines as part of the Seattle Seahawks Dancers.
The 22-year-old from Barrigada is only the fourth known Chamorita to make it to the NFL sidelines and the second cheering for the Seahawks – Pia Gillan cheered for Seattle the season they went to the Super Bowl in 2014.
Dance has always been in the soul of the SKIP alum, dancing since she was 2 (as she was told by her parents) with stories from mom Georgette of baby Bailey dancing in her diapers.
After graduating from St. John's School in 2019, Concepcion has just recently finished her four-year college career this past spring at the University of Washington finishing with a degree in Global Public Health.
It was a happenstance meeting with Gillan last year on island at a SKIP practice when Pia shared her experience as an NFL cheerleader and the seed was planted.
Follow Bailey on Instagram
The Audition Process
Since Gillan's plug on the Seahawks, Bailey took the plunge and took a shot at it. In March, she went through the first two rounds of auditions – a freestyle round and a scripted routine from the Seahawks playbook in the second round, both virtual. The third round was the interview for the team to get to know the candidate on a personal level. She had done well enough to get to the final auditions in April.
"I had a lot of doubt in myself because the team, they are such great technical dancers. I came in as probably the only street hip hop dancer (in the auditions). I looked a lot different from the rest of the team, but I also knew the training I had would be prepare me for the moment."

– Bailey Concepcion on making the team
Prepared she was. All those SKIP years participating in national and international competition, the gymnastics training at Island Twisters and the most recent training and choreographing with some of the best in the Seattle dance community.
"Up to the end, I was ok if I didn't make it," Concepcion said about her continued doubt down to the selection process. "They called my number and I couldn't believe it. I cried the next day, because I was in shock the day of the auditions."
The Pain
Those were tears of joy when her name was called, this after years of painful tears.
During her senior year at St. John's in 2018, her father Zachary Concepcion was diagnosed with Stage 4 lung cancer.
"He never smoked in his life. After a SKIP trip we found out. It was very devastating. It was so hard to be seeing someone so loving and caring, to someone so defeated and so much in pain."
The summer after high school graduation, Bailey did her share of taking care of her sick father, but she knew it was best for her to head out to college.
"Leaving home was the hardest thing I've ever done."
Getting to know an entirely new environment in college and making new friends is challenging enough for someone straight out of high school. Two weeks into her first collegiate classes, the ultimate bombshell dropped when she learned that her father had passed away.
"What I hold on to all the time, the last time I saw him when I left, he was completely normal. It felt like he didn't have the cancer, and it was reassuring that leaving was the best decision for myself. It was really tough in all aspects. I hadn't established any of my friendships and my grades definitely suffered, and of course, all the emotions."
Four years later, "I finished strong, and that's all that matters. I continue to work through it every day, leaning on my family and friends continues to make me strong."
The Past
As mentioned, Bailey was enrolled in SKIP since she was 2, but she doesn't remember performing until she was 7 when she was part of SKIP's tour squad. She attended Harvest Baptist Academy from 1st to 8th grade before transferring to St. John's for high school. She dabbled in volleyball but says, "I was never that great."
What she has been great at is dancing. Bailey expanded on her jazz and hip hop SKIP-based style by engaging with the Seattle community via Zoom during the COVID era. Meeting her new friend and mentor Avery Gardner helped her see beyond what she had already known. In fact, Avery was one of the first male team members of the Seahawks cheerleading squad when the team started accepting male dancers in 2019.
The Future
In the near future, Bailey plans a quick one-week trip back home to spend time with mom, family and friends.
"I'm going to the beach. The beach is not the same anywhere else."
The visit home is much shorter than she'd like, but she has an NFL season to prepare for. She needs to get back and practice with her team since the preseason is in August and opening game against the Rams is on September 10.
Bailey will be making the best of this opportunity as she knows that cheerleading in the NFL isn't a long-lasting career.
"This is something I want to do before I pursue other career options."
Those 'other' career options may very well be a stab at medical school.
"Seeing all the medical issues back home on Guam and all the inequities that come along with it. Hopefully, I come back home and help with that in some extent."
After the heart-breaking loss of her father and all the stresses that come with that, she said her decision to study global public health was meant to be.
"I felt very drawn to it and passionate, it ended up being a great degree."
Guam is set to honor an extraordinary young woman who has not only triumphed over profound adversity but has also achieved a remarkable and exceedingly rare feat, a distinction shared by only three other women from the island. The imminent recognition of this remarkable individual will be accompanied by the utmost pride, affection, and unwavering support that Guam can offer.
Notes: Besides Concepcion and Gillan, the other two known Guam NFL cheerleaders were Deborah Luck (Oakland Raiders 1979-1982) and Maria Manibusan DeCabooter (Arizona Cardinals 2011-12); Sister Skye is also a dancer and mom Georgette is a lawyer.
PHOTO GALLERY BROUGHT TO YOU BY:
all photos courtesy of Bailey Concepcion and Seattle Seahawks

QUICK HITS
The Figo Islanders 40s women's softball team took gold in the Senior Softball World Championship in Las Vegas. Figo came out of the loser's bracket and beat the Arizona Belles 17-3 in the AA division championship game Sunday afternoon.
Other Guam teams that played in the 40s tournament were: Team SOTTA (women's) and Bud Light Guam, Friars 671 and Sindalun Guahan (men's).
Sindalu finished a respectable 4th out of 24 AAA division teams.