[useful_banner_manager_banner_rotation banners=72,77,74 interval=10 width=120- height=600 orderby=rand]
By Patrick Lujan
GLENDALE, Arizona – For but a few minutes, the thrill of leading the cheers for the Arizona Cardinals was relived.
Guam's Maria Manibusan DeCabooter was one of about 150 Cardinals alumni cheerleaders that took part in Monday Night Football festivities today in Arizona.
The Cardinals cheerleading squad celebrated 25 years of service to the football team dating back to the years when they were known as the Phoenix Cardinals.
"It was great to be out there again," the 30-year-old DeCabooter said. "I met a lot of my old friends and the best part of it was I was able to bring my baby with me down to the field."
10-month-old Michaela – who is a New Year's baby – sported her baby cheerleading outfit as she was carried by a host of alumni cheerleaders before their big performance prior to kickoff against the Baltimore Ravens.
DeCabooter cheered for the Cardinals during the 2011-12 season and is one of only three known NFL cheerleaders from Guam. The other two are Pia Gillan with the Seattle Seahawks and Deborah Luck with the Oakland Raiders. Both Gillan and Luck were part of Super Bowl teams.
DeCabooter is a former SKIP dancer. Here is her Q&A with GSPN in November 2011.

Foody's 5 Fun Facts
AOY Anthony Cruz
DID U KNOW?
FD senior Matt Fegurgur first dunked a basketball in his freshman year when he was 6'4″. The now 6'9″ center looks to dominate high school hoops.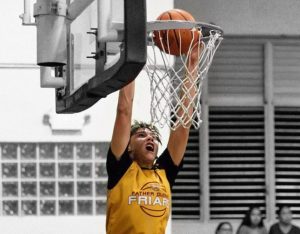 COMING SOON …
– ISA Sports League Kicks Off
– 15U Oceania Baseball Tournament
– Zach and Larry Return to Guam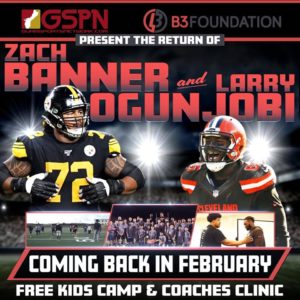 QUICK HITS
Still pumping iron: Pito Cruz, Ed Perez and Joe Duenas are some of the godfathers of bodybuilding and fitness on Guam. They're still at it with another workout together at Pito's gym.
—————————————————-