[useful_banner_manager_banner_rotation banners=72,74,77 interval=10 width=120- height=600 orderby=rand]
By Robert Balajadia
It's hard to imagine the Okkodo Bulldogs without scoring machine Felicia Borja and likewise the JFK Islanders without center Alison Bowman. Tuesday's high school tipoff featured the two schools first meeting in four years without Borja and Bowman due to graduation.
The home team Bulldogs managed to get a big helping on offense off the bench from Nica Mojas, netting 19 points in the teams 58-48 win.
"I'm comfortable coming off the bench and it all really depends on the coach," said Mojas on whether or not her performance garnered her a starting spot.
Mojas also explained that the Bulldog offense has become more team reliant since the departure of Borja and scorer Kean Castro. With no real go-to scorer, the ball works its way around the offense until it finds the best option. Tuesday night it was Mojas and the pick and roll.
"It was sort of the plan, but we just kept going to it since we were scoring off it. We were prepared to the Islanders shooting defensively," added Mojas.
The high school varsity stage is a tough proving ground for many first time varsity players, but the spotlight for Bulldogs freshman guard Zaria Garrido got a little easier to deal with. Garrido chipped in 14 points in her first basketball game since her middle days with Astumbo.
"There were a lot of butterflies in the beginning and I thought I was going to mess up but I just told myself to go out and just display my game," said Garrido on her performance.
Islanders Anita Onedera and Irish Catibag led the team in scoring with 16 and 15 points respectively.
Game Flow
Turnovers plagued each quarter with Okkodo jumping out to a quick 17-10 lead in the first quarter. Garrido scored six points in the opening period to pace the Bulldogs before the pick and roll game with Mojas began to take shape.
Onedera scored on back-to-back buckets in the 2nd period off a long ball and layup to get JFK within 20-19, the closest they managed to get all game. Mojas the broke a cold spell on east buckets under the basket off an assist from Garrido and Jestyne Sablan to quickly take a 29-21 lead in the the half.
Mojas and Garrido both scored four in the 3rd period as Okkodo jumped out to their largest lead 39-27, but a Catibag three pointer sparked a 9-2 run to close the 3rd with Okkodo still leading 41-35.
Mojas turned in her best period in the 4th period scoring six points to put away the Islanders to secure the win.
Other Scores
ND def. GW
Academy def. Guam High
PHOTO GALLERY BROUGHT TO YOU BY:

Athletes Birthdays by W5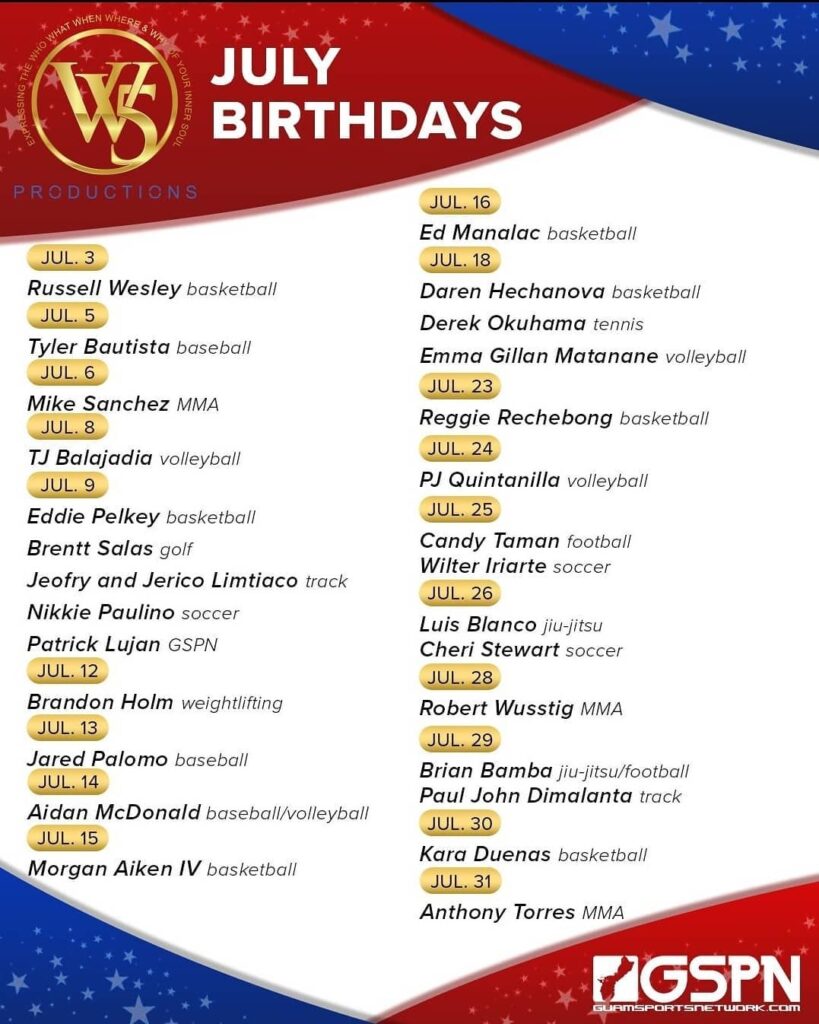 Foody's Fun Facts
Favorites From Year 2
COMING SOON …
2020 Tokyo Olympics
UFC Fight
Aug 1: Trevin Jones vs. Tony Kelley
QUICK HITS
——————————————————–
Guam's Joey Miranda met up with Chamorrita Softball Star Bubba Nickles and Olympic Teammates Dejah Mulipola and Aubree Munro out in Tokyo as we approach the Olympics!
Photo credit: GNOC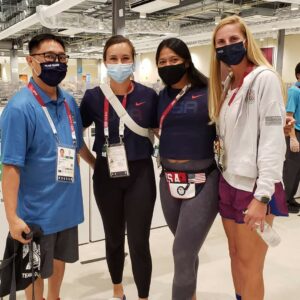 ——————————————————–
Former Guam resident Tre Taylor has committed to play cornerback for the Southwestern Junior College Jags.
Turner attended Harvest and FD before transferring to Hawaii where he played for Saint Louis, the 5th ranked team in the nation.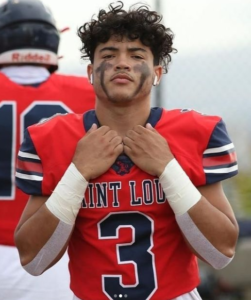 ——————————————————–
The big man Zach Banner getting to throw out the first pitch earlier today for the Pittsburgh Pirates!