[useful_banner_manager_banner_rotation banners=72,77,74 interval=10 width=120- height=600 orderby=rand]
By Eddie Siguenza
LAS VEGAS, Nev. —Two Guam masters softball squads represented their Pacific Island nation commendably, ending in third and eighth place overall in the LVSSA/SSUSA World Masters Championship 2015, Men's 40-plus Masters AAA Division here recently.
Sponsored by the Las Vegas Senior Softball Association and United States Senior softball, the prestigious tournament featured competitive squads throughout the U.S. as well as abroad. The Guam teams competed in a 24-team field to rank in the Top 10.
Bud Light Guam, consisting of former Guam (Budweiser) Major League standouts and other seasoned softball veterans, earned third place honors by winning six of its final seven games in the three-day tourney. Bud Light Guam lost 14-11 to Defend Pono, a Maui, Hawaii squad that won the overall title and finished runner-up last year, in the medal round. A Guam victory would have advanced it to the championship game against R&R Pumping Unit from Southern California.
"The guys gave everything they got. We're sad we lost, but we're satisfied with how we played. We never got this far," Bud Light Guam coach Jim Pangelinan said. "We came out here with a mission. We wanted to win the ring."
Tournament director Dough Robbins presented the Guam contingent with a third place plaque and medals, commending them for an exceptional tournament. He highly commended the support both Guam teams received from friends, families and newcomers who numbered in the hundreds each game, and were the "most intense crowd" among all participants in any division.
"People at other fields kept asking what's going on over there," said Robbins, pointing to the Guam game. "They were thinking it's a championship game. I said "No, it's just Guam and its hundreds of supporters." It's like that every game they play."
The loss to Defend Pono was Bud Light Guam's fourth Oct. 25 contest. Earlier, it defeated Team Whatever (Yuma, Arizona) 27-17; stopped Hammertime (Arizona) 17-13; and eliminated Hawaiian 40s 23-18. The latter victory assured Guam of its highest placing since playing in the World Masters Tournament four consecutive years.
"We just keep getting better and better. We're almost there," Pangelinan added.
Sindalu Guahan — consisting of Guam Army reservists and National Guardsmen — fought tough but got eliminated by a Hawaii squad 22-20 in its final Oct. 24 game. Sindalu Guahan scored 10 runs in its last at-bat and had the winning run at the plate before getting stopped.
PHOTO GALLERY BROUGHT TO YOU BY:

Foody's 5 Fun Facts
FD Friar Raymond Castro
DID U KNOW?
FD senior Matt Fegurgur first dunked a basketball in his freshman year when he was 6'4″. The now 6'9″ center looks to dominate high school hoops.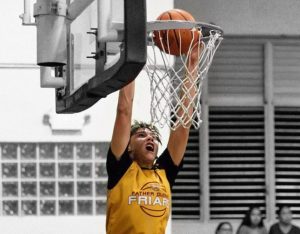 COMING SOON …
– ISA Sports League Kicks Off
– FIBA Asia Cup: Team Guam!
– Zach and Larry Return to Guam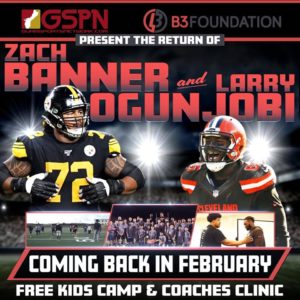 QUICK HITS
Still pumping iron: Pito Cruz, Ed Perez and Joe Duenas are some of the godfathers of bodybuilding and fitness on Guam. They're still at it with another workout together at Pito's gym.
—————————————————-