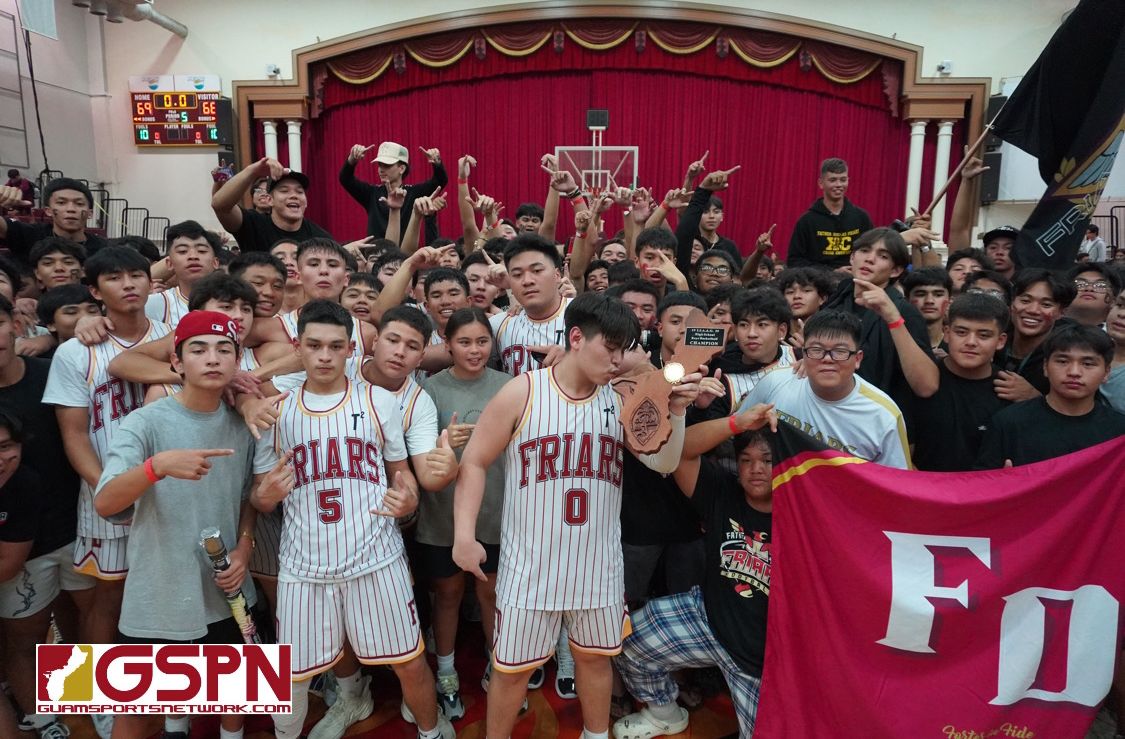 By Nick Akimoto
Championship wins require championship effort.
The Phoenix Center was packed to the brim Friday night for a thrilling overtime IIAAG Basketball championship match. In another classic St. Paul Warriors and Father Duenas Friars clash, the Friars came away with a 69-66 victory thanks to the heroics of Yoshi Sayama, who put up all nine of the FD's overtime points.
Sayama lit up the gym with an electrifying stepback three with a defender's hand in his face and secured the victory with six clutch free throws.
"I knew I had to knock these down for my team, man. Everyone who came out today relied on those free throws," said Sayama. Sayama led the Friars in scoring with 15 points, but power forward Noah Tenorio-Hernandez and combo guard Blaise Ada put up 14 and 13 points each in regulation.
St. Paul's Xander Sanchez, on the other end, put it all on the court as well as he would lead the Warriors back from an 11-point halftime deficit to keep the game close.
"[Sanchez] is a great player. I've been playing against him since we were ten years old. It's been a great journey seeing him develop and dominate," FD's Ada had to say about Sanchez's unwavering perseverance.
Sanchez had 19 points on the night, but his Warrior teammate, Raven Pascual, would lead all scorers with 21 points, 17 of which would come in the second half. Pascual would make key contributions to light up St. Paul and bring them back in the game.
"St. Paul is a very gritty and intense team and it came down to who wanted it more in the end," said FD's Tenorio-Hernandez.
Overtime
As exciting as regulation might have been, the tense atmosphere only thickened as each second passed in overtime. Both teams would exchange free throw attempts and turnovers, but neither was able to cut through the stalemate for several minutes of gametime. St. Paul would strike first as Pascual poked the ball free as FD came down with a defensive rebound and put it back up to make the game 60-62.
Ironically, that tension breaker was exactly what the Friars needed as Sayama responded on the other end with a stepback fadeaway three to make the game 63-62. After St. Paul called a timeout, Sayama dropped to the floor to catch his breath.
"Coach told me to sit out, but I knew I couldn't sit out. It's my last game in this gym, and I couldn't do that to my team. To all the people who came out to watch."

– Yoshi Sayama on what motivated him to push through the fatigue
The Warriors brought the ball down and got an opportunity at the line to swing the game back in their favor, but they missed both attempts. Sayama got the same opportunity on Friar's foul line, was able to knock down both free throws to build their lead to three.
St. Paul battled back, fighting through FD's full-court press defense to find the towering Glen Ventura under the basket, who laid it in to close the game to 65-64. St Paul then forced a 5-second inbound violation to give them a chance to grab the lead, but were unable to get the crucial bucket and gave FD back the ball. In the late-game foul situation, FD would look to send Sayama to the line, as he would knock down another pair of free throws. St Paul's Sanchez would respond with two of his own, but Sayama would seal the game with two free throws to give his team the IIAAG Championship trophy.
"[It] feels great. Proud of our boys for fighting and giving it up. Lots of respect to St. Paul. They played their hearts out. Thank you to our parents, family, alumni, and FRIARNATION!" said Friars head coach, Jimmy Yi. This is Yi's first IIAAG championship as FD's head coach.
"This feeling's great. We worked so hard. I didn't have a junior year because I tore my ACL, so all the hard work in the offseason just paid off," said the 4-year varsity senior, Blaise Ada.
3rd Place Game
Guam High Panthers take the third place trophy over the Notre Dame Royals after a 82-45 victory. Cam Brantley led all scorers with 24 points.
PHOTO GALLERY BROUGHT TO YOU BY:

COMING SOON …
High school girls volleyball playoffs
Brawl 3: Oct 13
Guam's Strongest Man and Woman Competition October 29
QUICK HITS
The Figo Islanders 40s women's softball team took gold in the Senior Softball World Championship in Las Vegas. Figo came out of the loser's bracket and beat the Arizona Belles 17-3 in the AA division championship game Sunday afternoon.
Other Guam teams that played in the 40s tournament were: Team SOTTA (women's) and Bud Light Guam, Friars 671 and Sindalun Guahan (men's).
Sindalu finished a respectable 4th out of 24 AAA division teams.