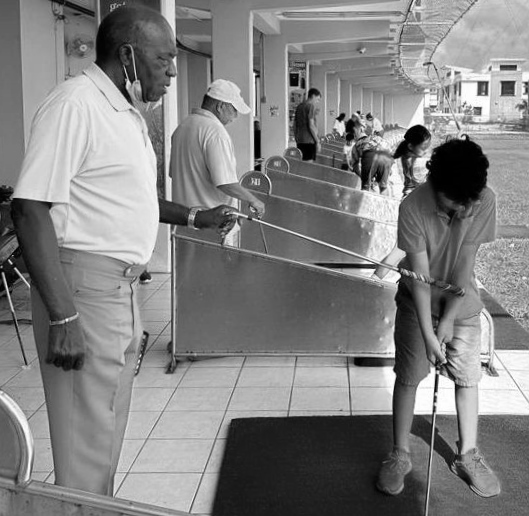 By Patrick Lujan
Mel Davis was truly a golf icon on Guam. The island's golf community is saddened at the passing of Davis 10 days ago, but the word hadn't really spread until just yesterday.
A former Army vet, Davis would come to Guam starting in the mid 1970's while working in Japan to play in the prestigious four-round Marianas Invitational Tournament held at the Admiral Nimitz Golf Course in Radio Barrigada.
The ever-so-cool Davis fell in love with the island and made Guam his home for nearly 50 years, making the game his life, teaching the game more than winning numerous island tournaments. There's even a Mel Davis Junior Golf Tournament that started a few years back.
The days of huge golf tournaments had the likes of Bill Reyes, Gus Gogue, Serafin Pablo, George Benoit, Bill Payne and Bill Garris welcome the strength of Mel Davis and Lon Lindsey before the 'young bucks' entered the picture with Teddy Gogue, Louie Sunga, Karl Pangelinan, Santino Sgambelluri and Ray Blas.
The Georgia native was always in title contention no matter what weekend or what course. Golf was his life and his knowledge of the game was practically free for whoever wanted it.
GSPN spoke with some of his good friends, competitors and students to really get the impact Davis had on Guam's golf scene.
(Note: funeral services are scheduled for this Friday in Georgia)
Lon Lindsey, fellow Guam golf legend
I've known Mel since 1975. He was in the Army and came to play in the MIT. He came to Guam to work here (NBK, a golf distributor). He's always a character. He was very competitive and we always had a good time. There's many memories of him. The list is too long because we go back so far and the things that we did. He was a really, really awesome guy. If he could help, he would and he'll try his hardest.
I didn't expect him to stay here that long, but he made Guam his home. I'm sure he'll be surely missed.
You can always catch him at Denny's sitting at the same chair.
His tenacity and his strength (on the golf course). Even as he got older, Mel was a very fit individual. There was never a point when he would give up, not once when it came to golf. Physically, he's really really strong.
We worked together, we coached junior golf together and when we played, we had to bet. Then he'd have to go teach and take care of his students.
You always knew who it was. Every time you see him and smile, you'll see his pearly whites. When he played, he was colorful. He'd come out looking like Payne Stewart.
Louie Sunga, close friend/golf partner
I've known Mel for over 20 years, he is one of the most kindest and sincere person I know, When he first came to Guam back in the 80's he fell in love with the island and made it his home. He dedicated his life to junior golf, giving back to the community, and growing the game of golf on our island. The golfing community truly lost one of their own, a beloved coach, a true gentleman, and a brother!
I've known Mel for so long, it's really hitting me hard can't believe he's gone man, love the guy.
Back in the day, he was a really good golfer, he really had a passion for the game. we used to play about three times a week when Nimitz GC was open, $5 Nassau, have some lunch afterwards, then he'd go teach. With Mel, it never mattered what the bet was, it was always about the camaraderie and just hanging out with the boys. I don't know anyone who's given more to junior golf than Mel.
Lloyd Hartman, close friend/ fellow junior coach
I got the news that a very good friend of mine passed away on his way back to the States to see his family. Coach Mel and I worked together as instructors for the Guam Junior Golf League for a very, very long time and his devotion to the program and the students was amazing. I'm a better person for having known him. I just want to say RIP Coach Mel, you will be missed!
Karl Pangelinan, veteran golfer
I remember when Mel first came on the Guam golf scene. The thing that impressed you most with Mel was how solidly he struck the ball. From tee to green Mel had incredible shot making skills. His penetrating ball flight was advantageous in Guam's wind. He carried these ball striking skills well into his older age. This made his transition into teaching/coaching golf seamless.
My first ever championship flight tournament was one of the big Hawaiian golf club championships in 1990. Mel outdueled Teddy Gogue in the final round for the title. Despite the jitters, I finished strong and slid into a 3rd place tie with Lon Lindsey. I gained a ton of appreciation for the ability to consistently hit the ball solid. Something I'm still striving for today. Wish I had a few more Tumon Driving Range sessions with Mel.
Santino Sgambelluri, veteran golfer
This was a devastating loss to the golfing community of Guam. Mel Davis was an irreplaceable coach to countless junior golfers (including my son) on Guam for decades. He was a class act, truly one of a kind, and will be missed.
STUDENT THOUGHTS
Koki Sean Ogawa: Back then in 2013 all the way to 2016 (when I was in 3rd grade all the way to 6th grade) in GICC, (Guam International Country Club) after normal hitting practices, us kids and coaches ,(including coach Mel) we all would walk to the green and play this game where every kid gets a turn to chip in and if that person makes the ball into the hole, coach Mel gives that person $1 literally from his own wallet. After the chipping game, there's a last game where it's called "Make it or Go Home", where you put your ball into the hole in 1 try and if you make it, you win another $1. I usually made $2-5 per week just by winning those chipping and putting game while I was in elementary! He sometimes gets mad at us as a joke telling we're making him broke because all the chipping and putting games we've been winning. His favorite word to use was "lanya."
He would always use "lanya" on anything. After the practices ends, he usually yells and gets all of us to his car and would give us fudge cakes almost every week! Those times were the best. Coach Mel is truly a legend to the Guam Golf Community.
Sohwi Jung: Mel was my coach since I was a kid in elementary as a part of the Junior League Program. Even after I grew up and instead joined my high school golf team, he'd see me around here and there and would always try to help out and say hi. He would remember me even though he had so many students even after I visited when I was in college. Mel would always joke about how he is 20 years old and at first as an elementary kid, I believed him. But as years and years pass, he'd claim he is still 20 years old, and I finally figured out that he isn't. Then he'd insist he is instead 25 or 26, however many years passed since I first met him. Mel was such a sweet guy, he'd coach me even if I wasn't a part of the program officially – he felt like a second dad to me. I wish I got to see him before he left, and my earnest condolences are with him and his family. If you need more detail, please let me know! Would love to make him shine as much as he really did 🙂 He never ended up telling me about his real age until the post about his passing.
Jaeyong Paeng: He was the first coach I had on Guam and helped me improve as the player I am now, told me I could do anything if I put my mind to it… also coached my mom and my friends, best coach and mentor I could ask for. I would wish his family my greatest condolences.
Danny Zheng: He's the reason I was the best golfer in my age gap at the time, and became a better person. I will miss him so much, I would do anything just to talk to him one last time. He always wanted his students to be the best and I know he's in a better place now but will always love coach Mel.

QUICK HITS
3rd place: Big ups to the Para Todu Rugby Club for finishing 3rd out of 16 teams in the Manila 10's Rugby Tournament today. Biba Guam Rugby!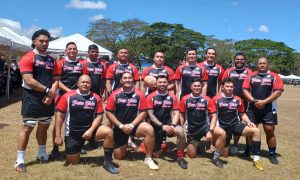 ——————————————
Guam MTB National Championship: Edward Oingerang and Jennifer Camacho are your 2023 MTB national champions. Oingerang finished the course in 1:13:24 while Camacho won her second straight title in 54:08.