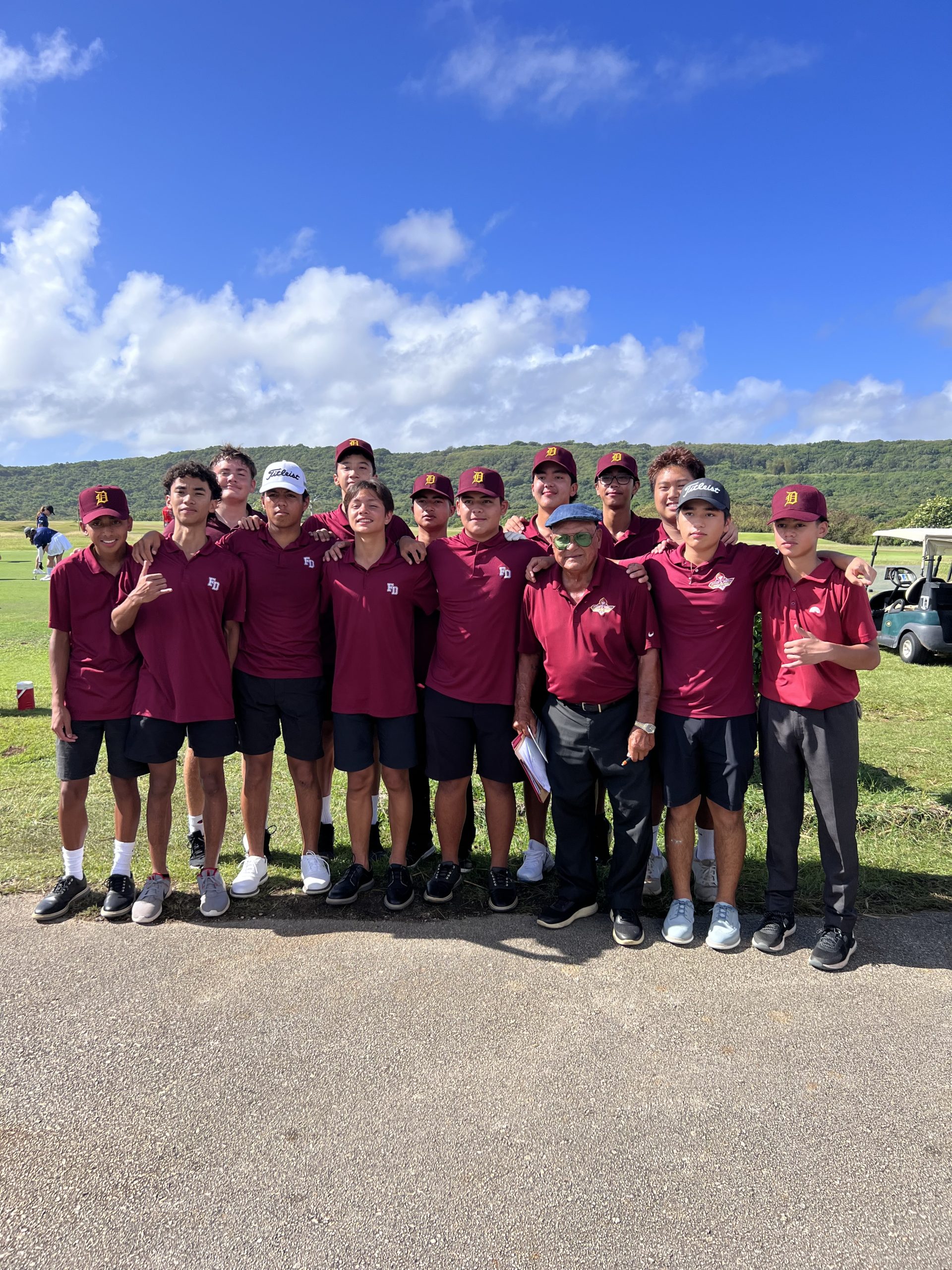 The Father Dueñas Friars captured their thirteenth consecutive Interscholastic boys golf championship on Friday at The Country Club Of The Pacific. Friday's All-Island match punctuated another undefeated season for the Friars. FD is led by Coach Gus Gogue who's been the team's head coach for over a decade.
Father Dueñas Sophmore standout Stüssy Shiroma led all scores to capture this season's All-Island Champion individual title. Stüssy was on cruise control at even par, nursing a six stroke lead with three holes to play. A disastrous quadruple bogey on the third to the last hole for Shiroma, and back to back birdies by Raymond Blas had the two FD Sophomore cousins both at +4 with one whole to play.
On the final hole Blas's tee shot was just beyond the left edge of the fairway with 150 ysrds to the pin. Off the final tee, Shiroma was 90 yards out in the center of the fairway.
Blas, first to play finds himself 25 yards short of the green. Stüssy stuck his second shot to two feet beneath the hole for a great look at birdie. Blas chipped on and two putted for bogie. Shiroma missed his short birdie putt, but was able to save par and secure the one stroke victory.
GIRLS DIVISION
Academy's Ava Limtiaco and Tyanna Jacot of St. John's went to battle to see who would claim the top spot in the girls division.
After a slow start, Jacot caught on fire with multiple birdies and many more birdie opportunities. Tyanna ended the day only five over par, winning the tournament by more than eight strokes. Jacot goes undefeated for the season – the only player boys or girls to accomplish that feat.

QUICK HITS
The Figo Islanders 40s women's softball team took gold in the Senior Softball World Championship in Las Vegas. Figo came out of the loser's bracket and beat the Arizona Belles 17-3 in the AA division championship game Sunday afternoon.
Other Guam teams that played in the 40s tournament were: Team SOTTA (women's) and Bud Light Guam, Friars 671 and Sindalun Guahan (men's).
Sindalu finished a respectable 4th out of 24 AAA division teams.