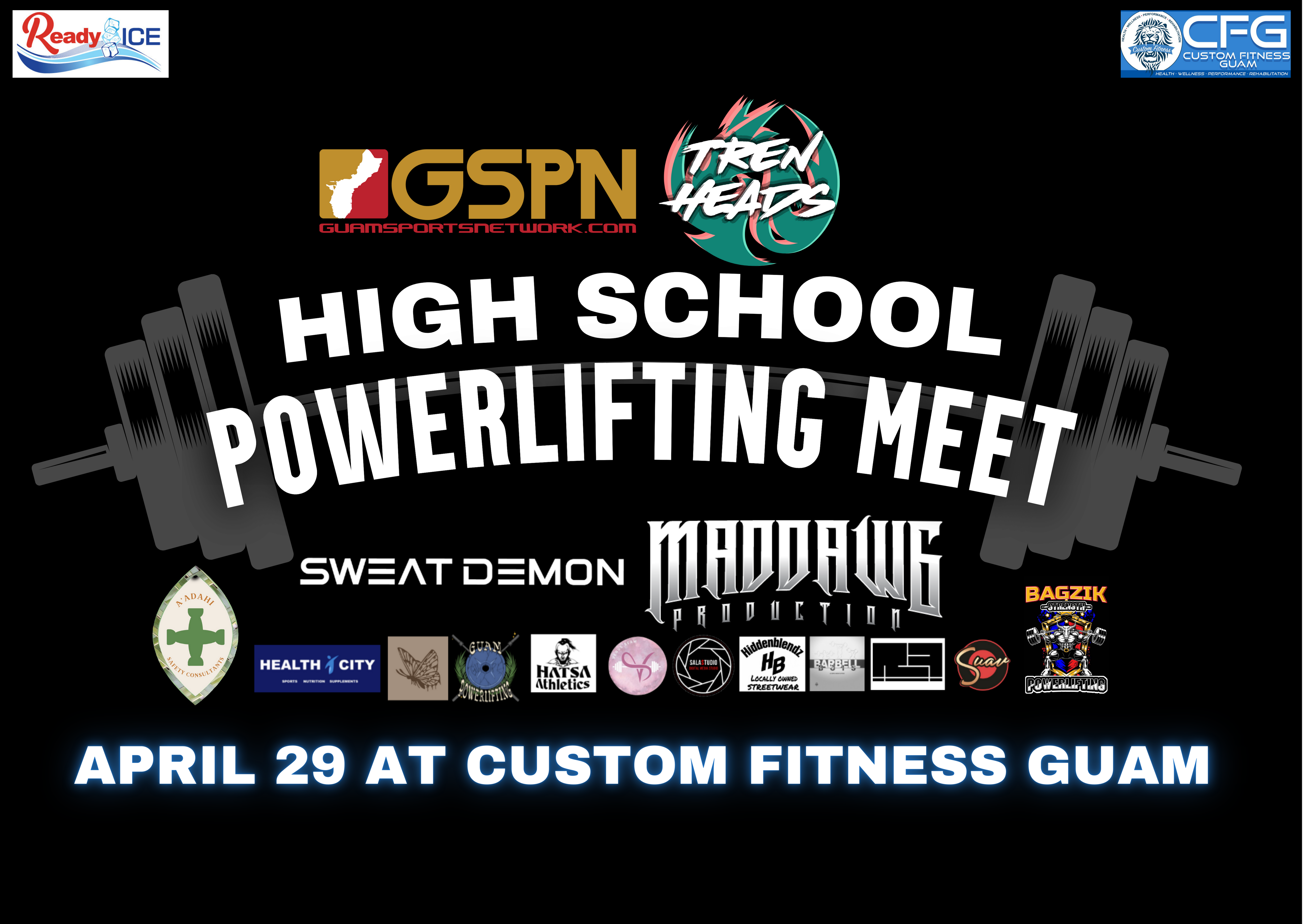 By Patrick Lujan
GSPN and Trenheads team up for what will be the first high school powerlifting meet in several decades on island.
Twenty three of Guam's strong adolescents are signed up and have been preparing to showcase their strength in less than three weeks as they target Saturday, April 29 at the Custom Fitness Gym in Anigua.
Trenheads president Matua Salas was the brainchild behind the event, turning a casual video platform aimed at strength training and gym shenanigans into a legit high school powerlifting event not seen in island since the military powerlifting events invited high school aged athletes on island some four decades ago.
Quotes from Athletes
Gabriel Estoy
"It's honestly very exciting and a dream come true. I've always wanted to compete since I started taking powerlifting seriously and when I heard GSPN and Trenheads are doing a high school meet, I didnt hesitate to sign up."
"After this meet I hope to learn from all my wins and losses whether that be during prep or on meet day. And in general the experience and just meeting new people."
"I hope it encourages more teens who may be in doubt and also introduce people who are new to the sport."
Gerelle Arjona
"It's very gratifying that I am able to showcase my strengths in Guam's first ever powerlifting meet especially because it is a first of its kind event. Everyone is working hard and I can't wait to see what everyone is able to put out on that platform come April 29th."
"What I hope to take away from this powerlifting meet is, of course, a win but more importantly the experience and familiarizing myself with the way meets function, ultimately preparing me for any upcoming meets in the future."
"I hope to see that more high schoolers take interest into the sport of powerlifting to show other places around the world that we as a community are present and have lifters who can represent the island at the highest level of the sport."
Jacob Navarrete
"It feels great! The amount of excitement I have is crazy, and without Trenheads for making this event possible we wouldn't have many kids start going to the gym. Forever grateful for this opportunity."
"The experience! I always dreamt of being part of a powerlifting meet. So in my books this is a dream come true!"
"ISA should make it a legitimate sport. Many young kids are very talented in lifting and by doing this it can help get there name out to the public."
MEET THE ATHLETES

COMING SOON …
GUAM SPORTS ON HOLD DUE TO SUPER TYPHOON MAWAR
QUICK HITS
Bishop Obispos beat Mt. Carmel for the IIAAG Middle School Girls Basketball championship 37-25.
—————————————-
The Benavente Roadrunners crushed the Agueda Pirates 17-1 to win the 76 PONY Middle School Baseball League. Rodney San Nicolas was a beat, striking out 13 batters in a complete game while going 4-for-4 at the plate, including a homer and 4 RBI.