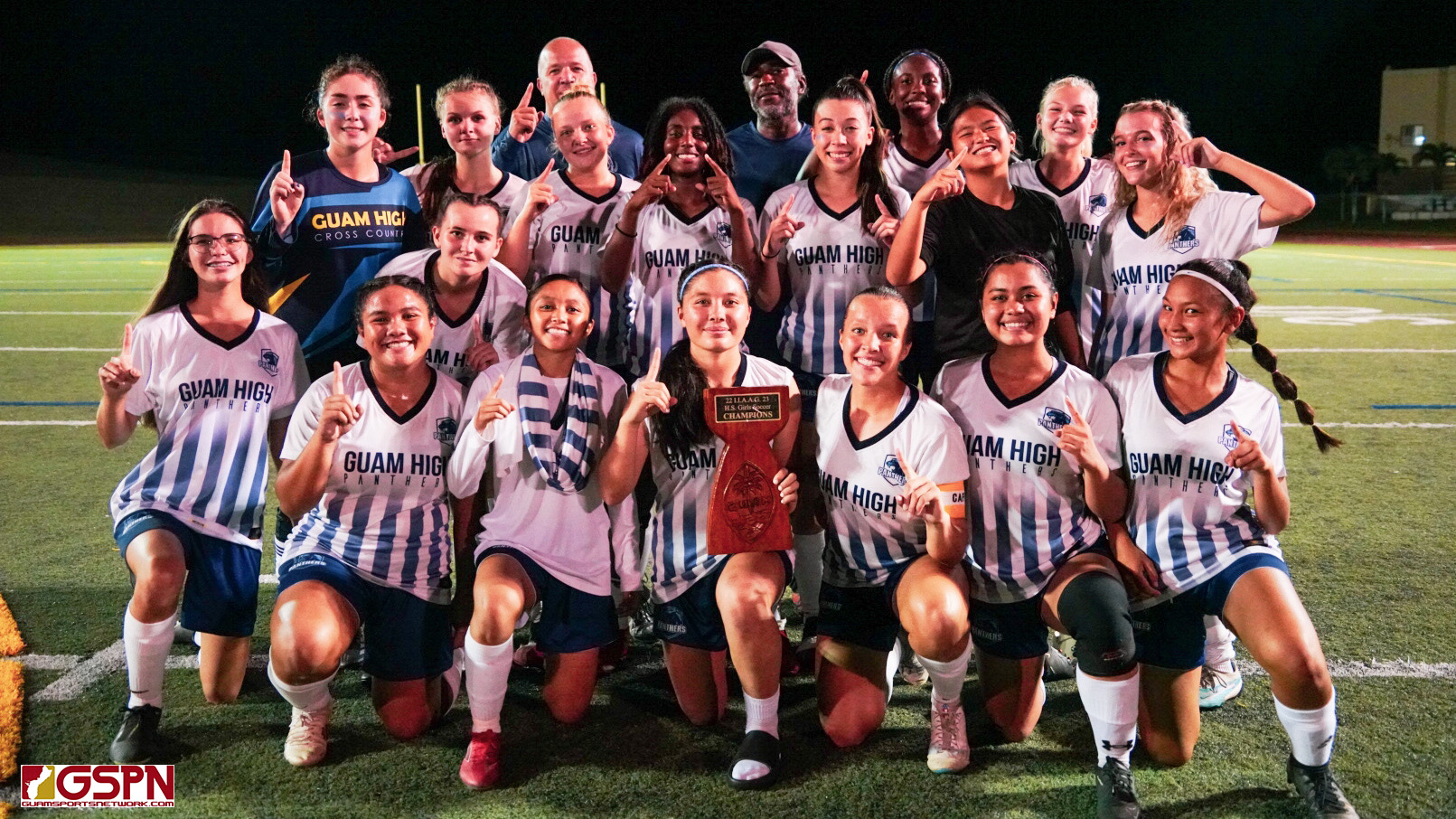 By Eriele Salas
The Guam High Panthers girls soccer team won its third championship in school history Friday night with a convincing 4-0 shutout over the Notre Dame Royals to take the 2023 IIAAG Girls Soccer League title.
Freshman Aubrey Ibanez came up huge with a hat trick as the more aggressive Panthers steadily broke down the Royals from start to finish. The two previous titles for the Panthers were in 2003 and 2012.
Guam High outshot Notre Dame 20-9 as they controlled the tempo throughout the game.
First Half
Guam High knew what they wanted from the start of the game, which was to win the championship.
Notre Dame did threaten early, but the Panthers took control on both sides, even getting physical to prove their might. Meanwhile, Guam High applied pressure on ND's super athlete goalkeeper Faith Piper, keeping her busy with several shots on goal from all directions.
Sophomore Nykale Penn, Guam High's scoring spark off the bench, had a few near shots that foreshadowed things to come. It was Penn who scored the first goal in the 34th minute with a shot to the lower left corner past a diving Piper.
"All it was, was about winning…we all said we wanted the glory," said Penn. 
Royal Maya Iriarte had three shot to find the net, but couldn't get it into the net.
Second Half
The Panthers came back in the second half even stronger and more motivated to win. 
Royals Kalle Damian and Kelsi Gumataotao had their share of scoring opportunities, but Guam High's Zoie Terrill was among those who were fast on the defensive line. 
Penn kept trying for more shots, but her freshman teammate Ibanez, assisted in closing out the game with a hat trick at the 45', 64', and 80+3' minutes.
Ibanez had one goal in mind, which was to score a hat trick, or maybe even more.
"I knew that I wanted to get more goals today…and when I only got two shots, I really was pushing for the third."

– Aubry Ibanez on aiming for a hat trick
They did it all for the seniors especially, as it was the first time in four years that they've made it to the ship. Next season, the Panthers plan on coming back stronger than ever to win another title.
"With the hard work and dedication we put in, we have a good chance at making it again," said Ibanez. 
PHOTO GALLERY BROUGHT TO YOU BY:

COMING SOON …
GUAM SPORTS ON HOLD DUE TO SUPER TYPHOON MAWAR
QUICK HITS
Bishop Obispos beat Mt. Carmel for the IIAAG Middle School Girls Basketball championship 37-25.
—————————————-
The Benavente Roadrunners crushed the Agueda Pirates 17-1 to win the 76 PONY Middle School Baseball League. Rodney San Nicolas was a beat, striking out 13 batters in a complete game while going 4-for-4 at the plate, including a homer and 4 RBI.