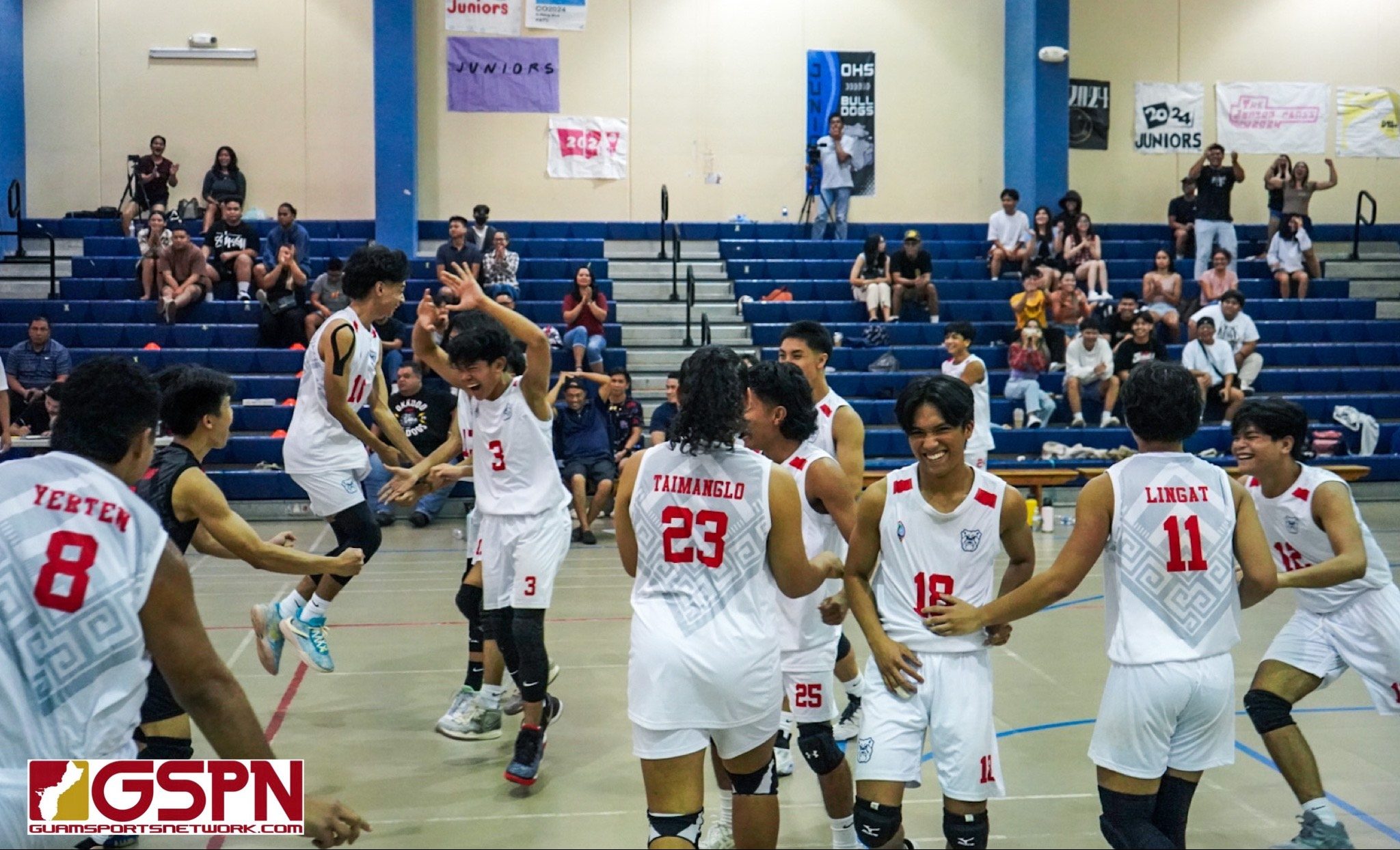 By Jay Leon Guerrero
The Okkodo Bulldogs advanced to the 2023 ISA Boys High School Volleyball Championship Game after defeating the JFK Islanders with a four set victory (23-25, 25-22, 25-13, 25-20) Thursday night at the Okkodo gym. JFK came into the game red hot on a five-game win streak.
The second-seed Bulldogs will go against the defending champion Tiyan Titans in a showdown of the two top seeds in the league. The Titans needed five sets to take down the feisty GW Geckos 25-23, 25-27, 25-21, 23-25, 15-8 as the Bulldog players watched via livestream after their game to see who they will face in the season's main event.
The Bulldogs had to overcome adversity after dropping the first set to the Islanders and trailed in the second 14-10. The Islanders were on a roll at that point, Irvin White from JFK was hot early with six kills to give the Islanders the advantage and confidence.
The Bulldogs were rattled early but got a huge burst from All-Island first team middle hitter Nathan Balbin and Deaven Hudtohan. Okkodo went on a 5-0 run to tie the second set at 18-18.
Sam Carino recorded two blocks for Okkodo, and they took their first lead of the game with a 20-19 advantage. Hudtohan and Carino finished the job with kills to take a close second set 25-22 to tie the game a one set apiece.
Okkodo finally had momentum on their side and went ahead 11-2 in the third set. Balbin had five kills in the third set as Okkodo cruised to a 25-13 win.
JFK's Tysen Morrison and Justin Lizama recorded kills to start the fourth set to take a two point advantage. Okkodo's Lance Mupas served an ace to give the Bulldogs a 10-9 lead.
JFK retook the lead with Matthew Mercado scoring two straight points with a kill followed by a block to go up 13-12.
Okkodo's Dominic David recorded a kill and later served an ace during a 4-0 run for the Bulldogs to go up 22-19.
Hudtohan followed up with an emphatic kill, and the Bulldogs ended up taking the fourth set 25-20 to stamp their ticket to the championship game.
"When we were down, our coaches told us to take it point by point. Even though we were down mentally, we had to keep going and try and win that second set," said Balbin.
Hudtohan praised JFK for a good game: "They were hitting more at the sharper angles, and that caught us off guard," said Hudtohan. "Our game plan from our coaches was to play everything point by point."
According to Balbin, the Bulldogs found their surge as the ISA regular season progressed. He was happy his team advanced and was pleased with the overall improvement.
"Our confidence was not there at the mid-season. I feel this win has lifted our confidence, and we will be ready."

– Okkodo senior leader Nathan Balbin
Balbin had a game-high 15 kills and four blocks for the Bulldogs. David had eight kills, and Hudtohan had two aces.
The Islanders will face the Geckos in the third place consolation game. White led the Islanders with 11 kills. Morrison had nine kills and two aces; Mercado had six kills and three blocks for JFK.
TITANS HOLD OFF GECKOS
Tiyan has been the league's front runners in recent memory. GW was oh so close in knocking them off in an exciting five-set nail biter. So exciting, that Tiyan athletic director Rommel Losinio 'grew 20 new white hairs.'
League MVP Gerald 'Basta Di' Malana paved the way for the Titans with 16 kills and four aces. Noel Ericsson added eight kills and Skyler Blas put down six. Isaiah Cruz came up big as well with five kills and five blocks.
CHAMPIONSHIP SATURDAY at JFK
ISA officials decided to hold the championship game at JFK Saturday night as a neutral location.
5:30 pm: 3rd place game (GW v JFK)
7 pm: championship game (Okkodo v Tiyan)
PHOTO GALLERY BROUGHT TO YOU BY:

COMING SOON …
GUAM SPORTS ON HOLD DUE TO SUPER TYPHOON MAWAR
QUICK HITS
Bishop Obispos beat Mt. Carmel for the IIAAG Middle School Girls Basketball championship 37-25.
—————————————-
The Benavente Roadrunners crushed the Agueda Pirates 17-1 to win the 76 PONY Middle School Baseball League. Rodney San Nicolas was a beat, striking out 13 batters in a complete game while going 4-for-4 at the plate, including a homer and 4 RBI.