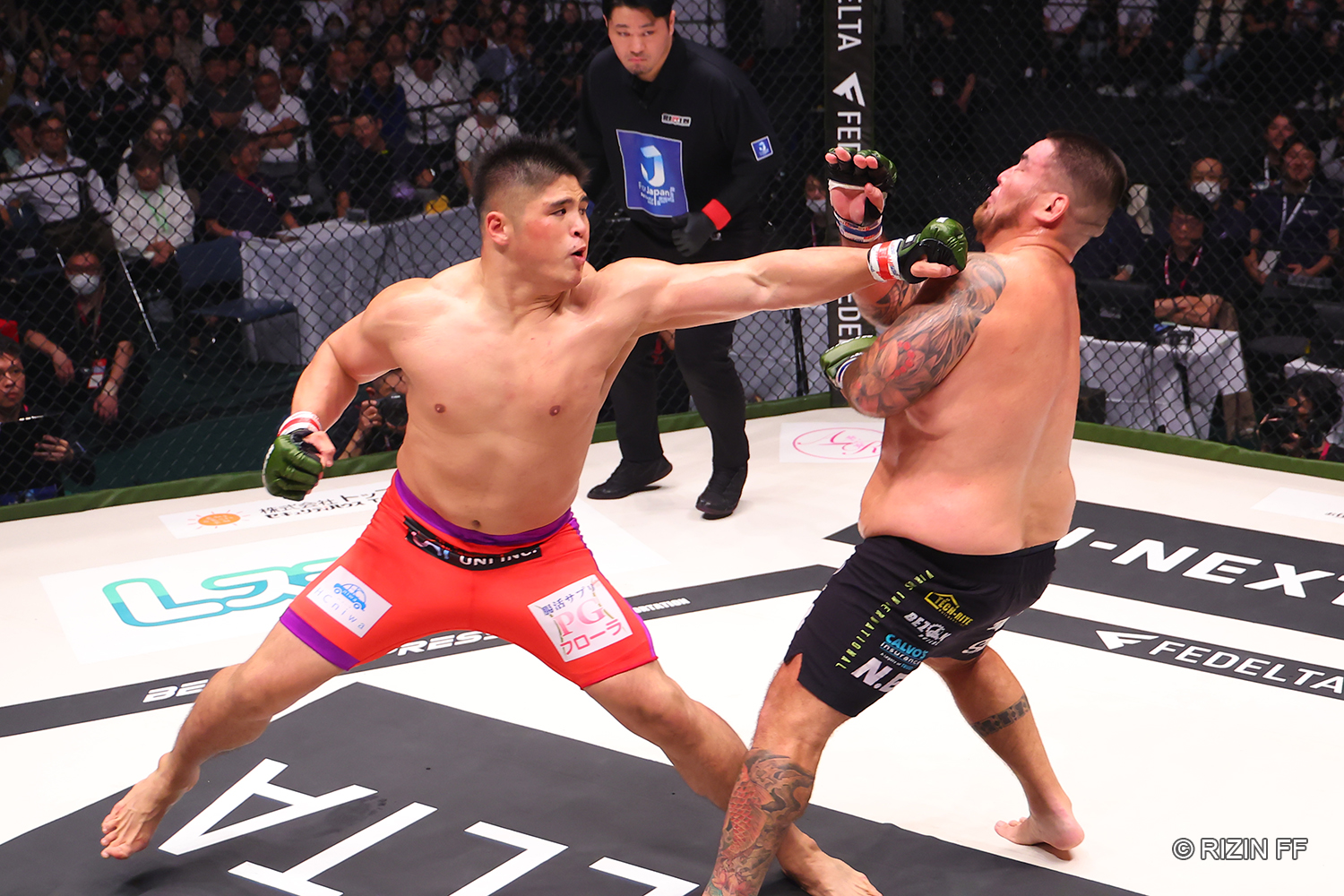 By Patrick Lujan
37-year-old Roque Martinez suffered a unanimous decision loss to 25-year-old Tsuyoshi Sudario on Saturday in RIZIN FF – LANDMARK VOL. 5.
The taller Sudario delivered a masterful performance against Guam's best heavyweight, easily controlling the stand up and ground games.
Martinez was making his first fight under the Rizin banner after a three-fight stint in the UFC. His fight experience wasn't enough against a very sharp and confident Sudario, who is under the tutelage of legend and Guam friend Enson Inoue, who was at his corner.
1st round
Sudario kept his distance with solid leg kicks and jabs that kept Martinez at bay. Guam's champ couldn't close the gap, despite being the aggressor. Sudario was moving fluidly on defense, avoiding any onslaught by Martinez. Meanwhile, he delivered timely jabs and even spinning kicks to the body before ending the final two minutes of the round on top control, dropping elbows before the bell sounded. A series of elbows before the bell opened a gash above Martinez's left eye.
2nd round
The second frame was similar to the first, but a solid right hand rocked Martinez that led to a take down with still over three minutes to go. Sudario sustained the top position the rest of the way, methodically picking apart Martinez with solid elbows against the cage along with knees to the body and a final foot stomp for good measure as the second round was clearly won.
3rd round
Knowing he was down 2-0, Martinez pressed the pace at the start of the final round, but Sudario wanted none of that, taking down Guam's fighter just seconds into the round with a double-leg. Martinez was on his back the rest of the way as Sudario used his larger frame to control the fight on the ground until the end.
Rough year for Guam…so far!
It has been a rough year for Guam MMA fighters in the early going of 2023. Losses by Trevin Jones (UFC), Brogan Walker (UFC), Kyle Aguon (Rizin), Scotty Eclavea and Peter Benavente (Beatdown) and now Martinez in Rizin has put the Guam fighters on a losing skid never experienced before.
PHOTO GALLERY BROUGHT TO YOU BY:
ALL PHOTOS FROM RIZIN FF

QUICK HITS
The Figo Islanders 40s women's softball team took gold in the Senior Softball World Championship in Las Vegas. Figo came out of the loser's bracket and beat the Arizona Belles 17-3 in the AA division championship game Sunday afternoon.
Other Guam teams that played in the 40s tournament were: Team SOTTA (women's) and Bud Light Guam, Friars 671 and Sindalun Guahan (men's).
Sindalu finished a respectable 4th out of 24 AAA division teams.