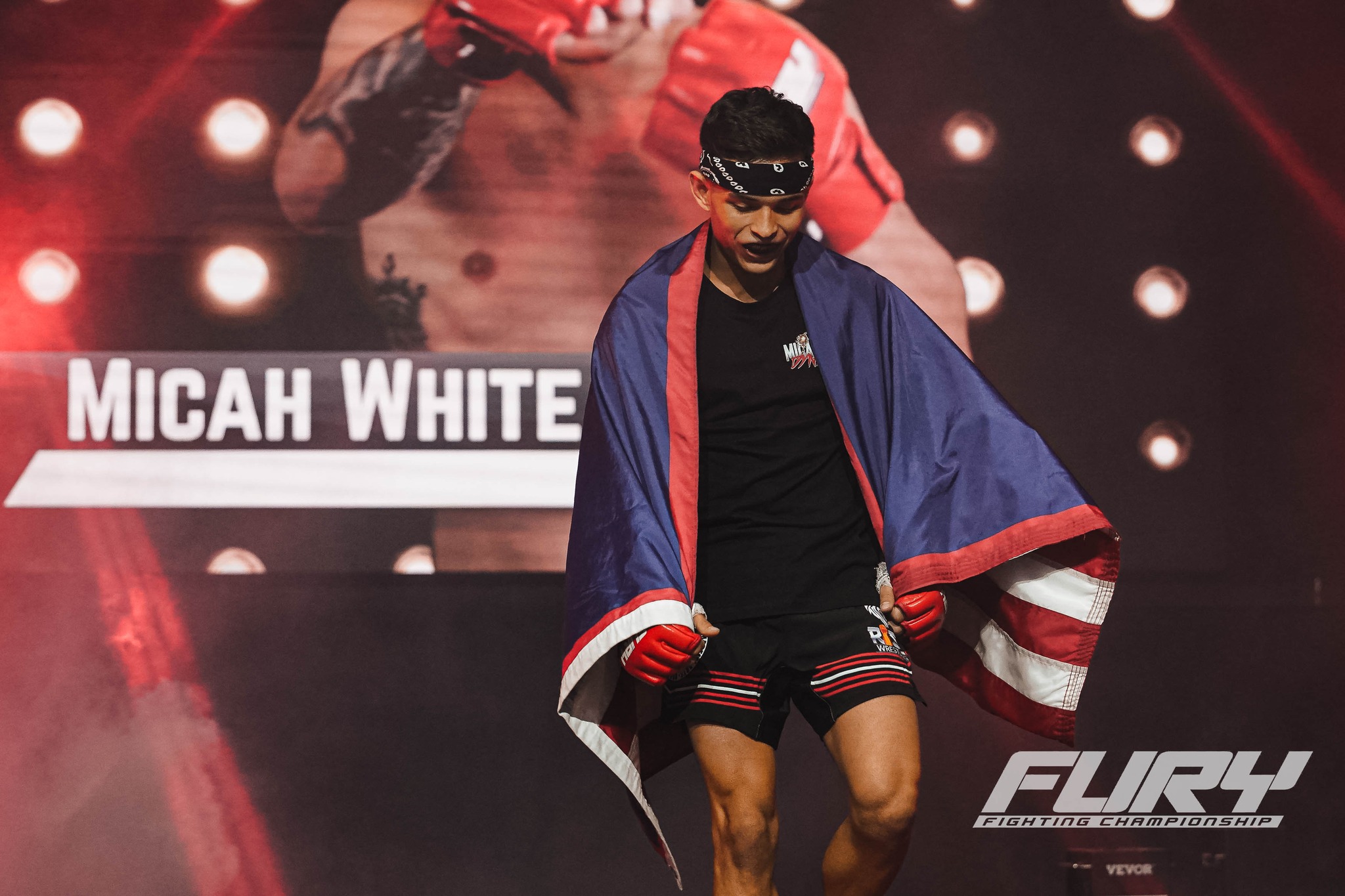 By Patrick Lujan
Guam's roots crosses over bodies of land and water, well represented in the sports world.
20-year-old Micah 'Dynamite' White has yet to step foot on the island, but he represents the GU proudly, carrying a double-sided USA/Guam flag in his MMA fights.
White is currently the Fury Fighting Championship (Houston, Texas based) flyweight amateur champion and #1 ranked in the state with a pro career just a jab away.
"I'm always proud to show my Guam roots," White said from his Houston home. "My mom talks about it all the time. She says that's where I get my island warrior spirit. I can't wait to finally visit the island and meet all my family and really connect with the island."
Mom Monique Pangelinan White has her father's family roots in Yigo and her mother (Cruz) is from Hagatna.
Micah has been involved in martial arts since he was five years old, taking up karate then jiu-jitsu before evolving into boxing and wrestling, where he wrestled all four years in high school. He says that boxing and wrestling have become his favorite forms of combat.
MMA just became natural where he now sees a clear path as a career. He just retained his flyweight (125-lb.) title on June 11 at Fury AS 50 via first round TKO.
He credits his dad Michael for always being there throughout his martial arts upbringing.
"(My dad) is really is the backbone and the one who has guided me through all these years."
As for turning pro, both father and son feel that one or to more amateur fights should be enough to sharpen the tools before moving up. By then, he would already have about four years of cage experience since his first fight was just a week after his 17th birthday.
"I think we both are on the same page as far as that is concerned. I'm happy that we both feel the same way regarding that move."
Still honing his skills, he likes to emulate the styles of Alex Volkanovski and Demetrious Johnson. Micah was pleasantly surprised to know that Volkanovski fought on Guam on his way to becoming a UFC champion. Growing up, his favorite fighter was George St. Pierre.
PLANS FOR A GUAM VISIT
Micah can't wait to visit his roots. He says the family has been waiting for twin brothers Maximus and Miliano to get a little older. Now that they are 10, the next year or so will be the right time to make the trip to Guam.
Whether he turns pro before or after his visit to the island, Guam fans now know who Micah White is and how proud he represents us. We shall proudly support this young fighter with our flag around his shoulder.
PHOTO GALLERY BROUGHT TO YOU BY:

COMING SOON …
High School Football starts Sept. 29
Brawl 3: Oct 13
Guam's Strongest Man and Woman Competition October 29