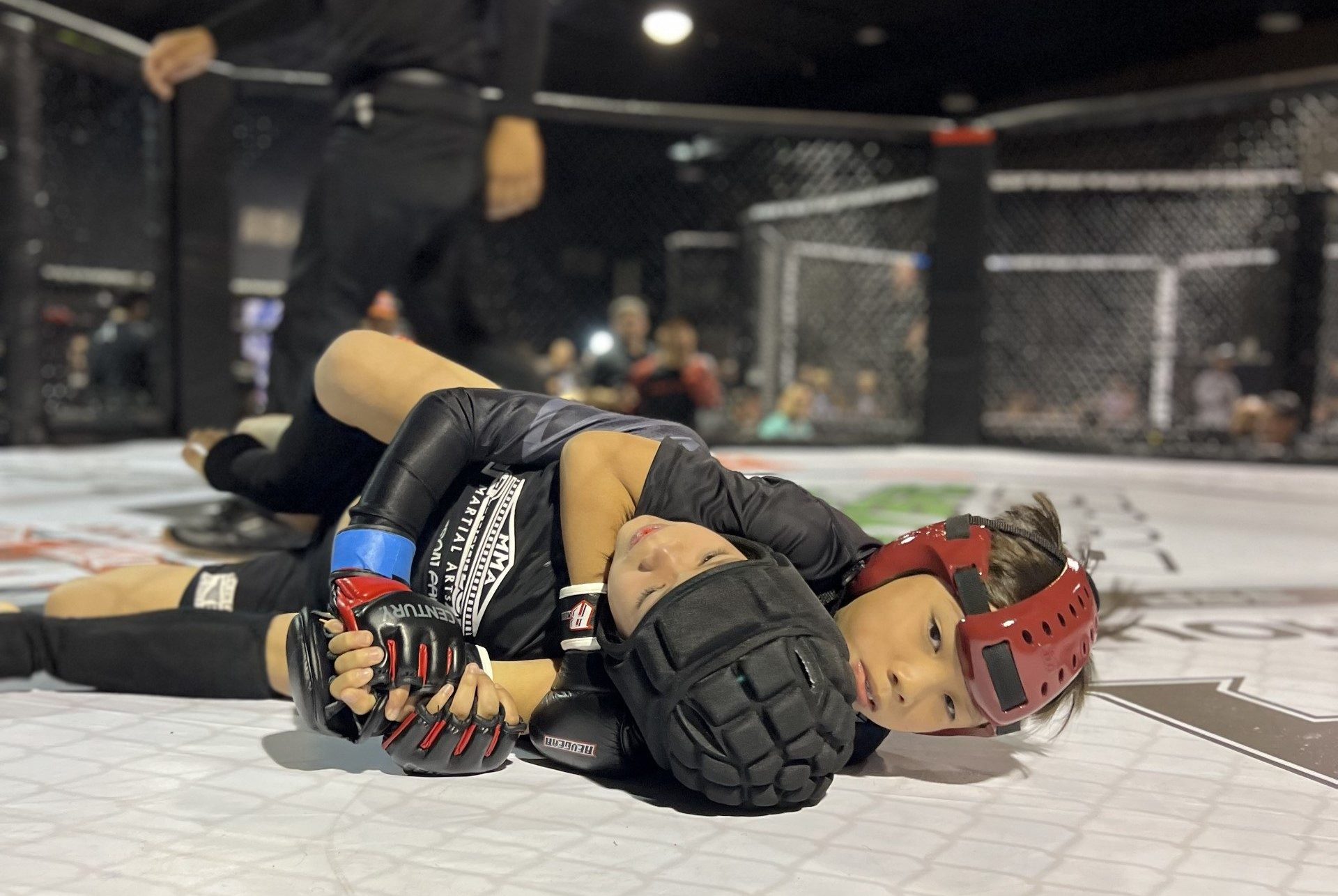 Contributed by Jesus Cruz
Luck Cruz, eight years old, and Sage Cruz, ten, competed in the U.S. National Championships in Ontario, California, on May 20th, 2023. The Cruz Brothers fought in Mixed Martial Arts (MMA) Cages with a double-elimination format.
Luck won all his fights to earn a national championship belt in the eight-year-old, 67lbs division. Sage fought in an older bracket (12 yrs) because there were no kids his age and weight class. He lost his first fight but won his second and earned a rematch with the kid he lost to in the first round. Sage got a little redemption by winning a split decision in his third fight and earned a spot on the podium finishing in 3rd place.
The United States Fight League (USFL) organizers attracted kids from multiple states and territories. This tournament selected the official U.S. Youth team for the 2023 IMMAF World Youth MMA Championships in Abu Dhabi from Aug 2nd-5th, 2023 (World Championship divisions are only for ages 12-17). The U.S.A. has been top 3 worldwide for all three UFC Sponsored International Mixed Martial Arts Federation Youth MMA World Championships.
Mixed Martial Arts is a full-contact combat sport that combines techniques from multiple combat sports. The MMA tournament rule set allows for striking and grappling.
Luck and Sage had a very active first half of the year. In January, they competed in the Steel Athletics Glorified Sparring Event in Kickboxing matches against a couple of Guam Muay Thai kids. Sage stopped his opponent in the third round, and Luck out-pointed his opponent.
In February, the boys participated in the Andersen Basketball League.
In March, Luck won a super fight against a Marianas Open gold medalist at the inaugural Guahan Jiu-Jitsu Tournament. According to the event organizers, it was one of the biggest matches of the night. Sage didn't compete because his opponent didn't make weight. Also, the Cruz boys traveled to Japan for Marianas Pro and secured gold medals.
For April, the boys finished their soccer seasons at the top. Luck's team was undefeated. Sage's team lost once, finishing 2nd in the Robbie Webber's Soccer League's top division. The boys ran in the Guam Visitors Bureau's Ko'Ko' Run in the middle of April. Luck finished first place for the 1-mile run (7-9 yr olds), and Sage finished 6th for the boys in the 2-mile race (10-12 yr olds). Luck and Sage also won Double Gold, winning in Gi and No-Gi brackets in the Patgon Jiu-Jitsu tournament.
Next up is the IBJJF Pan Kids 2023 Championships. It is the world's largest Jiu-Jitsu kids tournament. The IBJJF holds the tournament in Orlando, Florida.
Luck and Sage thank their MMA coaches, Coach Zach Tenorio and Coach Becca, Jiu-Jitsu professors and coaches, especially Professor Carbs and Professor Byron, wrestling coaches, Coach Tony Aquino and Coach Mia, and weightlifting coach, Coach Edgar Molinas. The Cruz Brothers also thank their sponsors, Expensive Dreams, owned by Gonzo and Larayn Quintanilla, and Eli's Jumpers, owed by Ron Santos. Lastly, Luck and Sage thank GVB President Carl Gutierrez, GVB Representatives Kraig Camacho and Lyann Cruz, and the entire GVB organization for their support through the Cultural and Sports Ambassador program.

QUICK HITS
The Figo Islanders 40s women's softball team took gold in the Senior Softball World Championship in Las Vegas. Figo came out of the loser's bracket and beat the Arizona Belles 17-3 in the AA division championship game Sunday afternoon.
Other Guam teams that played in the 40s tournament were: Team SOTTA (women's) and Bud Light Guam, Friars 671 and Sindalun Guahan (men's).
Sindalu finished a respectable 4th out of 24 AAA division teams.