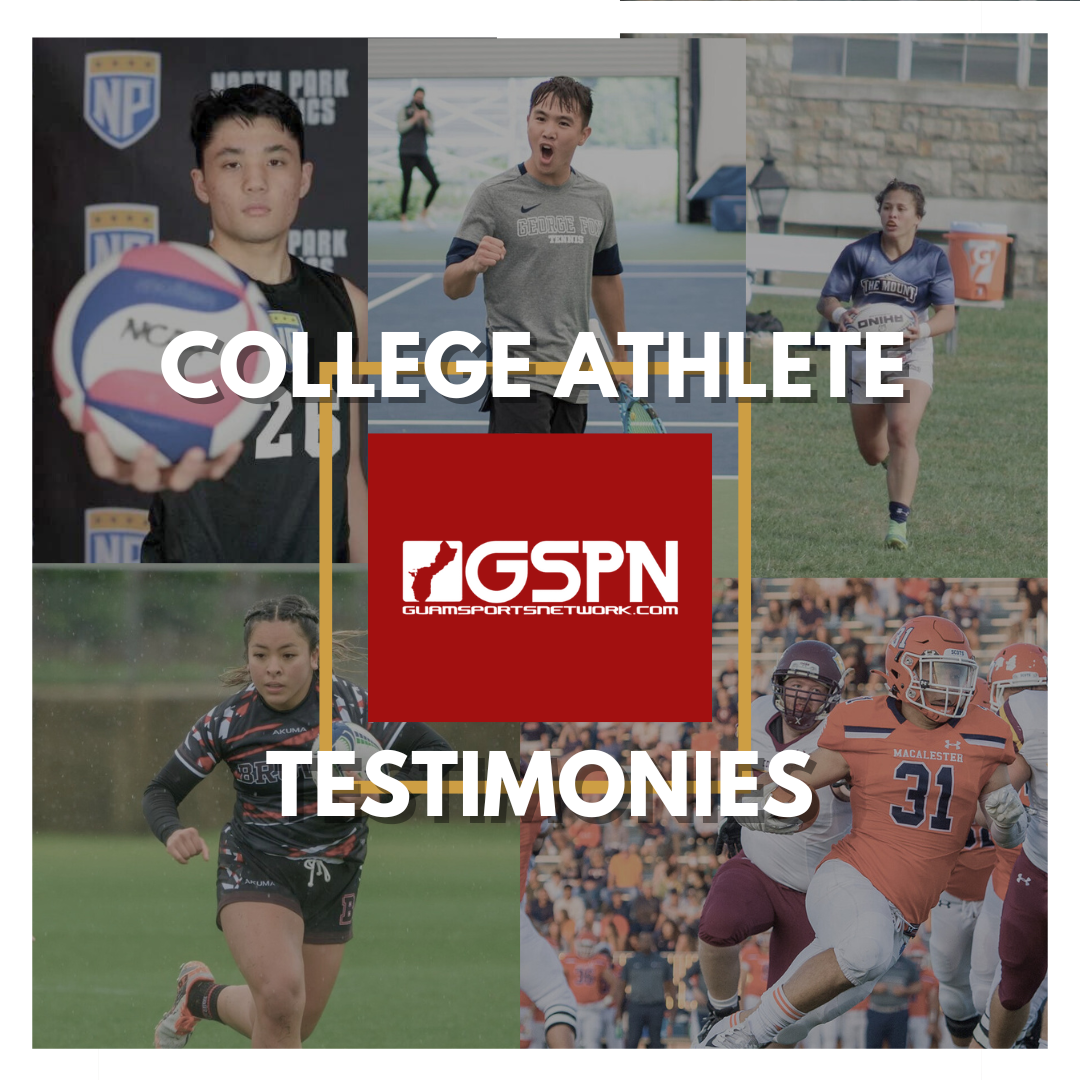 By Nick Akimoto
Guam athletes have demonstrated that there is enough talent on the island to find opportunities to excel at the collegiate level. Through developing their craft on Guam, these athletes have forged a path for themselves to receive a next level education while getting the opportunity to play with next level competition.
We've asked a few of those who have taken that next step about their experiences, how those experiences compare to Guam, and what lessons they would like to give to the next athlete interested in utilizing their talents.
(This is the second of a two part series)
Jalana Garcia
Mount St. Mary's University Rugby
How would you compare Guam rugby to stateside rugby?
Guam rugby is definitely more physical than stateside rugby. Stateside rugby, in my opinion, focuses a lot on stature and speed. If you meet the requirements of what they are looking for in terms of the positions that need to be filled, then you are more likely to get picked. Stateside rugby for both men and women mostly focuses on 15s rather than playing 7s.
What adjustments did you have to make? What was the biggest adjustment you had to make?
Adjustments that I had to make at least for rugby was understanding the game of 15s and knowing the different roles in the back line and the system that my coaches wanted us to play. In terms of turning to academics, I had to get accustomed to the environment, reaching out for help, and utilizing the many resources that were available on campus.
What has the academic experience been like?
The academic experience was challenging but worth it. I utilized the tutoring services that they had available for additional help in my science classes. I struggled my first year with trying to navigate through college and reaching out for help because everything was so new to me. I wasn't used to having so many resources around me, but I grew out of that mindset of "doing everything myself" because I didn't know how to get around and I really couldn't do everything on my own.
What would you say to upcoming athletes interested in playing collegiate sports?
Try and find your rhythm with balancing school, sports and time for yourself simultaneously. Mental breaks and physical breaks are necessary if you are on the verge of burnout or you're already in that state. You are not less of an athlete for taking time to regenerate and nourish yourself in a healthy way. If anything, you are a better athlete for knowing your limits.
More importantly, do not be ashamed to ask for help when you need it! Balancing school and sports is already hard enough so, don't burden yourself more with more stress.
Camden Camacho
George Fox Tennis
How would you evaluate your tennis career so far? How would you compare Guam tennis to collegiate tennis?
I loved my overall collegiate career and believe I achieved a lot for my school in my time here.
I wouldn't compare Guam tennis to stateside tennis and it's not close. I am one of the top players from Guam but am not in my school, which is DIII and we aren't even top 10 in the nation.
What would you recommend to someone interested in playing collegiate sports?
It is possible to play collegiate in any sport, but you have to be willing to put in more work than the people around you AND then some. Instead of aiming to be the best player on Guam, try to be the best player you can be.
Also, one main skill I've learned from Fox is film. Watch a lot of film of other players and yourself and try to soak in as much info (good and bad).
Makayla Atoigue
Brown University Rugby
How would you compare Guam rugby to college rugby?
Guam rugby is definitely more focused on the contact area and being more physical/capitalizing on your individual strengths. College rugby is more technical in thinking strategically, passing the ball into space and executing plays and an overall system.
What was the biggest adjustment you had to make?
I had to be intentional in bringing up my field awareness. The system my coaches want us to play is completely different than how I used to see the field and, in order for it to work, I had to change my approach. It takes extra film sessions, reps of each phase, studying our lexicons/ playbooks and most especially, making mistakes.
What has the academic experience been like? Especially at a school like Brown?
The curriculum at Brown is undoubtedly rigorous. I'm currently studying engineering and Native American & Indigenous Studies. My first assignment here asked me to code and solve a question for a theoretical meteorite approaching a planet. I have never touched a coding program before and knew nothing, just that I enjoy math.
I went to office hours, tutors and used all my resources and, though each week I get hit with insane tasks that I don't know how to solve, it's the most satisfying when I get to build amazing things like solar powered vehicles and suspension systems, so the reward is sweet.
Overall, it's hard but it's worth it and it pays off.
What would you recommend to someone interested in playing collegiate sports?
Challenge yourself and set high expectations in the classroom. Pick up new extracurriculars outside of your sport and find what you're passionate about aside from athletics.
Athletics are a great source to guide you to college and start your career but what you're passionate about guides your career. Being far from home and family makes the college athletic career more difficult for us islanders, so finding what you're passionate about and what you identify as outside of your sport will motivate and keep you grounded during the ups, downs and demands of your career.
Lastly, ask for help. If you want to play collegiately, you are more than capable. If you don't know where to start, there are people who want to help you and see you succeed. There's no need to be mamåhlao about your dreams when there's so many people and communities on Guam who want you to accomplish those dreams too.
Kai Akimoto
Macalester College
How would you compare Guam football to stateside football?
You might find that stateside players are a lot bigger and are very athletic, I would say that Guam football players with a certain level of vindication that earns a lot of respect on the fields out here. I think if players on Guam had the same access to weight training or more consistent programming, you would find comparable athletic stature, but even without these things, Guam football players surprise stateside coaches with their tenacity.
What was the biggest adjustment you had to make? On the field or in the classroom?
I'd say the on the field adjustments are comparable to the adjustments in the classroom. The mutual factor being time consumption. On Guam, in season, you might practice for 2-3 hours, five days out of the week. In college you have three-hour practices along with meetings and lifts that are scheduled at other times throughout your day. Academically, you go from sitting in class all day without needing to actively engage with material to preparing for tests and writing papers every week. Your schedule really fills up quickly and it can feel exhausting, but it is really fulfilling to have so much support and direction.
What was the academic experience like while playing college sports?
I think that the number of responsibilities that college sports asks of students can make it difficult to juggle the already burdensome workload that may come from college classes. I found that being on a team, however, was a really helpful advantage. I had guidance and mentorship from older teammates .
What would you tell to upcoming athletes interested in playing at the collegiate level?
I would say that there are challenges to be aware of, but playing sports at the collegiate level brings about a really great set of opportunities. There's a lot of programs out here that would love to have athletes from Guam, but they have no way of communicating. In some cases, getting onto a college team can really be as simple as emailing their coaches to express interest and find out more about the program.
Xander Duenas
North Park University Volleyball
How would you compare Guam volleyball to college volleyball?
How I would compare Guam volleyball to college is the level of play that is expected of us. How I would explain it is, on Guam the highest level of play is high school and maybe men's national team after that but there is no incentive to get better for the next step which is collegiate volleyball. So there is a small but noticeable gap when it comes to skill comparing Guam to collegiate volleyball.
What was the biggest adjustment you had to make? On the court or in the classroom?
Probably the long drives to the other games or even the flights to the other states since I didn't have to do that back in Guam. Also, the time zone difference and back-to-back schedule with school and volleyball, since it's not high school anymore and things have to be taken a little bit more seriously especially here at the D3 level.
Is there anything unique to Guam athletes that you think can be brought to college programs?
We have developed the mentality of unison rather than an individual player mindset when you step out on the court. With any kind of coaching in Guam, the players know that no matter who is with you on the court, you play your heart out and give 110% because we are all working towards the same goal. The same can't really be said for every player in collegiate level volleyball. So in a way, I would say a closer bond is what Guam players are great at finding.
What has your academic experience been like?
Definitely a little tough having to balance between doing well in both the classroom and on the court, especially because of my major in engineering. It does take a lot of focus and having to find a way to keep up with your academics while also putting out everything you have when you get the chance on the court. I'm enjoying the vast amount of new information that I've learned, but I'm also struggling at balancing school/volleyball/social life.
What would you say to upcoming athletes interested in playing at the collegiate level?
What I would say to upcoming athletes willing to play collegiate level volleyball is focus on your academics first and volleyball after. There are more rules placed on the individual player than on Guam, so being ready with homework and school work right off the bat will give you a massive head start. Another thing that I would like to point out is that you shouldn't be worried about the level of your skill, as long as you are willing to improve and learn you will be able to achieve more than you originally thought you could.

COMING SOON …
High School Football starts Sept. 29
Brawl 3: Oct 13
Guam's Strongest Man and Woman Competition October 29