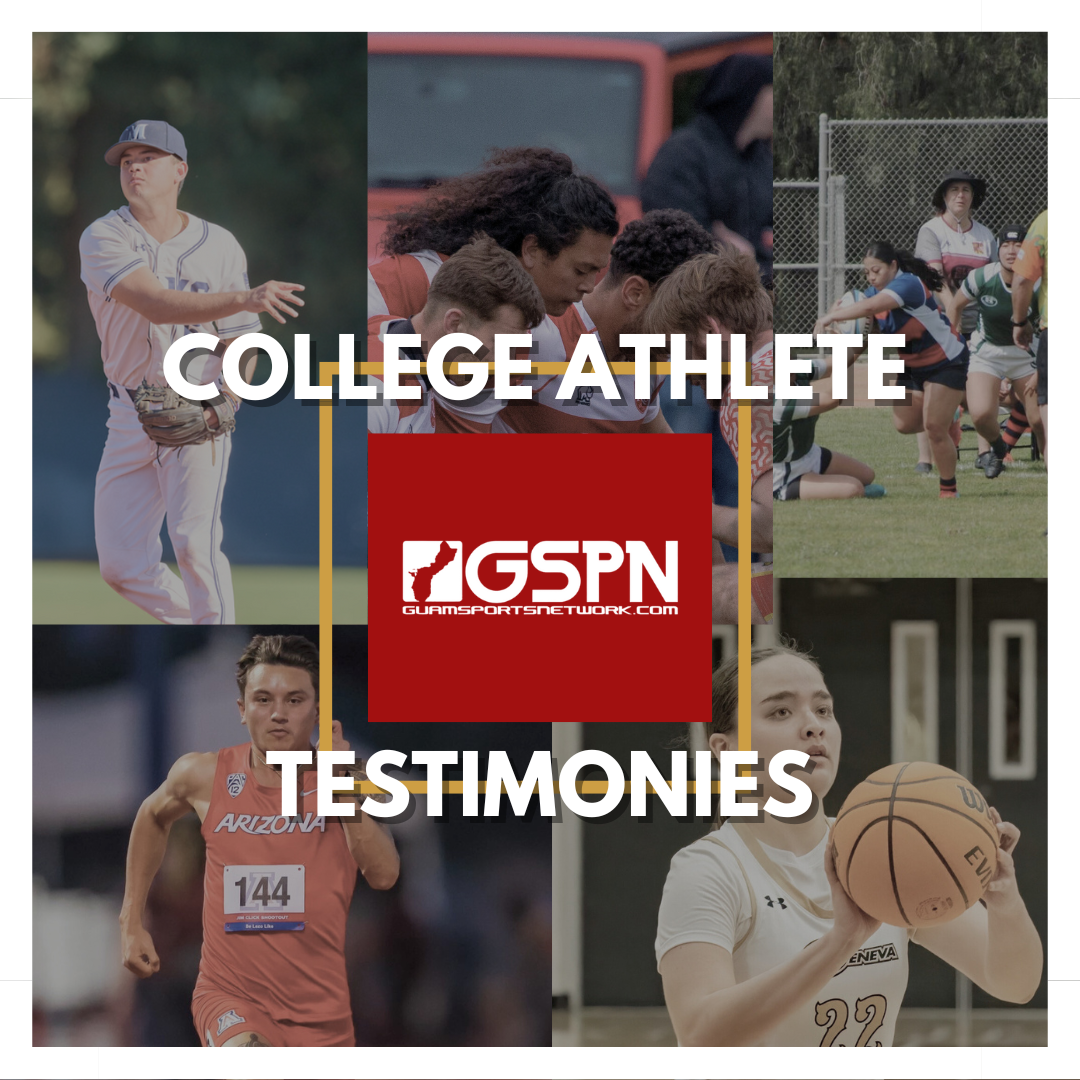 By Nick Akimoto
Guam athletes have demonstrated that there is enough talent on the island to find opportunities to excel at the collegiate level. Through developing their craft on Guam, these athletes have forged a path for themselves to receive a next level education while getting the opportunity to play with next level competition.
We've asked a few of those who have taken that next step about their experiences, how those experiences compare to Guam, and what lessons they would like to give to the next athlete interested in utilizing their talents.
(This is the first of a two part series)
Angelica Cabot
St Mary's College Rugby
How would you compare Guam rugby to stateside rugby? 
Both Guam and stateside rugby share a strong sense of family and community. Rugby is known for its tight-knit culture, where players and supporters alike form close bonds through shared experiences on and off the field.
What was the transition like?
Transitioning from Guam rugby to stateside rugby can be a culture shock for many players.
Initially, I found it difficult to adapt in California. There were times where I called my parents crying and asking to come home. However, through my team, I quickly found a family away from home and a support system. My teammates welcomed me with open arms and helped me navigate the new culture and style of play. I am also blessed to have a small Guam community on campus. My friends come to my games and cheer my team on. I wouldn't have done it without them. I am truly thankful for everything they have done to support me through it all.
The biggest adjustment I had to make was getting past the fact that my family wouldn't be at my games due to them being across the sea. It was definitely hard because all throughout high school they would be at every game cheering me on. I know at the end of the day, I carry my family name on my back and I dedicate every game to them. I strive everyday to make them proud in everything I do.
What do you think is unique to Guam rugby that should be brought to stateside programs?
The untapped talent and potential of young rugby players on Guam is definitely unique. I am confident in saying that this talent is worth a bigger spotlight on the map. I would love to see more high schoolers transition into college rugby and continue to represent our beautiful island.
What would you recommend to someone interested in playing collegiate sports?
Making the transition from Guam rugby to stateside rugby is an incredible opportunity to develop as a rugby player and as a person. To all young players looking to play collegiate rugby, my advice to you is: Embrace the challenge! Moving to a new place and playing with new teammates can be daunting, but it's also a chance to challenge yourself and push beyond your limits. Embrace the challenge and see it as an opportunity to grow and improve.
Cooper Paulino
Menlo College Baseball
How would you reflect on your baseball career at this point? How would you compare Guam baseball to college baseball?
I would say it was a great career. I met a lot of new people and gained a lot of experiences both defensively and offensively.
Guam baseball is great and competitive, but I think out here it's more fast paced. People out here are much bigger and more advanced in their baseball knowledge. There are a lot more different techniques that I learned, which I do want to bring back to Guam some day.
What was the biggest adjustment you had to make?
Getting bigger.
I came into Menlo only 145 lbs, which was too skinny. My coach gave me a goal to hit 165, which helped me out a lot. Once I put on that weight, I was hitting the ball farther and throwing the ball harder. I really believe that Guam high school should encourage a lifting program for sports.
What would you recommend to someone interested in playing collegiate sports?
For all the athletes I would say follow your dreams, but it's not going to be easy. If you want it badly enough, you will achieve it. Don't be afraid to make mistakes or to adjust to different styles of play. Put your head down and work hard.
Joseph Green
Arizona Track & Field
How would you compare Guam Track to Collegiate Track?
Track & Field here in the states is definitely a lot more challenging compared to track on Guam. 
I think the reason for the difference is due to the amount of resources that are available to athletes out here and not just about the track itself, but the coaching as well. I'm not sure how caught up on track news some people are, but just a few weeks ago, there was a high schooler that beat an Olympic and world champion medalist in the 100. The fact that a high school got the chance to race against him is something that track athletes on Guam would never get the chance to. The level is so much higher in the states because track is taken much more seriously and given more rigorous training and meets, so they, in turn, perform better.
What was the biggest adjustment you had to make?
We constantly have two-a-day practices that each last roughly 2-3 hours on top of meetings and classes, so our workload each day is extremely busy. On top of that is just being in a new place with athletes who are much faster than me, so the transition has been a little rough as I felt like I had to play catch up to get on the same level as them. However, it is all paying off and I am proving that I could compete at the collegiate level as them.
What has the academic experience been like while running track?
Being a student athlete at Arizona, or just a D1 school is a dream come true. It is a step up from my previous D2 school in terms of resources and even classes. Some people would think that we are shown special treatment, however, there are times where we are at more of a disadvantage due to traveling for meets. However, we do have access to tutors and academic counseling who monitor our grades and assist us 24/7, so my grades currently are at an all time high. "Student" definitely comes before "athlete" here in Arizona because if we miss even one assignment, we are not allowed to practice until it has been made up or talked over with the professor of the class.
What would you recommend to someone interested in playing collegiate sports?
Something I'd tell an upcoming athlete is to prepare for the worst. There's going to be injuries, homesickness and challenges trying to play catch up, but those are what defines you as an athlete. Coming from Guam you're already at a disadvantage, so don't give them another one to throw at you. Always strive to be better than what you were and out work anyone who stands in your way. You got a whole island supporting you and they will be proud of you no matter what you accomplish, so if you don't want to do it for yourself, do it for them.
Mia San Nicolas
Geneva College Basketball
How would you compare Guam basketball and collegiate basketball?
Fundamentally, the skills are the same. The skills I learned from my coaches on Guam translate to play in college. I can name three homegrown female athletes that used skills learned by homegrown Guam coaches that translated into success in college basketball: Destiny Castro and Kali Benavente, and Joy Pangilinan. These ladies, my friends, let me know at a young age, that it was possible to play competitively at the college level. Our coaches on Guam do a great job in skill development and team focus. However, the long grind of the season is much different in college than in high school on Guam.
We play between 25-35 games, start practicing/open gyms at the end of August, and the season ends at the end of February which means nutrition, recovery and rehabilitation remains on the forefront for approximately six full months. It takes a strong mindset and commitment to stay physically healthy to be successful. Also, at almost every position, the girls are taller and sometimes more physically imposing. On Guam, I was able to be successful as a pure post player, even though I learned a lot of ball handling skills. In college, you have to expand your game to minimize your weaknesses.
This past season, Coach Grinder had me train to shoot trail-post three-pointers and I was able to make about 15 this season. I don't think I ever made a three-point shot in my career until this past season. That skill made me more successful as an all-around player this season because my defender had to meet me at the top of the key, rather than inside the key, which opened up more and easier opportunities for me and my teammates to score.
What were some things that you had to adjust to in your play style to play out there?
There are barely any "pure" post players in the conference I play in. Most have some guard-like skillset in shooting, ball handling and perimeter defense. I had to improve my ball handling and long-range shooting as well as physicality in the paint, defensively and offensively. I developed a three-point shot which helped me tremendously this season. I also had to make quicker decisions with the ball offensively because help defense comes extremely quick.
[I had to] embrace being a "role" player during my first two seasons in college. I had never had to experience that before and I sometimes started to question my ability. If not for my coaches, teammates and parents, l'm not sure I would have been able to overcome that.
Even when I transferred to Geneva, I had to earn my way into the starting lineup. But once there, I worked harder to stay there. I am so blessed to be where I am.
What would you say to upcoming athletes interested in playing at a higher level?
Playing at the college level requires you to love the sport, be extremely motivated, be a team first player, be extremely coachable, be able to accept any role required for the betterment of the team, have a strong and positive mindset, and to be self-motivated in your health, recovery, rehabilitation, and nutrition. At a young age, when most kids may not be ready for that kind of sacrifice and commitment, is ultimately the time that they need to. Every second, minute, hour, day, month, and year dedicated to your "craft" will only result in putting you in position to attempt the next level. Even at that, it might not be enough.
Also, in looking for college programs, you must find the right "fit" for you as a student, as well as an athlete. For me, it has been a long and difficult journey, but I would not trade a thing. I have been and continue to be truly blessed in my journey. Destiny, Kali and Joy's success was an inspiration for me and gave me the confidence to know that hard work and commitment could get me the same result. I only hope that I can inspire others to pursue their dreams as well. Although being a college athlete is an amazing accomplishment for me, and I love playing college basketball for Geneva College, I place closest to my heart, being able to represent Team Guam as a national player. I cannot wait until I am reunited with my sisters to compete with the best in the Pacific region.
Gavin Bejerana
University of Rio Grande Rugby
How would you compare Guam Rugby to stateside rugby?
It's very different with the diversity of people who come to the US to play. Instead of having the usual play styles that you'd normally see in Guam, you get the experience with players from various countries and their play styles, making it new, exciting, challenging and fun.
Coming here I was pretty small in height compared to everyone else, which means having to change positions on the field to what I'm unfamiliar with. The biggest adjustment I had to make was getting used to the cold and the air quality here. Being higher up in altitude has made it harder to breathe, plus being in the cold majority of the year compared to the year round sun in Guam wasn't all so easy.
What has the academic experience been like?
My academic experience has been quite nice, being in a small college gives me the benefit of having one on ones with the professor if I ever need to learn the material more in depth. Staying on top of classes is our coach's #1 rule, because in any sense if we don't make it out to any professional level, we have our degrees that we've worked so hard for.
What would you say to upcoming athletes interested in playing collegiate sports?
I'd say to get ready for new things everyday, you learn something new every day being out here whether it be life, education or in your sport that you play. My best advice would include managing your time. Remember that you have team sessions in the gym, watching game films, training sessions, recovery sessions, team meetings, traveling, and so on, and remember that may just be your sport. Schedule specific times for your school work ahead of time to ease the stress later in the week.

COMING SOON …
High School Football starts Sept. 29
Brawl 3: Oct 13
Guam's Strongest Man and Woman Competition October 29