By Patrick Lujan
Guam's only off-road track and home to numerous sporting and entertaining events has been given a 30-day eviction notice effective February 1st from the Chamorro Land Trust Commission's Board of Directors, according to the Guam Racing Federation's public notice.
According to Public Law 25-27 signed by then Gov. Carl Gutierrez in 1999, the property owned by the CLTC was on a 20-year license with the Guam Raceway Park under the control of the GRF. As per the CLTC's eviction notice, the license expired on May 31, 2018.
"This surprised us all," GIRMAC President Jeff Rios said about the eviction letter. (GIRMAC is the motocross portion of the GRF)
"We've been waiting for a long, long time to get the long-term lease (50 years)," GRF President Henry Simpson said. "CLTC had six months to negotiate it and pass along to the Legislature, and it didn't happen (after the expiration of the license).
"It's been month to month since then. We almost had it done when Jack Hattig (then CLTC Director) was there, but since he left, it just died and then we get this eviction notice. It's been a bureaucratic nightmare."
Simpson said he'd like to see the raceway park lease mirror that of the Guam Football Federation where the Harmon land is under the Department of Parks & Recreation and not the CLTC since both agencies have two different missions – one for sports/recreation and the other for indigenous housing.
"Please know on several occasions, I met with CLTC as well as lawmakers, in hopes of working together to find a solution," Rios added. "However, they've given us no insight, no plan for a relocation at the very least. All we have is an eviction notice. We felt there was no other choice but to hire legal counsel and fight for what we know as our home. I always felt it to be my responsibility to find a safe haven for racers to go."
It is the least opportune time for such a move since the federation and the track itself is gearing up to celebrate 40 years of Smokin' Wheels, the island's biggest off-road event, in April.
Over the years, the track has not only hosted off-roading and drag racing events but other outdoor sporting events and even music festivals.
Next Move
With the clock ticking, GRF has obtained legal counsel and seeks community support in hopes of keeping the track open.

QUICK HITS
Guam MTB National Championship: Edward Oingerang and Jennifer Camacho are your 2023 MTB national champions. Oingerang finished the course in 1:13:24 while Camacho won her second straight title in 54:08.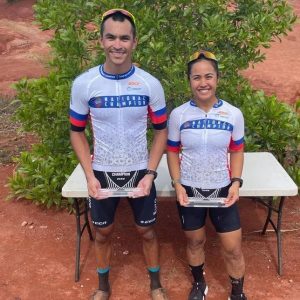 ——————————————
Kobe Miyashita, with St. John's coach Arvin Flores, was named the 2023 IIAAG Middle School Boys Volleyball MVP!