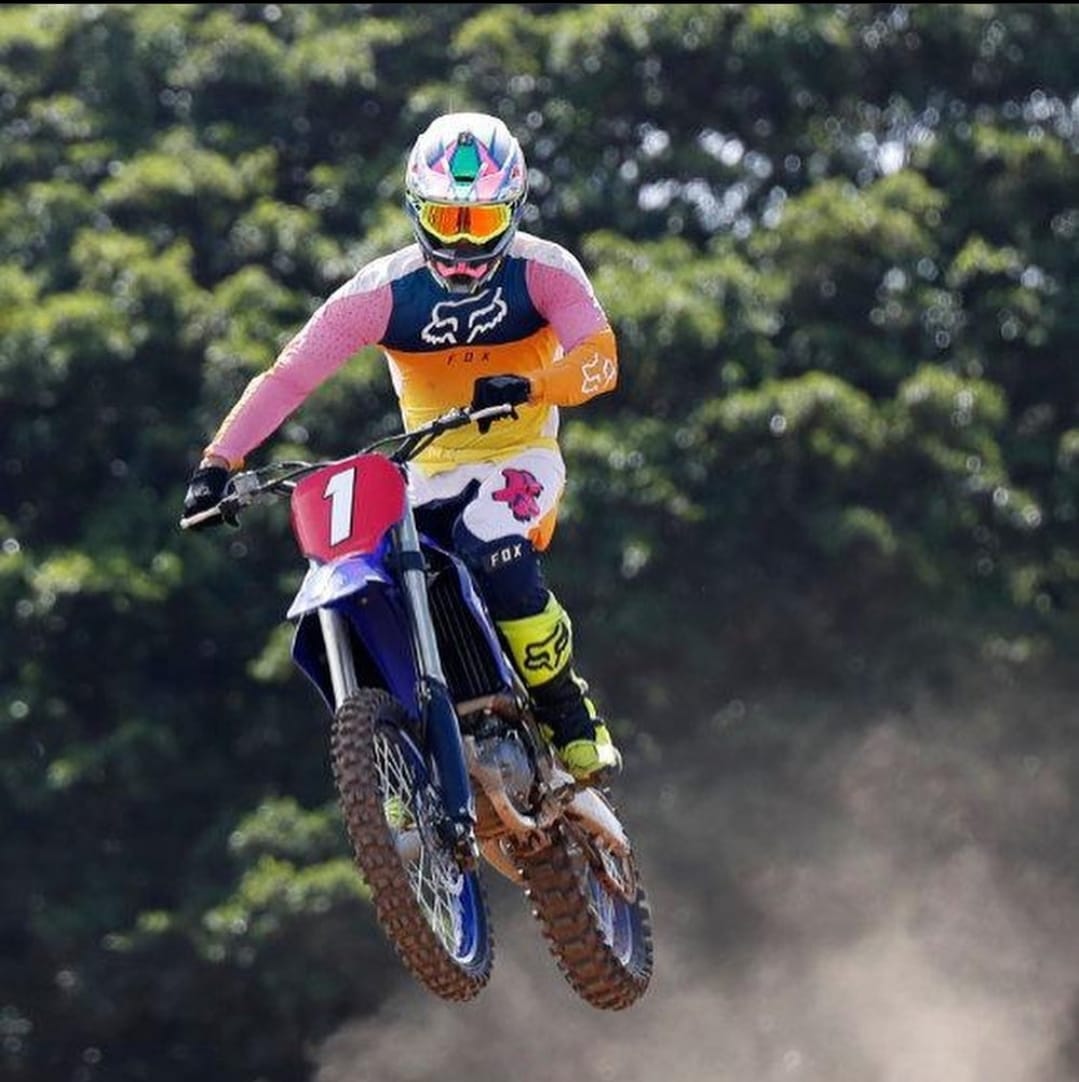 PRESS RELEASE – It was all quality family fun at the Guam International Raceway Yigo once again with the kickoff of Round 1 of the 8 round 2023 Monster Energy Guam Motocross Championships held this past Sunday. Racing kicked off at 10:30 am with the schedule full of kid's minibike and kids atv classes along with riders racing in the big bikes and atv classes. There were several families that had three generations of competitors that were swinging a leg over either a two or four wheeled machine to enjoyed a great day of motocross fun. Moms, dads, sisters, brothers and in a few cases grandpas were all getting down and dirty in a good way at this past Sundays round 1. Weather was perfect with a cool breeze that help to carry the mouthwatering scent of savory chicken and ribs being barbecued. The Jose and Herminia Calvo Memorial Offroad Park is family friendly and had its motocross track recently updated to reflect this with several new changes for the riders for the 2023 championships. The updates to the course were mom and auntie approved and yet are still very popular with both the riders and the fans.
Highlights and results
In the Open Motorcycle class defending champion JR Cepeda aboard his #1 plated Yamaha swept both heats for the overall win but was kept honest by a hard charging #31 Tim Wenden abord a KTM. The two leaders had separated themselves from the rest of the field by midpoint of the race. Running in third and fourth were a pair of Cycles Plus Kawasaki riders #85 Blaze Aiken and #18 Lil Jon Aguon. The Cycles Plus team riders put on a great race battling for the third place position with #18 Lil Jon Aguon taking third at the final checkers. Round 1 results are as follows.
1st #1 JR Cepeda
2nd #31 Tim Wenden
3rd #18 Little John Aguon
4th #85 Blaze Aiken
5th #11 Mike Limtiaco
6th #55 Carlo Pangelinan
7th #921 Jason Monnin
8th #20 Zak Cruz
9th #23 Jordan Leon Guerrero
10th #96 Edward Sandlin
11th #51 Frank Rios
12th #98 Marshal Vawter
13th #74 Damian Manibusan
14th #19 Zachary Chang
15th #27 Marvin Pangelinan
In the Open Atv class Yamaha mounted #27 James Lujan edged out Cycles Plus team rider #4 Robert Bucek to take the round one win with Bucek settling for second and #26 Kawasaki mounted Georgie Santos finishing in third. The rest of the field finished as follows
4th #24 Alan Blaz
5th #30 Brandon Ross
6th #11 Peter G
7th #6 CJ Benavente
8th #88 Cam Lorenzo
9th #8q Quirino Cabe
10th #8d Tony Diaz
11th #14 Pierre Banes
Other Results
450cc Motorcycle
1st #7 JR Cepeda 50
2nd #1 Little John Aguon 44
3rd #11 Mike Limtiaco 40
4th #921 Jason Monnin 36
5th #96 Edward Sanlin 31
6th #98 Marshal Vawter 30
7th #51 Frank Rios 30
250cc Motorcycle
1st #31 Tim Wenden 50
2nd #85 Blaze Aiken 44
3rd #55 Carlo Pangelinan 40
4th #23 Jordan Leon Guerrero 34
5th #20 Zak Cruz 34
6th #74 Damian Manibusan 30
7th #19 Zachary Chang 28
8th #27 Marvin Pangelinan 26
Over 40 Vet Motorcycle
1st #33 Tim Wenden 25
2nd #11 Mike Limtiaco 22
3rd #55 Carlo Pangelinan 20
4th #51 Frank Rios 18
Novice Open Motorcycle
1st #8 Kanen Arceo 50
2nd #915 David Bussa 44
3rd #203 Jacob Kendal 40
4th #31 Mariana Wenden 34
5th #66 Anthony Blaz 32
6th #81 Eteban Castillo 31
7th #22 Mo Jones 29
8th #88 Dana Tamayo 25
9th #921 Derrik Larance 13
Midrange Atv
1st #6 CJ Benavente 50
School boy/girl
1st #8 Kanen Arceo 50
2nd #31 Mariana Wenden 44
Womens Open
1st #31 Mariana Wenden 50
2nd #88 Dana Tamayo 44
Kids Open Minibike
1st #8 Jonathan Aguon 50
2nd #21 Chris Leon Guerrero 44
3rd #4 Landon Grey 35
4th #33 Leo Limtiaco 34
5th #7 Maddox Monnin 34
6th #23 Jonaye Cruz 20
150cc Kids Minibike
1st #23 Jonaye Cruz 25
85cc Kids Minibike
1st #18 Jonathan Aguon 50
2nd #21 Chris Leon Guerrero 44
3rd #4 Landon Grey 35
4th #33 Leo Limtiaco 34
5th #7 Maddox Monnin 34
Women's Minibike
1st #23 Jonaye Cruz 25
65cc Kids Minibike
1st #28 Julian Lane 47
2nd #3 Talen Diaz San Nicolas 47
3rd #38 Travin Blaz 40
4th #11 Leo Limtiaco 36
5th #100 Cannen Brooks 32
6th #12 Tekoa Camacho 29
7th #18 Jeriah Guzman 29
50cc SR Kids Minibike
#3 Cason Brooks 50
#44 Kiko Grey 44
50cc Kids Minibike
1st #100 Kyan Mayo 50
2nd #30 Ryder Salas 42
3rd #6 Owen Harris 40
4th #119 Monique Monnin 31
5th #304 Royce Butler 31
6th #7 Liam Ries 30
7th #RX Dariyan Camacho 29
8th #23 Gianna Lane 25
9th #BX Cannen Gumabon 20
Kids Mini Atv SR 1
1st #40 Tayden Blaz 50
2nd #7 Gaven Lorenzo 42
3rd #18 Austin Quinata 42
Kids Mini Atv SR2
#4 Kyan Mayo 50
#11 Alana Quinata 44
Kids Mini Atv Intro
1st #88 Giancarlo Lorenzo 50
2nd #17 Samantha Ross 44
3rd #20 A Santos 40
4th #21 Raven Salas 36
Up next on 2023 GIRMAC motocross schedule will be Round 2 of the Monster Energy Guam Motocross Championships on Sunday February 19th. The event welcomes race fans free of charge with racing set to start at 10:30am. Thank you Guam- all of the families of Guam International Raceway Motorcycle and Atv Corporation expressed their gratitude to have such a great facility as the Jose and Herminia Calvo Memorial Offroad Park at the Guam International Raceway Yigo to be able to enjoy quality time with family and friends. They ask all their friends and families to please continue to support their goal of safety, sportsmanship and the family. Those interested in getting involved or are looking for more information can visit www.GIRMAC.Teamapp.com or contact Robert Bucek at 671-727-5381 on Guam.

QUICK HITS
Guam MTB National Championship: Edward Oingerang and Jennifer Camacho are your 2023 MTB national champions. Oingerang finished the course in 1:13:24 while Camacho won her second straight title in 54:08.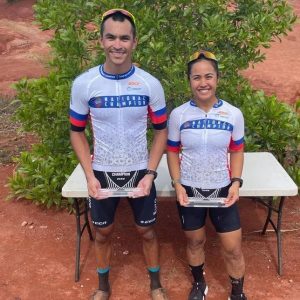 ——————————————
Kobe Miyashita, with St. John's coach Arvin Flores, was named the 2023 IIAAG Middle School Boys Volleyball MVP!