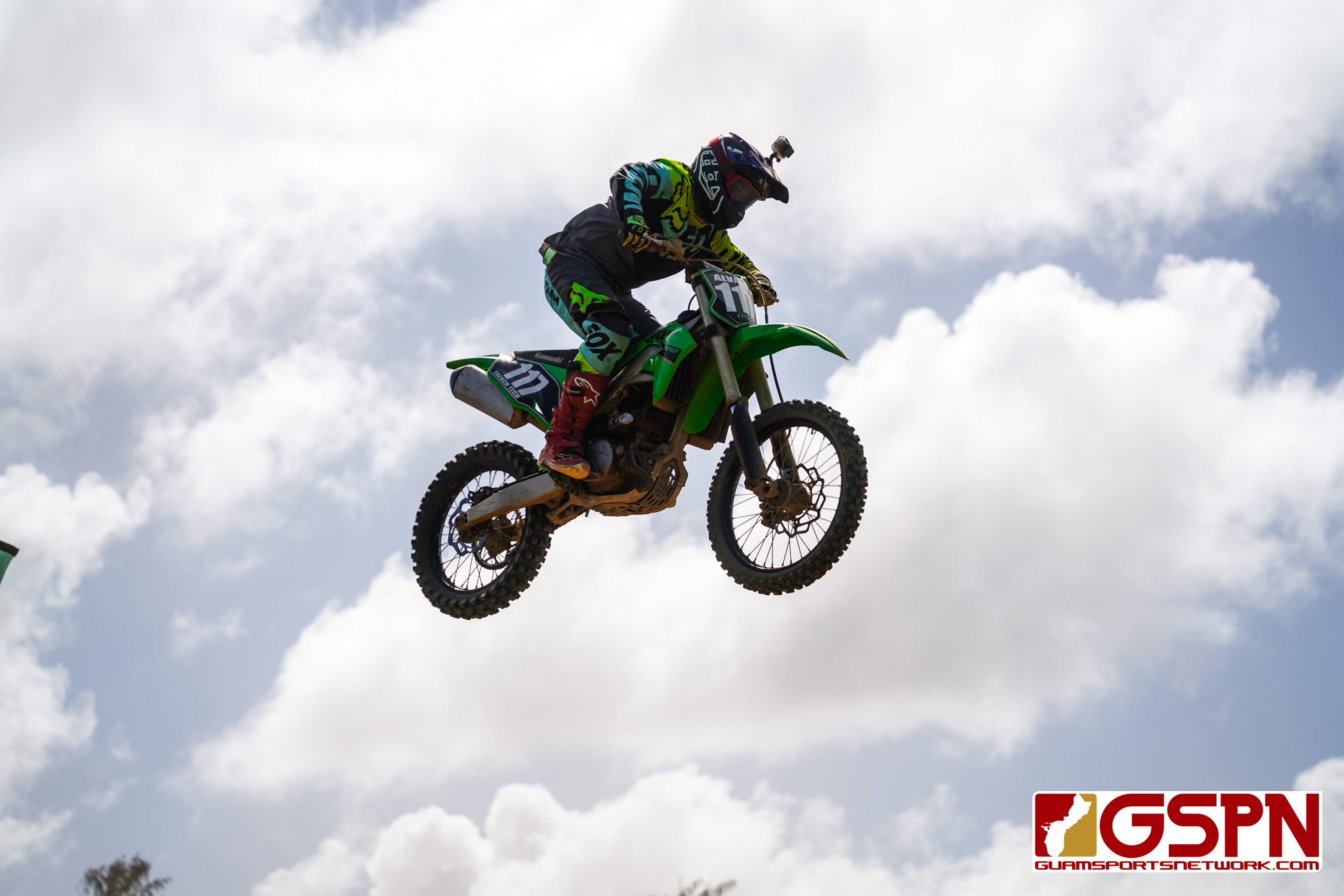 By Patrick Lujan
MARPI, Saipan – A fun-filled weekend of off-road racing came to a close at Cow Town Race Track Sunday afternoon with a sense of accomplishment and positive vibes.
The Marianas Racing Association from the CNMI hosted a successful event that will only be built upon by the two islands of Guam and Saipan.
"We couldn't ask for a better weekend," said event coordinator Cuki Alvarez, who celebrated his 52nd birthday on Sunday and also captured the Expert Class. "It was great to see this event happen and have all these riders come out to compete. The fans, too, came out to Cow Town to enjoy these exciting races."
Expert Class
Heat 2 took place Sunday afternoon and the excitement was building for the big dogs of Marianas racing. Saipan's Shane 'Pikaboo' Alvarez was coming off a Heat 1 win on Saturday with dad Cuki and Guam young gun Blaze Aiken in third.
Aiken took Sunday's holeshot blazing out of the gate with the father-son Alvarez duo right behind. The three set the pace for the 12-lap main event with Aiken slowly building a descent lead.
That was until a flat tire on the 8th lap subdued Aiken's hopes of a Heat 2 win.
"Flat tire man," Aiken frankly said after. "And I was feeling good, too."
Cuki went on to take the overall top spot with Pikaboo coming in second. Both went off track after to celebrate with the fans around.
"I've been riding and racing dirt bikes almost all my life, and it's always such a fun and amazing experience riding and racing and making new friends, seeing good friends, catching up with old friends all in the name of MOTOCROSS," Alvarez posted on his social media.
Legends Race
In the Legends finale, Kim Aiken couldn't catch a break. A delayed start off the block put him behind the pack, only to catch up to second place in the opening lap. Another stall off a turn put him behind again, only to move up to 2nd once more. Finally, his gas tank emptied even before jumping the finish line hill. Aiken pushed his bike up the finish line hill with the help of his fellow competitors to wrap up Turkey Cross 2022. Biba Marianas!
The exciting weekend wouldn't be possible without its sponsors: Monster Energy, Triple J, Marianas Visitors Authority, Port of Guam, Pacific Unlimited, Hafa Adai Signs, W5/Guahan Soldier, Seabridge, Philip & Sons, GSPN, GMSi, WIT, Hydra-Air Pacific, Mid Pac Far East, Fastenal, Unitek Environmental, APL, Rocky Mountain Precast, Smithbridge, Marianas Racing Association and GIRMAC.
TURKEY CROSS 2022 FINAL RESULTS
Peewee ATV
1) #19 CABRERA, Rockson 22/25 = 47pts
2) # 88 LORENZO, Giancarlo 25/22 = 47pts
3) #11 SUSULIN, Brooklynn 18/20 = 38pts
4) #415 TORRES, Nakoa 20/18 = 38pts
5) #23 LANE, Gianna DNR/DNR
Peewee I
1) #16 GREY, Kiko 25/25 = 50pts
2) #4 MAYO, Kyan 22/22 = 44pts
Peewee II
1) #44 TOGAWA, Keenon 25/25 = 50pts
2) #3 BROOKS, Cason 22/22 = 44pts
Minis I
1) #2 MONDIA, Alize 25/25 – 50pts
2) # 3 SAN NICOLAS, Talen 22/22 = 44pts
3) #24 SALAS, Daniel 20/20 = 40pts
4) #28 LANE, Julian 18/18 = 36pts
5) #33 PALACIOS, Aaron 16/16 = 32pts
6) #4 GREY, Landon 14/15 = 29pts
7) #21 LEON GUERRERO, Chris 15/14 = 29pts
8) #7 SUSULIN, Harley 13/13 = 26pts
9) #18 GUZMAN, Jeriah 12/12 = 24pts
Mini ATV
1) #7 LORENZO, Gavin 25/25 = 50pts
2) #816 IGITOL, Anella 20/20 = 40pts
3) #8 CAMACHO, Kassidy 15/22 = 37pts
4) #24 NAUTA, Rogen 18/18 = 36pts
5) #32 YUMUL, Franchesca 22/13 = 35pts
6) #4 MAYO, Kyan 16/15 = 31pts
7) #99 ROSARIO, Keoni 14/16 = 30pts
8) #9 CABRERA, Kimason DNR/14 = 14pts
Power Puff Girls
1) #680 PANGELINAN, Billie 25/25 = 50pts
2) #120 CELIS, Nanako 22/22 = 44pts
3) #23 CRUZ, Jo'naye 20/20 = 40pts
4) #171 ALVAREZ, Shaniah 18/18 = 36pts
Minis II
1) #31 WENDEN, Richard 25/25 = 50pts
2) #8 AGUON, John 22/20 = 42pts
3) #680 PANGELINAN, Billie 20/18 = 38pts
4) #18 PALACIOS, Vicente 14/22 = 36pts
5) #121 FERRER, TJ 18/16 = 34pts
6) #905 GUERRERO, Matthew 15/15 = 30pts
7) #730 PALACIOS, Leighton 16/14 = 30pts
8) #74 CASTRO, Carter 13/13 = 26pts
9) #818 CRUZ, Calix DNR/DNR
Big Boy ATV
1) #1 CAMACHO, Christian 25/25 = 50pts
2) #27 LUJAN, James 20/22 = 42pts
3) #14 BANES, Pier 18/18 = 36pts
4) #88 LORENZO, Camillo 22/14 = 36pts
5) #4 BUCEK, Bob 14/20 = 34pts
6) #11 BLAZ, Aaron 16/15 = 31pts
7) #57 CAMACHO, Henry Sr 15/13 = 28pts
8) #322 SUSULIN, Rex DNR/16 = 16pts
9) #26 SANTOS, George DNR/DNR
Mama Class
1) #18 IGITOL, Maribel 25/25 = 50pts
2) #171 ALVAREZ, Mari 22/22 = 44pts
3) #333 RASA, Marissa 20/20 = 40pts
4) #74 CASTRO, Marlyn 18/18 =36pts
5) #79 PANGELINAN, Sheanna 16/DNR = 16pts
Veterans
1) #33 WENDEN, Tim 22/25 = 47pts
2) #111 ALVAREZ, Cuki 25/22 = 47pts
3) #55 CELIS, Dave 20/20 = 40pts
4) #827 CEPEDA, Melvin 18/18 = 36pts
5) #21 CEPEDA, Charles 16/16 = 32pts
6) #121 FERRER, Bob 15/15 = 30pts
7) #327 YUMUL, Ray 13/14 = 28pts
8) #78 SALALILA, Julian 14/DNR = 14pts
NOVICE
1) #327 YUMUL, Ethan 25/25 = 50pts
2) #88 ARCEO, Kanen 20/22 = 42pts
3) #27 CRUZ, Aric 22/15 = 37pts
4) #530 LANE, Wesley 15/20 = 35pts
5) #203 KENDALL, Jacob 14/18 = 32pts
6) #66 BLAZ, Anthony 16/16 = 32pts
7) #86 RASA, Ponce 18/12 = 30pts
8) #22 JONES, Maurice  13/13 = 26pts
9) #369 SABLAN, Frankie 10/14 = 24pts
10) #33 WENDEN, Mariana 11/11 =22pts
11) #90 SANTOS, Joe 12/DNR = 12pts
12) #8 CAMACHO, Christian DNR/10 = 10pts
13) #11 LLAGAS, Cory 9/DNR = 9pts
14) #17 SALAS, Isaiah DNF/DNR
INTERMEDIATE
1) #323 PANGELINAN, Corry 25/25 = 50pts
2) #10 GUERRERO, Abraham 20/22 = 42pts
3) #20 CRUZ, Zachary 22/18 = 40pts
4) #27 CRUZ, Aric 26/20 = 36pts
5) #19 CAMACHO, Henry Jr 18/16 = 34pts
6) #827 CEPEDA, Melvin 14/15 = 29pts
7) #96 SANDLIN, Edward Jude 15/14 = 29pts
8) #29 CASTRO, Byron 12/13 = 25pts
9) #723 LLAGAS, AJ 13/DNF = 13pts
Expert Open
1) #111 ALVAREZ, Cuki 22/25 = 47pts
2) #117 ALVAREZ, Shane 25/22 = 47pts
3) #18 AGUON, Johnny 16/20 = 36pts
4) #33 WENDEN, Tim 18/16 = 34pts
5) #85 AIKEN,  Blaze 20/14 = 34pts
6) #9 ALVAREZ, Alverick 13/18 = 31pts
7) #44 TOGAWA, Patrick 14/15 = 29pts
8) #323 PANGELINAN, Corry 15/13 = 28pts
9) #827 CEPEDA, Melvin 11/12 = 23pts
10) #11 CRUZ, Ellery 9/12 = 21pts
11) #21 CEPEDA, Charles 10/10 = 20pts
12) #13 HERNANEZ,  Angelito DNF/11 = 11pts
Legends
1) #21 CEPEDA, Charles 25/25 = 50pts
2) #38 BURGER, Dave 20/22 = 42pts
3) #85 AIKEN, Kim 22/16 = 38pts
4) #98 CABRERA, Patrick 18/18 = 36pts
5) #5 SABLAN, Steve DNR/20 = 20pts
6) #88 BLAS, Jake DNR
7) #1e BUCEK, Bob DNR
8) #500 CAMACHO, Henry Sr DNR
PHOTO GALLERY BROUGHT TO YOU BY: