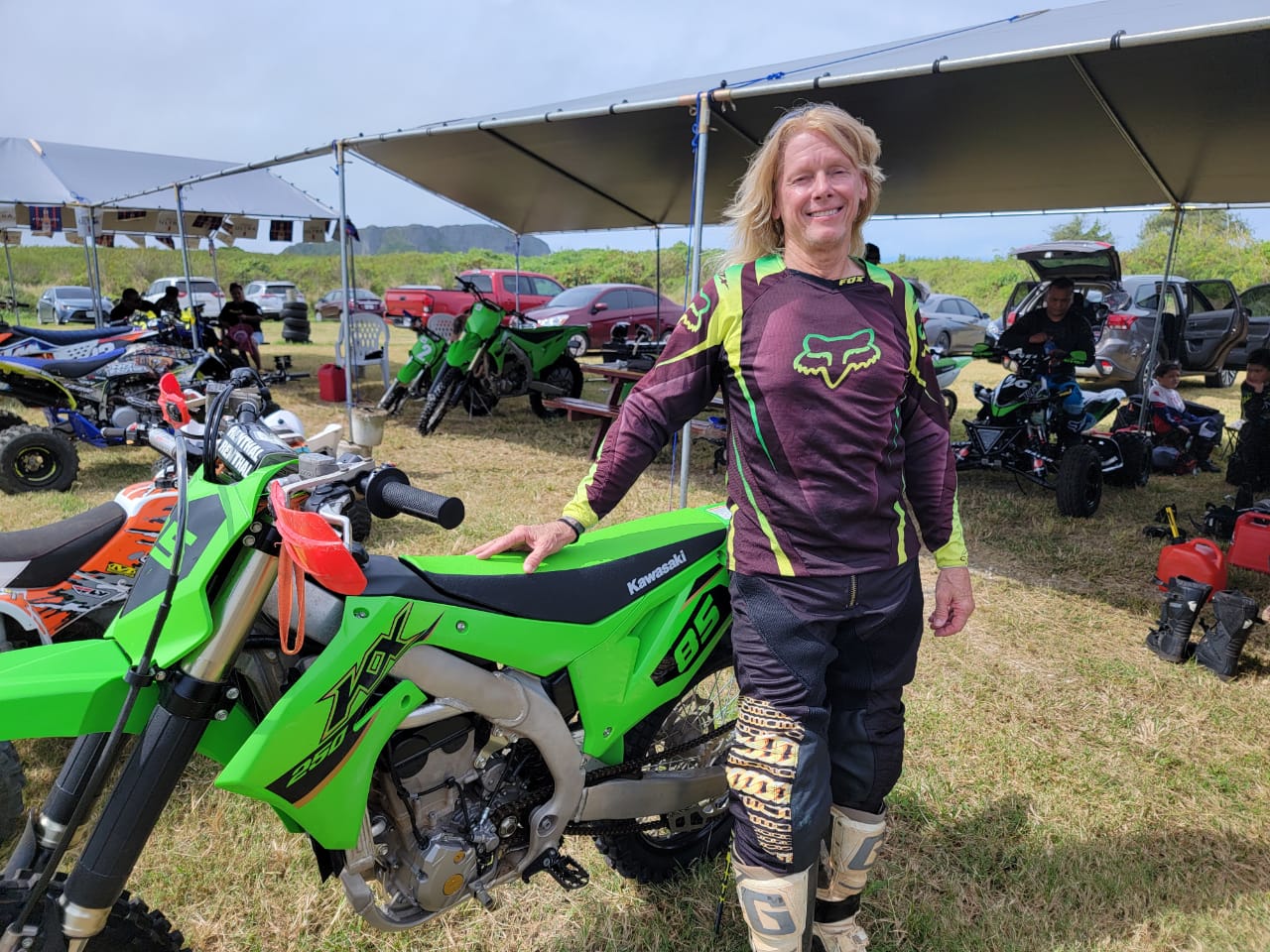 By Patrick Lujan
MARPI, Saipan – Three dozen Guam riders are in Saipan for some friendly off-road competition with their Marianas neighbors in this weekend's Turkey Cross 2022.
One familiar face is Kim Aiken. You can't miss him on the track with his trademark blonde hair flowing out of his helmet.
He's the most senior rider of the Guam delegation at a young 66 years of age. Gearing for two heats over the weekend at the Cow Town Race Track in Marpi, it's as they say 'come full circle' for Aiken.
SAIPAN ROOTS
Aiken was born on Guam but grew up in Saipan. In fact, he was part of the first off-road movement in Saipan back in 1971 as a teenager. It was in 1972 when the first village races took place on the island.
"It's just what I love," said the young-hearted Aiken. "It's the only thing that I felt like I was in heaven."
The connection remains strong until today. Aiken's family still lives here.
"I'm excited for this because Saipan is my home, even though I moved to Guam in '86. Cuki (Alvarez's) dad used to sponsor me as a rider in the '70s and '80s under Saipan Suzuki. I used to take Cuki and his brothers to the track."
Now the full circle is evident as Alvarez is now considered a Saipan racing legend who is the organizer of the weekend's events.
What's keeping Aiken behind the handle bars is the sure joy of riding with his son, 19-year-old Blaze, who is one of Guam's top riders.
"I'm not going to lie, it's a young man's sport, but if he and I can do it together, oh my god!"
As for this weekend, Aiken will be riding his 250cc in the Open Legends division along the likes of Bob Bucek and Frank Rios.
"I'm not going to ride above my head. I'm just going to go out there and have fun. I don't care if I win or lose, I'm just going to enjoy the moment with my fellow old guys."
OLDEST TO YOUNGEST
At the other side of the spectrum is four-year-old Gianna 'Gigi' Lane. Gigi rides in the Mini ATV class and it's a family thing as older brother Julian (7 yrs.) competes in the 65cc class and dad Wes suits up in the novice 250cc class.
The Lane's got Gigi going earlier this year when she was still 3, following the footsteps of Julian.
This should be nerve wracking for mother Brianna, right?
"Not so much. We go over basic safety every time. She knows to breath and calm herself down."
As for making the trip to Saipan for competition, mom said, "this is her first time on a big track with jumps, so it's a little different, but I think she'll be alright. Today, I'm a little bit (nervous) but they got it. They'll be alright."
GUAM OFF-ROAD COMMUNITY
Three dozen riders but many more support came along in what proves to be a strong off-road community.
Aiken describes the uniqueness of the community in which everyone helps everyone. Gas? Oil? bike stand? No problem. Someone is there to help.
"It's not like other sports," Aiken said. "We truly are here to help each other out. Why do you think I've been doing it for so long."
For the Lane's, who came from California, it was an easy fit into the Guam off-road family.
"We love it. We've been with Local Strains from day one and it's been great ever since. We help each other, we help the kids and they get out there to have fun. They make friendships and I think that's the biggest thing."
Action for the Turkey Cross kicks off on Saturday after lunch with Heat 1 with Heat 2 taking place on Sunday with all races wrapping up around 2:30 pm.

QUICK HITS
3rd place: Big ups to the Para Todu Rugby Club for finishing 3rd out of 16 teams in the Manila 10's Rugby Tournament today. Biba Guam Rugby!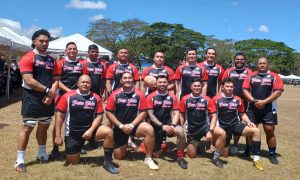 ——————————————
Guam MTB National Championship: Edward Oingerang and Jennifer Camacho are your 2023 MTB national champions. Oingerang finished the course in 1:13:24 while Camacho won her second straight title in 54:08.