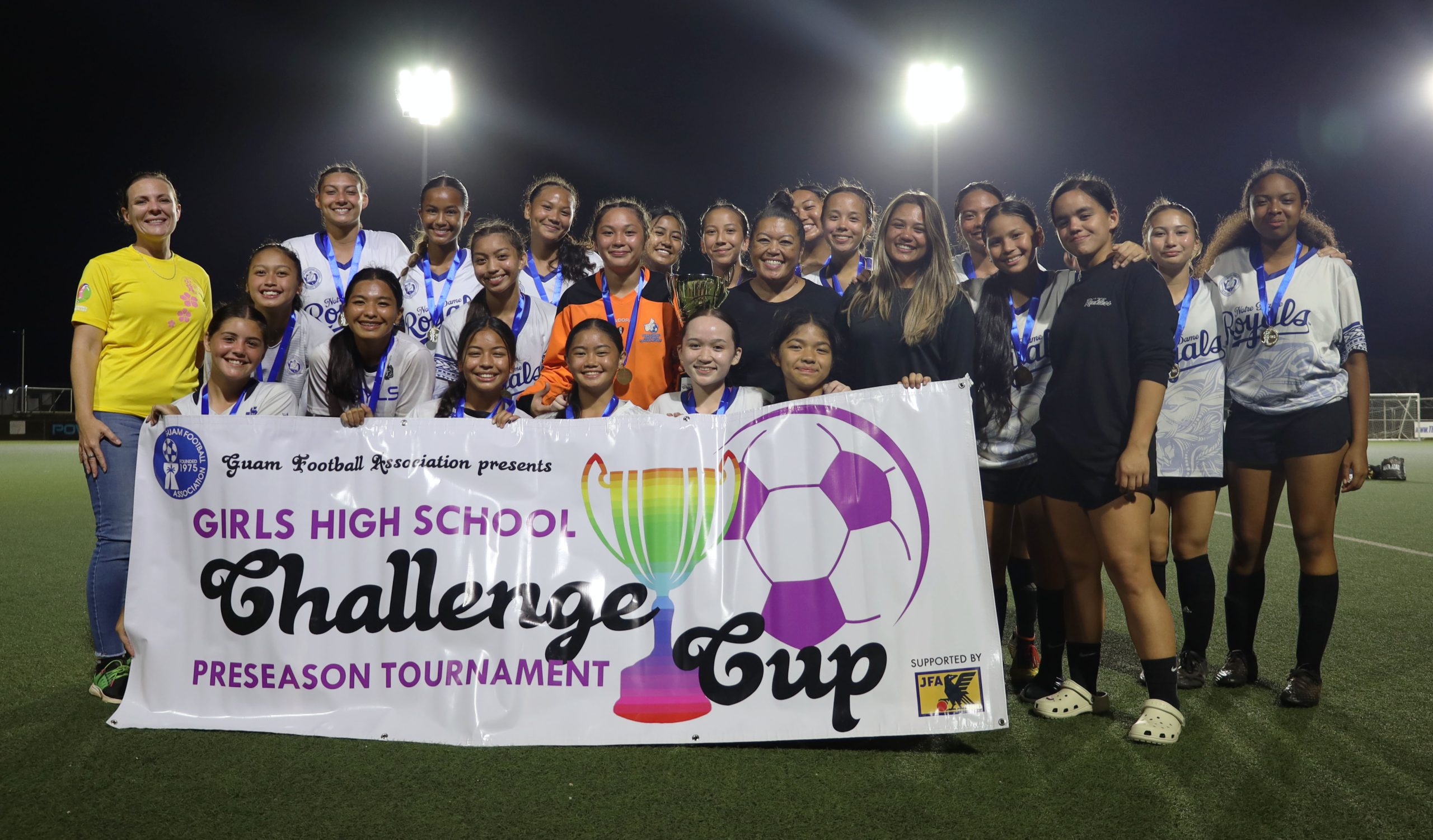 PRESS RELEASE – The Notre Dame Royals claimed championship honors at the 2023 Guam Football Association Challenge Cup Girls High School Soccer Tournament at the GFA National Training Center Sunday evening.
The Royals defeated the Southern Dolphins 1-0 during a corner-kick play in the final match of the tournament which returned for the first time since 2019. The tournament was canceled in 2020 due to the COVID19 pandemic, as well as for the 2021 and 2022 seasons. The Royals also won the 2019 tournament, before moving on to win the league title in the same year.
The tournament, supported by Japan Football Association, featured eight high school teams from both the recently concluded ISA Girls High School Soccer League and the upcoming IIAAG Girls High School Soccer League: Academy , George Washington, Harvest, John F. Kennedy, Notre Dame, Okkodo, Southern, and a combined team of Tiyan and Simon Sanchez.
In the semifinals, the Royals defeated 2023 ISA Girls High School Soccer League champions JFK, winning 4-1 in a penalty shootout. The Dolphins defeated the combined team of Tiyan/Sanchez 2-0 in the other semifinal to set up the Royals vs Dolphins showdown in the final.
The final match was live-streamed and available online: https://mycujoo.tv/view/event/clff2nioz73er0je1otunac2r?src=AND_BC
Following the championship match, the Royals were presented the tournament's Champions Trophy and medals, and the Dolphins were presented with GFA silver medals.
Previous winners of the preseason tournament
• 2012: Harvest Eagles
• 2013: Notre Dame Royals
• 2014: George Washington Geckos
• 2015: Sanchez Sharks
• 2016: George Washington Geckos
• 2017: Guam High Panthers
• 2018: Sanchez Sharks
• 2019: Notre Dame Royals

QUICK HITS
Bishop Obispos beat Mt. Carmel for the IIAAG Middle School Girls Basketball championship 37-25.
—————————————-
The Benavente Roadrunners crushed the Agueda Pirates 17-1 to win the 76 PONY Middle School Baseball League. Rodney San Nicolas was a beat, striking out 13 batters in a complete game while going 4-for-4 at the plate, including a homer and 4 RBI.