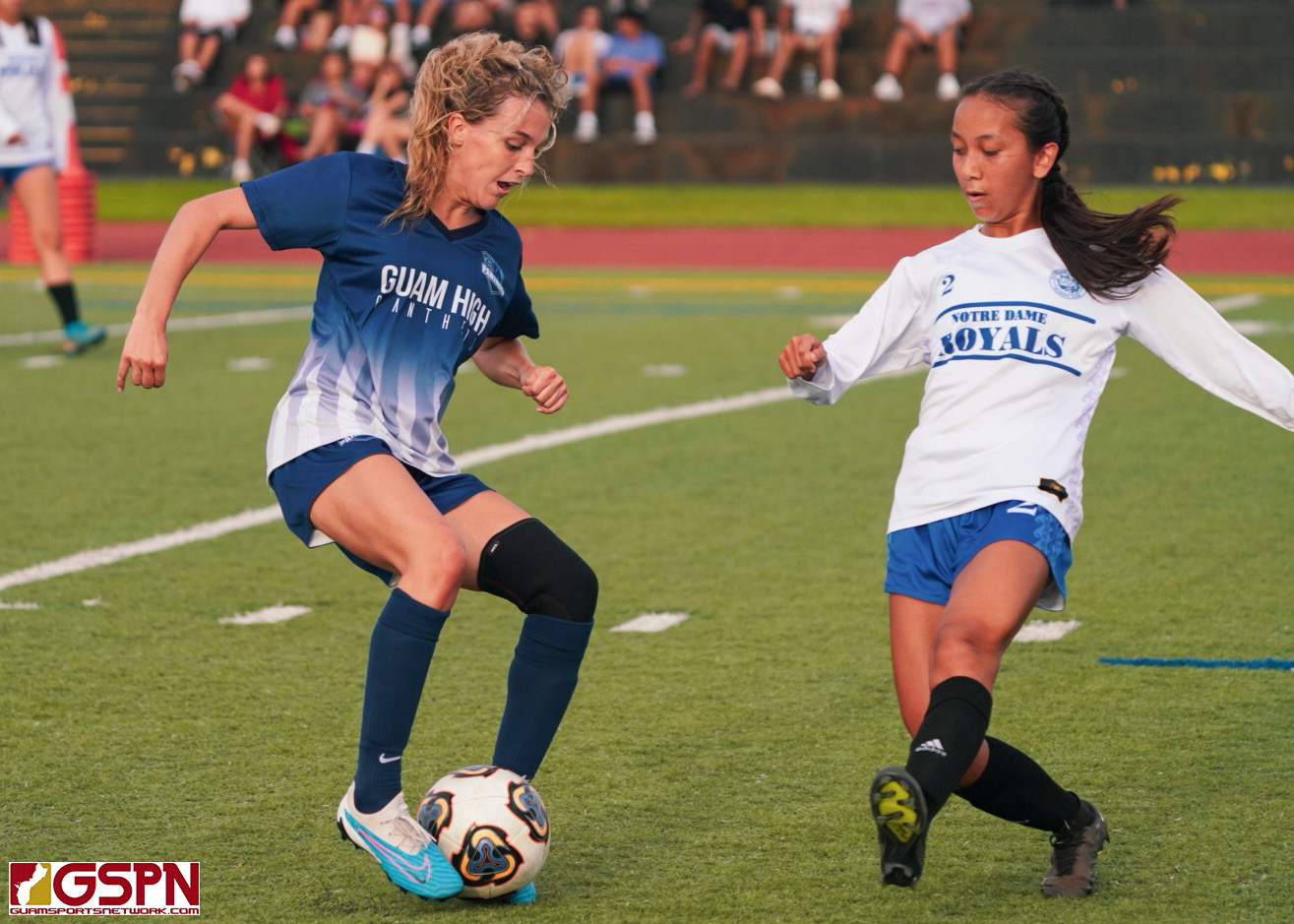 By Eriele Salas
It was an exciting game between the Guam High Panthers and Notre Dame Royals in the IIAAG Girls Soccer League, as both teams managed to find the goal Wednesday afternoon on the Panthers home turf. 
Royal Faith Piper, senior, and Panther Nykale Penn, sophomore, brought up their team's spirits and scored a goal each, which left their final score in a tie. 
Guam High came into the match with a 2-0 record, both wins via shutout, while ND is just starting to come into form after an season-opening loss to the Academy Cougars.
FIRST HALF
The Royals had a strong start, with Piper making her goal 17 minutes into the game. "It was almost relieving just to kind of get that head start to the game," said Piper.
ND controlled ball possession for most of the half, but the Panthers were ruthless in the defense line. Guam High's Jordan Ellis played protectively with the ball, as the Royals kept trying for another goal. 
In the middle of the match, Notre Dame scored another goal, but were called out for being offside to the Panthers. 
The Royals had shots on goal, but Guam High's goalkeeper obstructed the ball from getting in. 
With the Panthers strong defense, the first half was left at 1-0, with Royals in the lead.
SECOND HALF
Starting off strong, Panther Grace Martin received a long pass from Penn, but thanks to Notre Dame's goalie Arriah Arceo, they were unable to make a goal. The Panthers were definitely forcing a comeback in this half, as they became more offensive with the ball.
Royal Maya Iriarte had a close goal from her corner kick, but Panther Zoie Terrill managed to prevent it from going in with a header.
In the 78th minute, Penn successfully scored a goal for her team, just outside of the box.
"It felt good because I think my team was a little bit down, and I think that brought up the energy again," said Penn.
Penn's close attempts were just foreshadowing their first goal right before the game ended.
These two teams will do it again on Monday for round two of what is becoming a tight rivalry.
PHOTO GALLERY BROUGHT TO YOU BY:

COMING SOON …
GUAM SPORTS ON HOLD DUE TO SUPER TYPHOON MAWAR
QUICK HITS
Bishop Obispos beat Mt. Carmel for the IIAAG Middle School Girls Basketball championship 37-25.
—————————————-
The Benavente Roadrunners crushed the Agueda Pirates 17-1 to win the 76 PONY Middle School Baseball League. Rodney San Nicolas was a beat, striking out 13 batters in a complete game while going 4-for-4 at the plate, including a homer and 4 RBI.