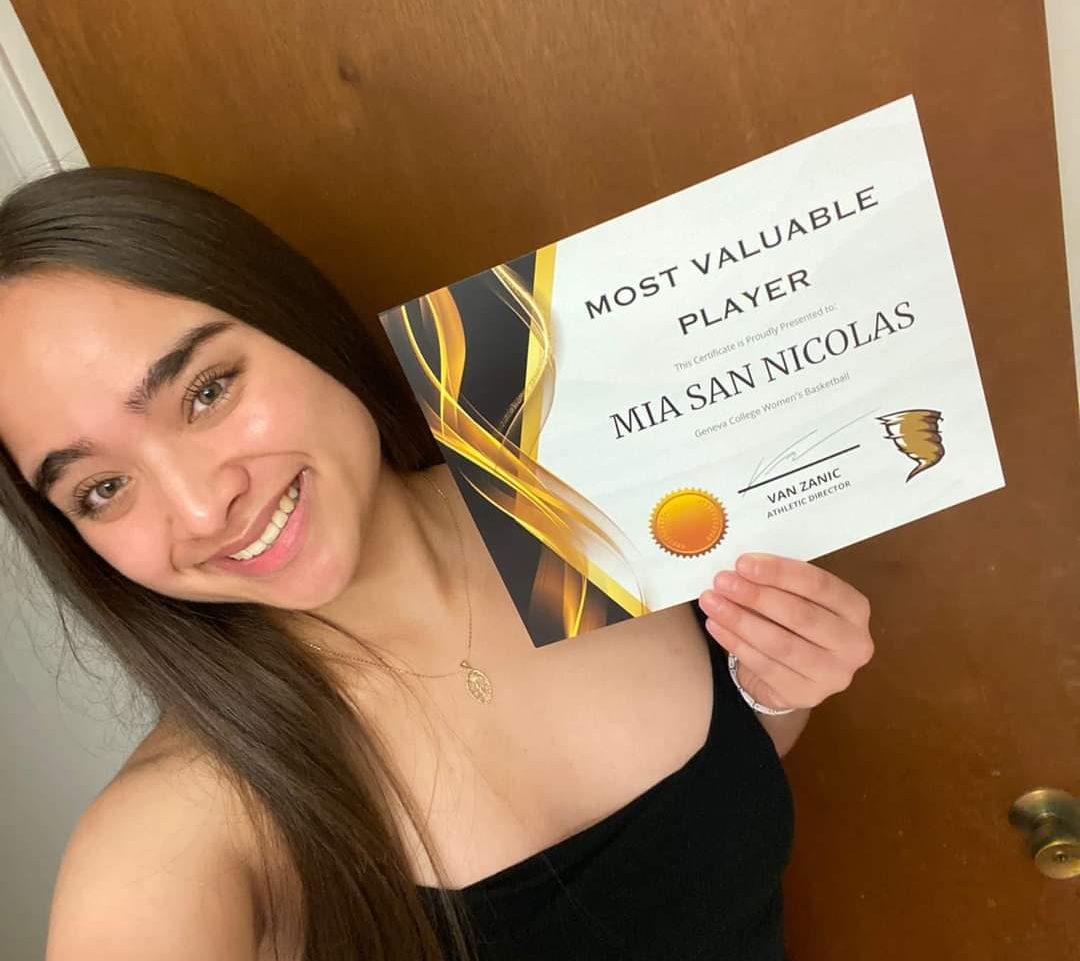 By Patrick Lujan
Former Academy Cougars basketball star Mia San Nicolas is not done adding to her collection of athletic accolades after winning her college team's MVP award for Geneva College Women's Basketball.
The 2019 graduate of Academy and two-time Guam high school MVP also made the 2nd Team All-PAC (Presidents' Athletic Conference) team in her junior season at the Beaver Falls, Pa. school, leading her team in points, rebounding and blocked shots the last two seasons. This season she averaged 17.7 ppg and 7.7 rpg.
"I am blessed and humbled to win an individual MVP award, but I am also mindful that this award was not possible without the guidance of my coaches, past and present, and the support of my teammates, past and present, and my parents (John and Yvonne)," said San Nicolas, who just returned home for the summer. "My focus has always been team first, and although I enjoy winning the individual award, I play within the team mission and focus on the success of the team at all times."
THE GRIND
San Nicolas was born into the sport as both parents excelled on the hard courts. Started playing at age 7, Mia had dreamed of playing college hoops since her middle school years.
"Pursuing my dream of playing college basketball has been rooted in me as a goal since I was very young," San Nicolas said. "When I hit middle school, I knew that I wanted to play in college. I was blessed during middle school and high school to have coaches that helped me improve my skills and mindset to play a very competitive level."
After starring in basketball and soccer at Academy, San Nicolas' first collegiate stop was with Wenatchee Valley College.
"The NWAC was a very competitive conference, and the Knights were the defending champions. Right away, I noticed significant similarities and differences between my experiences on Guam and at WVC. The similarities were all the basic fundamentals that I learned on Guam that also helped me in my transition to college ball."
The differences, though, were eye-opening for Mia.
DIFFERENCES IN COLLEGE HOOPS
Players are taller and more imposing physically (Mia is 6'0″);
Coaching staff comprised of former college players;
Trainer/physio available, when needed;
The focus and education on recovery, rehabilitation, and nutrition;
Availability of the gym and weight room;
Amount of games during the season outnumbered Guam by double;
Two-a-day practices;
Significant travel by bus to away games (sometimes hours away);
Adjustment to a different role, that of a contributing role player.
"This challenged me mentally and physically
and I am so blessed that my parents helped me embrace that role and I continued
to work hard."
San Nicolas transitioned to Geneva College in 2021 to play for coach Michael Grinder. She earned a starting spot early in the season and has remained there since.
Heading into her senior season, Coach Grinder has already named her the team captain for next season.
"I know he has a lot of expectations and I hope I can deliver."
HOME FOR THE SUMMER
Mia is home for the summer where she will take in the much-needed island life, even possibly playing for Team Guam in a Saipan tournament.
She has one year left in school and plans to continue playing at Geneva College, using her fifth year of eligibility while pursuing her end goal of becoming a Doctor of Physical Therapy.

COMING SOON …
GUAM SPORTS ON HOLD DUE TO SUPER TYPHOON MAWAR
QUICK HITS
Bishop Obispos beat Mt. Carmel for the IIAAG Middle School Girls Basketball championship 37-25.
—————————————-
The Benavente Roadrunners crushed the Agueda Pirates 17-1 to win the 76 PONY Middle School Baseball League. Rodney San Nicolas was a beat, striking out 13 batters in a complete game while going 4-for-4 at the plate, including a homer and 4 RBI.