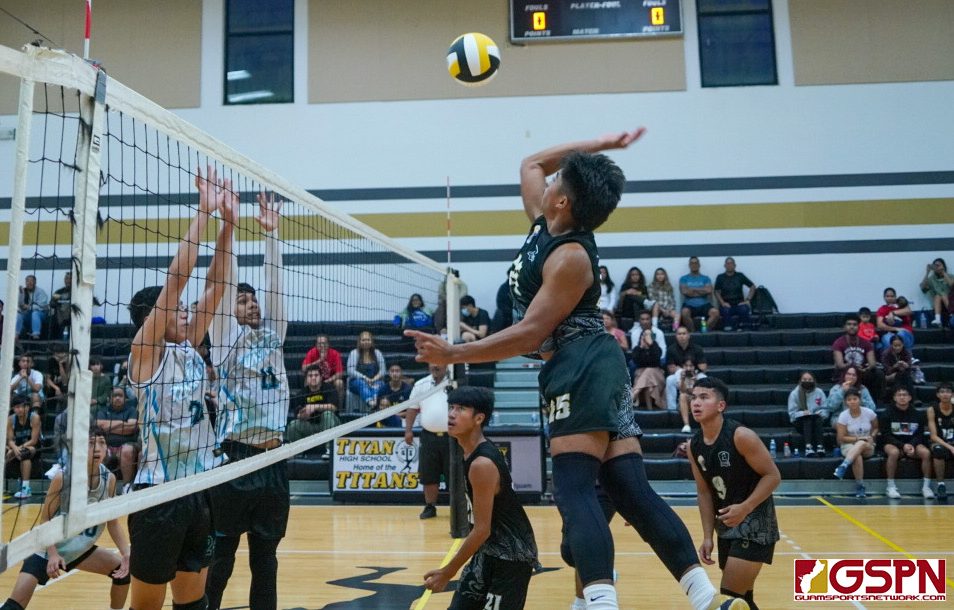 By Nick Akimoto
The Tiyan Titans started their back-to-back title defense of the IIAAG Boys Volleyball League with a win against the Southern Dolphins on their home court (25-11, 22-25, 25-12, 25-19).
The Titans were without their star setter Tyrone Buekis for the match, but the team adjusted to a two-setter system to help compensate for his absence. Noel Ericsson filled in as setter and kept the Titans offense going as Isaiah Cruz (9 kills), Gerald Malana (5 kills, 3 aces) and Nash Ericsson (2 kills, 2 blocks, 2 aces) each made major contributions towards the victory.
"Not too long ago, we implemented a new system within our team. So far so good, [but] we just have a few minor tweaks to fix," said Tiyan's Noel Ericsson on adjusting to a new system. "It was all energy. If we're able to keep our energy going [and our] rhythm flowing, I believe our team will be able to push through."
The Titans were forced to play their longest game in a while as the Dolphins were able to come away with the second set and put an end to Tiyan's perfect set streak at 43.
"That's a reality check for the boys. We haven't lost a set in almost two years, but that tells you the depth of the league. Every team is amazing and every team is out for one goal: to win a championship. The boys got to stay humble and stay focused if they want to win this title again."

– Tiyan head coach Rod Pama
1st Set
It was business as usual for the Titans to open up the match. Cruz, Malana and Nash Ericsson collected two kills a piece and Nathan Aguigui contributed with three aces.
The Dolphins were slow to start, but an impressive save by Darius Soulik and a big kill by Isaiah Taijeron gave their team some momentum to help shake off the nerves going into the second set.
2nd Set
Tiyan led early in the set, but uncharacteristic errors gave the Dolphins a chance to come back. Southern quite literally jumped at the opportunity, tying the set at 14-14.
The Titans and Dolphins exchanged some exciting rallies as the score remained deadlocked, but Soulik's defensive efforts would keep Southern alive and gave Dolphin hitters Taijeron, Jusiah Leon Guerrero, and D'Shane Pocaigue the opportunity to launch well-placed hits into weak spots in Tiyan's defense to help put an end to the Titan's perfect set record.
3rd Set
The Titans tightened up after dropping the second set, as Malana lifted up and slammed two booming kills to help Tiyan rally back.
"It was a very humbling experience, and it showed us that if we get caught lacking it's over," said Noel Ericsson.
The Ericsson brothers would alternate between setting for their teammates and being set to as part of the new system, and they seemed to find their groove as the Titans would collect eight kills throughout the set.
4th Set
Titan misserves and big hits by Taijeron, Pocaigue and Dhovon Kyle Ortega would help Southern grab an early lead, but were unable to hold after a kill by Skyler Blas into an empty space tied up the game.
The set was neck-and-neck until a huge six-pack kill by Malana started a TItan run that would go on until a kill by Noel Ericsson ended the set and secured the Titans their victory.
Despite the win, the Titans came out knowing that they still have a lot to work on if they want to win their third straight championship.
"It worked out well, but there's still a lot of room for improvement," said coach Pama.
OTHER SCORES
Okkodo def. GAA 25-14, 25-18, 25-16
GW def. Sanchez 25-13, 26-24, 25-19
IIAAG
Notre Dame def. St. Paul 25-20, 23-25, 25-23, 22-25, 19-17
FD def. Guam High 25-3, 25-14, 25-9
Harvest def. St. John's 21-25 19-25 25-23 25-12 15-10
PHOTO GALLERY BROUGHT TO YOU BY:

QUICK HITS
The Guam Smokin' Hot women's softball team captured first place in the Asia Cup Softball Championships 2023 in Bangkok, Thailand.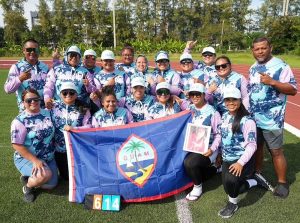 ——————————————————-
Roque Martinez gets the unanimous decision win Saturday night in his debut fight in South Korea's Black Combat promotions.
The 37-year-old controlled the tempo all three rounds and bloodied his opponent with some 3rd round ground and pound.