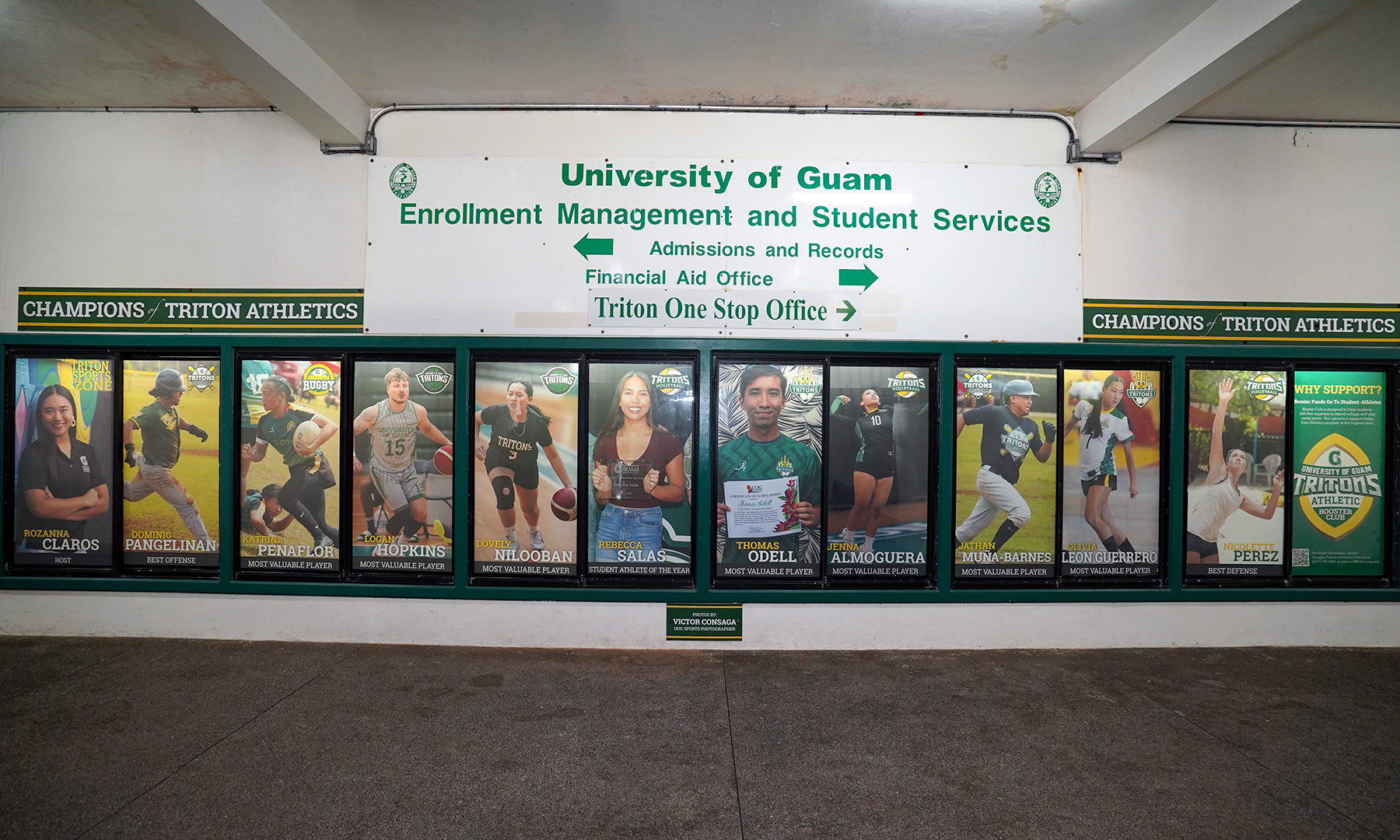 PRESS RELEASE – A new class of Champions of Triton Athletics was unveiled at the UOG Calvo Field House, with 8 new Champions being named to the wall of champions and two other award winners having their life sized photos placed outside the main athletic office in the field house. 
The Champions are the Most Valuable Players from the 2022-23 varsity sports at UOG for that athletic year and they will be displayed for the 2023-24 academic year. Two other award winners from 2022-23 were also placed on the wall along with a couple of promotional pictures.
New Champions for 2023-24 are:
Katrina Penaflor – Women's Rugby
Logan Hopkins – Men's Basketball (2 Time Champion)
Lovely Niloonan – Women's Basketball
Rebecca Salas – Women's Beach Volleyball (Student-Athlete of the Year)
Thomas Odell – Men's Soccer (2 Time Champion)
Jenna Almoguera – Women's Indoor Volleyball
Jathan Muna-Barnes – Baseball
Olivia Leon Guerrero – Women's Soccer
Award Winners:
Dominic Pangelinan – Baseball (Best Offense)
Nicolette Perez – Women's Beach Volleyball (Best Defense)
Also featured – Rozanna Claros, the host of the Triton Sports Zone podcast and former Women's Basketball player. And the UOG Athletic Booster Club had a photo placed on the wall as well.
About 40 individuals attended the event and the 12th President of UOG, Dr. Anita Borja Enriquez, gave a UOG welcome. Dr. Lawrence Camacho, Dean of EMSS, also gave a welcome and UOG Athletics Director Dog Palmer gave a welcome along with explaining the nature of the Champions of Triton Athletics awards themselves.
Victor Consaga, the UOG Sports Photographer took all the pictures used in the display and also took pictures of the event.
The display will remain up until the Champions of Triton Athletics change next August 2024.
For more information on the tryouts, contact Doug Palmer at (671)735-2862.

QUICK HITS
The Figo Islanders 40s women's softball team took gold in the Senior Softball World Championship in Las Vegas. Figo came out of the loser's bracket and beat the Arizona Belles 17-3 in the AA division championship game Sunday afternoon.
Other Guam teams that played in the 40s tournament were: Team SOTTA (women's) and Bud Light Guam, Friars 671 and Sindalun Guahan (men's).
Sindalu finished a respectable 4th out of 24 AAA division teams.