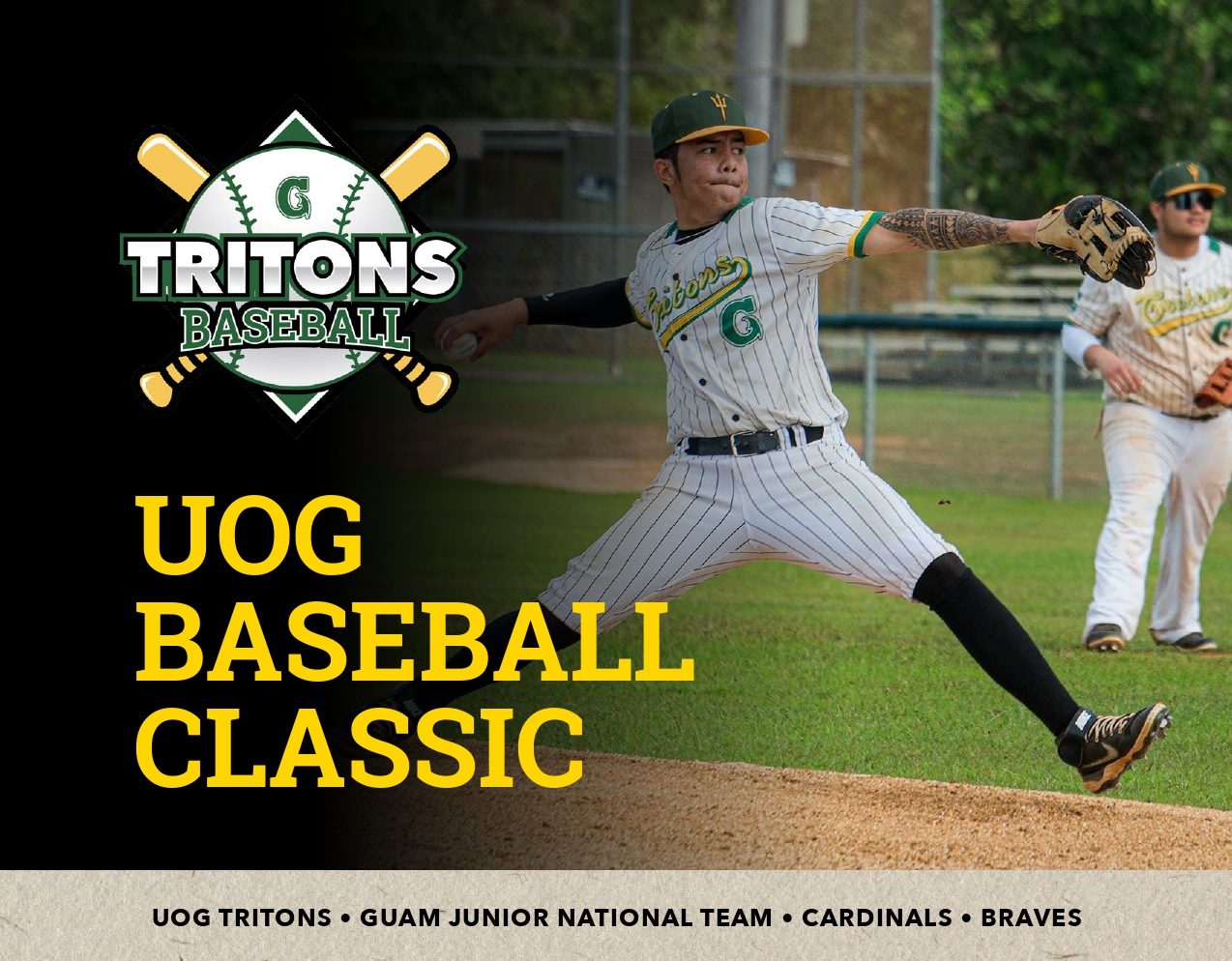 PRESS RELEASE – The University of Guam Baseball Team will host their 2nd tournament of the spring of 2023 in the "UOG Baseball Classic" the next four weekends at George Washington High School beginning Saturday, April 15 at Noon with a game between the UOG Tritons and the Braves. A 2nd game will follow with the Guam Junior National Team facing the Cardinals at 3 pm.
The tournament has four teams, the UOG Tritons, the Guam Junior National Team, the Braves, and the Cardinals. The tournament will feature two stages of competition, the first 3 dates will consist of round robin play as all four teams play against each other and establish a seeding for the double elimination part of the tournament. The double elimination part of the tournament finishes with a Championship game between two teams and an "If Necessary" game if both teams have a loss after the Championship game.
The round robin and first rounds of double elimination play will feature 7 inning games while the Championship and the If Necessary games will be 9 inning contests.
Said UOG Athletics Director Doug Palmer, "Since the Guam Major League does not look like it will be playing this spring or summer, we decided to put on a 2nd tournament this spring to give our student-athletes a chance to play more games this semester. We are excited about the field of competition, as the other three teams are new to us this semester since they did not play in our Triton Baseball Invitational in January and February".
The tournament is being played at George Washington High School as Paseo Stadium is still not ready for baseball games yet after being damaged in a concert and the Triple J Baseball Complex at Okkodo High School is not available until the end of May for games.
Palmer stated, "We are happy to be the source of adult baseball on Guam at this time and hope to host two tournaments a year in the future as well".
Dates of the full "UOG Baseball Classic" are April 15-16, April 22-23, April 29-30 and May 6-7.
Entry to the games is $3 for Adults, $2 for Seniors and Non-UOG Students. UOG Students and Kids 5 and under are for Free.
The back gate to the George Washington Baseball Field will be open for entry to the games.

COMING SOON …
GUAM SPORTS ON HOLD DUE TO SUPER TYPHOON MAWAR
QUICK HITS
Bishop Obispos beat Mt. Carmel for the IIAAG Middle School Girls Basketball championship 37-25.
—————————————-
The Benavente Roadrunners crushed the Agueda Pirates 17-1 to win the 76 PONY Middle School Baseball League. Rodney San Nicolas was a beat, striking out 13 batters in a complete game while going 4-for-4 at the plate, including a homer and 4 RBI.