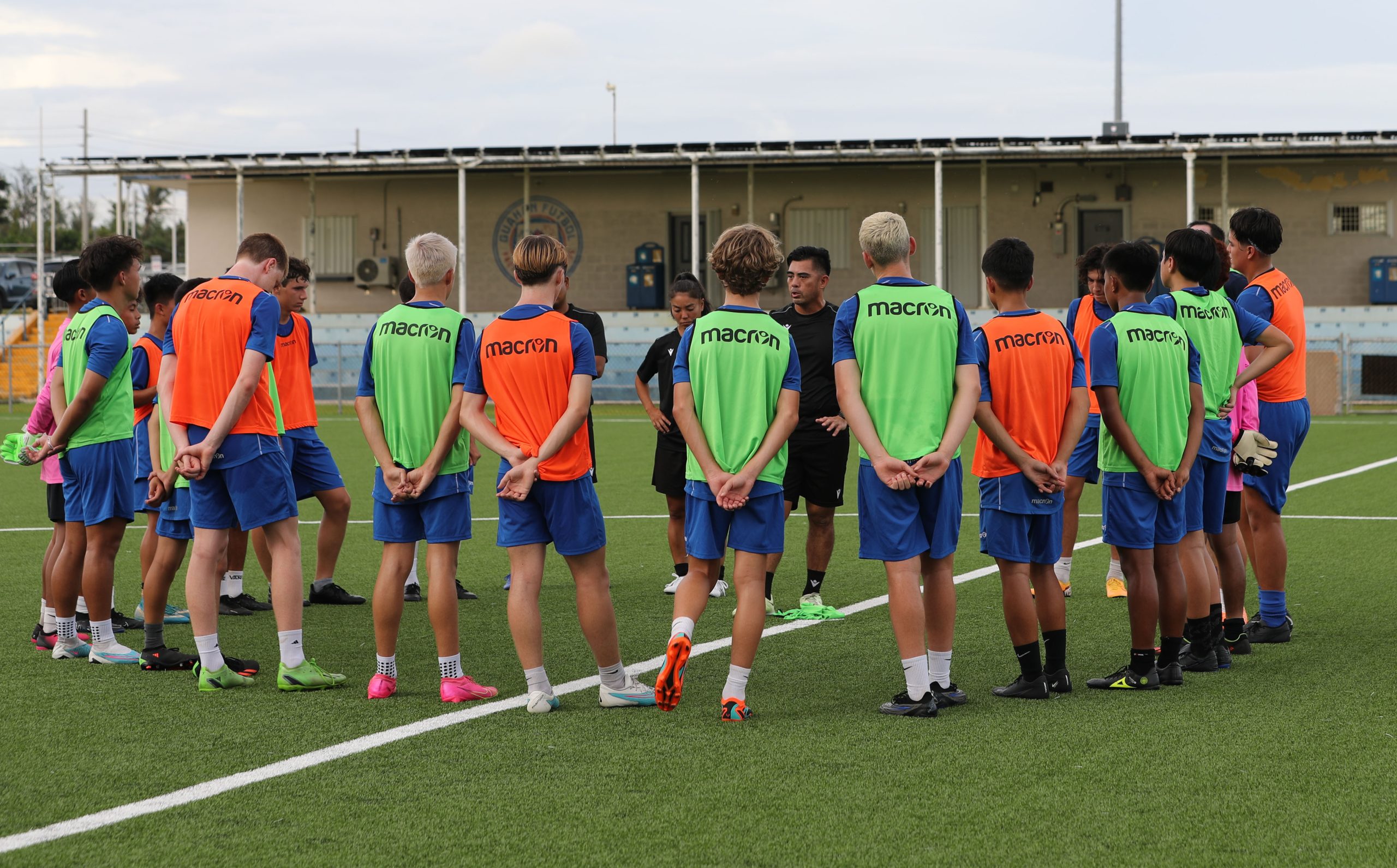 PRESS RELEASE – A total of 20 players received and accepted a call-up to the Guam U15 National Team set to compete at the EAFF U15 Men's Championship in Qingdao, China PR beginning Sept. 1.
For the players – all Guam-based – this tournament will serve as an introduction to international football.
"This tournament will set the tone for this generation of players and their football aspirations," said Kimberly Sherman, Guam U15 National Team Head Coach for the traveling squad. "Exposing these players to international competition for the first time will spark a flame in each player. What is important is doing our best to make sure this flame doesn't extinguish after returning from such an experience.
"Establishing a continuous development pathway both within the GFA program and the schools is key to maintaining their motivation and development," Sherman added.
The players on Guam's traveling roster are goalkeepers Dean Nonato and Renzel Reburiano and field players Jace Almandres, Race Baden, Giacomo Bustamante, Landen Cruz, Gabriel Dixon, Micah Elwell, Blake Flory, Nathaniel Graves, Caleb Lopez, Jhordan Lujan, Mason Manibusan, Kaynin McIntosh, Xavier Molyneux, Malcom Ogo, Ricardo Ortega, Jadyel Rink, Lacen Roberto, and Logan Wood.
Of the 20, eight are from the Guam Shipyard Wolverines, defending champions of the U15 Boys Division of the Triple J Auto Group Robbie Webber Youth Soccer League. Four play for the NAPA Rovers FC, three for Bank of Guam Strykers, two each from Tumon Typhoons FC and Sidekick SC, and one from ASC Trust Islanders FC.
"There are four main objectives for this squad," Sherman said. "First, we want the players to demonstrate the culture, values, and expectations of the Guam National Team Program. Second, we want them to showcase Guam's playing style against world-class level competition. Third, we want them to learn how to operate in a National Team setup abroad. Last, we want them to raise the standards of Guam football through this experience.
"Each player will be expected to focus on controllables and give 100 percent to at least three things: their approach to every training session and match, their off-field preparation and lifestyle, and their dedication to improve everyday," Sherman added.
The team opens its bid in Group B play in the tournament Sept. 1 against Japan at 3 p.m. China, PR time at the Qingdao Citizen Fitness Center, followed by a 10 a.m. China PR time match against Hong Kong-China at the Qingdao Baisha Bay Football Centre. The team's final group stage match will be a 10 a.m. China PR time match against Chinese Taipei at the Qingdao Citizen Fitness Center.
Other teams drawn into Group A are Korea Republic, China PR, Macau-China, Mongolia, and Northern Mariana Islands.
The top two teams from Groups A and B move on to the semifinals, while each group's third and fourth place teams will compete in playoff matches, all scheduled to be played Sept. 7.
The tournament's championship match and third-place matches will be played Sept. 8 at the Qingdao Youth Football Stadium.
Staff traveling with the team are Head Coach Kimberly Sherman, Assistant Coach Jude Bischoff, Goalkeeper Coach Ralph Awa, and Team Manager Kristina Delos Reyes. Meeting the team in Qingdao is physiotherapist Jay-Ann Cristeinne Hidalgo.
For details about the tournament, visit the official EAFF Web site: https://eaff.com/competitions/u15mens2023/index.html

COMING SOON …
High School Football starts Sept. 29
Brawl 3: Oct 13
Guam's Strongest Man and Woman Competition October 29