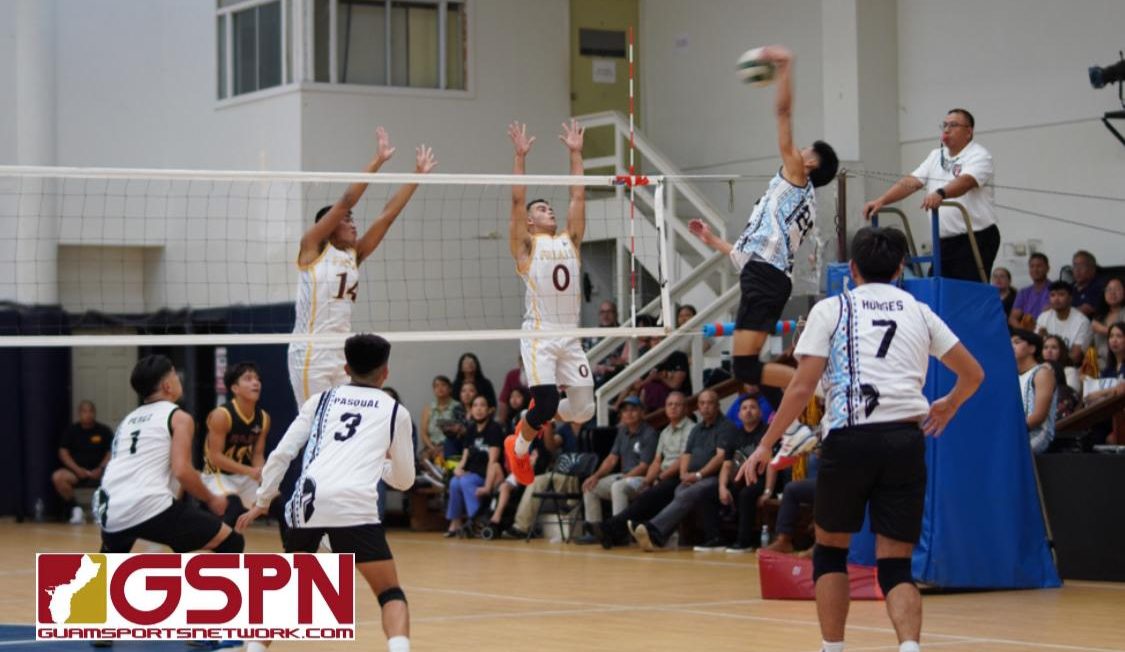 By Nick Akimoto
In a critical must-win game, the St. Paul Warriors finally find themselves on the winning side of another five-set match 17-25, 25-20, 18-25, 25-18, 15-9 over the Father Duenas Friars, who now find themselves on a two-game skid in the IIAAG Boys Volleyball League.
There is perhaps no greater testament to the parity of the league than to consider the idea that the Warriors were "struggling" going into this game, but the Warriors knew that they had to prove they were better than their record would lead you to believe. 
And it was senior star Rui Ventura who carried the Warriors to victory with a season-high 21 kills.
"We thought if we beat one of the best teams in the league, it will make people respect us," said outside hitter Nate Hodges. Hodges recorded 10 kills on the night, but the Warriors thrived off of the booming hits delivered by Ventura. 
"What really helped us in this game was our energy. It was all about our energy, communication, and knowing what to fix."

– St. Paul star Rui Ventura
Ventura's energy was vital to the Warriors' game plan throughout the match, but his contributions were most felt in the crucial fourth set, in which Ventura recorded eight kills. 
"It was 2-1. It was in my mind that we can't lose this set. I'm willing to get every set and smash the ball to win the set. I'm willing to do whatever it takes," said Ventura.
First Set
At first, things were clicking for FD. As Connor Balajadia set for the Friar offense, he would help Hoben Barcinas, Joseph Mafnas, David Del Carmen and Kyler Alcantara grab two kills each in the first set. On the other side of the net, St. Paul was looking to get more of their players involved, but a service error would ultimately give the Friars the first set.
Second Set
After a relatively smooth first set, hitting errors began to plague the Friar offense, and St. Paul took advantage. Raven Pascual would find Elijah Bautista and Corey Perez to help them earn two kills in addition to Ventura's four in the set to help get the Warriors fired up. Del Carmen would clock in five kills in the set for FD, but it would not be enough to prevent the Warriors from tying it 1-1. 
Third Set
With things tied, Noah Cruz, Mafnas and Del Carmen put in work for the Friars offense, combining for 10 kills to help them win the set despite Ventura recording another four kills for the Warriors. Hodges began to heat up as well, slamming in two kills, but FD would go into the fourth set up 2-1.
Fourth Set
With the Warriors' backs against the wall, setter Pascual would find Ventura on the right side to help him record his eight kills in the set. Meanwhile, Hodges would contribute four big kills to help the Warriors tie things up and force a fifth and final set.
Fifth Set
The Friars' hitting troubles would finally catch up to them, as they would give away ten points off of hitting and service errors. On the other end, the Warriors' bench had come alive as each of Ventura's three kills in the set were followed by an uproar of Warrior cheers.
"This was a big one. Despite our losing record, our team has potential and I know we can go all the way, but we still need to perfect some things because every team is getting better just like us" said Pascual. "Even though we had a 1-3 record, I knew that (our) team is better than we think."
JV Game
The Friars won the JV game two sets to one.
PHOTO GALLERY BROUGHT TO YOU BY:

COMING SOON …
GUAM SPORTS ON HOLD DUE TO SUPER TYPHOON MAWAR
QUICK HITS
Bishop Obispos beat Mt. Carmel for the IIAAG Middle School Girls Basketball championship 37-25.
—————————————-
The Benavente Roadrunners crushed the Agueda Pirates 17-1 to win the 76 PONY Middle School Baseball League. Rodney San Nicolas was a beat, striking out 13 batters in a complete game while going 4-for-4 at the plate, including a homer and 4 RBI.