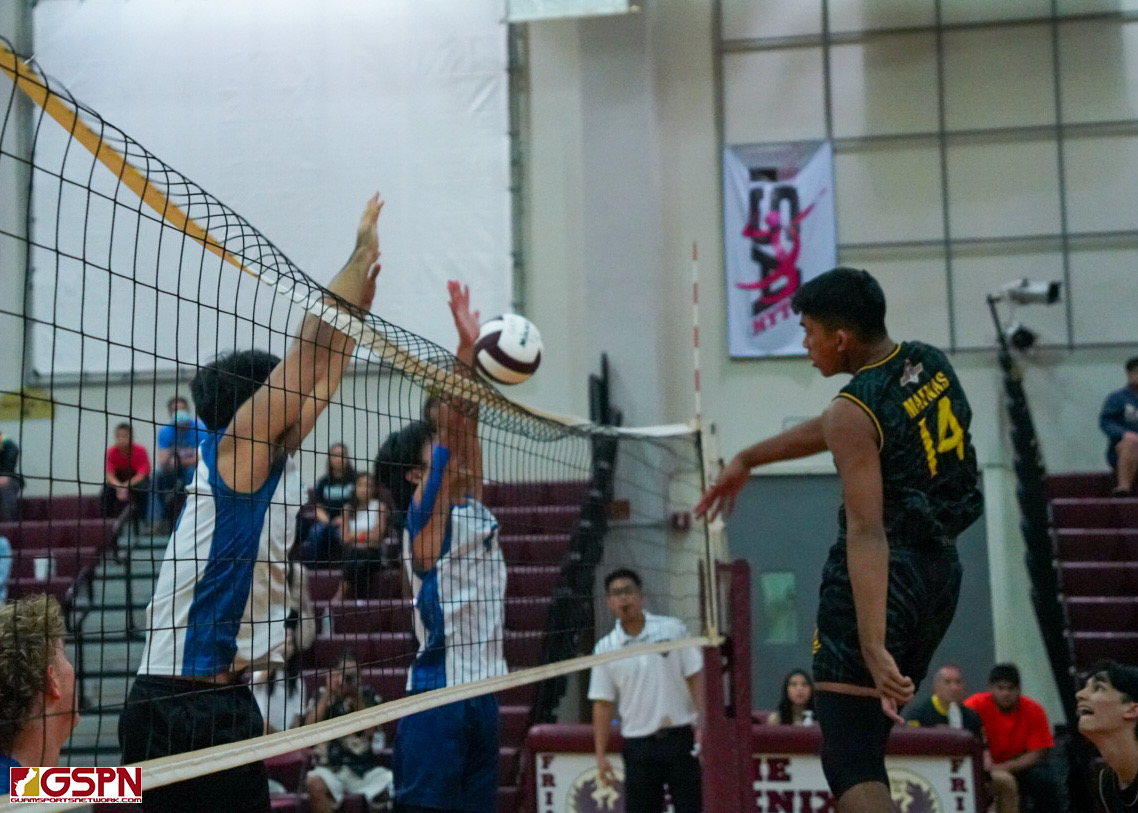 By Jay Leon Guerrero
The four-time reigning IIAAG Boys Volleyball League champion Father Duenas Friars needed five sets to take down the Harvest Eagles (23-25, 25-18, 25-20, 19-25, 15-8) in their season opener at the FD Phoenix Center.
It is the first game of a very busy 4th quarter of sports which will include football, boys volleyball, girls softball, paddling and bowling.
The IIAAG opened the season with a re-match to last season's championship game, a game the Friars won in straight sets. The Eagles had revenge on their minds, but the Friars used their home court advantage to secure the win.
After surrendering the opening set to the Eagles, the Friars found their rhythm and won the next two sets to go up 2-1.
The Eagles played good defense in the fourth set to force a fifth set. The Friars went to their big guns in the final set to secure the home victory.
"There is some pressure from the alumni to continue the winning streak, but we just need to remain focused and hope for the best," said junior middle blocker Joseph Mafnas.
Mafnas and outside hitter Ethan Alvarez came up huge in the final set, combining for seven kills to secure the win. Alvarez had a game-high 14 kills to lead the Friars.
"It feels good to get this opening game win against Harvest," said libero CJ Lobaton. Lobaton anchored the back row defense and provided accurate passes to FD setter Connor Balajadia, who utilized his weapons during the contest.
"We have a deep bench," added Lobaton. "Once our guys get used to it, they can go in and just go crazy out there."
Despite the loss, the Eagles showed signs they are a team to be reckoned with. Harvest setter Christian Shinohara also has hard-hitting strikers ready to make highlight plays.
Traven Kaae, Calvin Laxamana and Jack Keith had big kills for the Eagles in their season opener. The Eagle hard hitters are backed with good defense and servers that will be heavily needed to help them contend for a title this season. 
First set
Tied 23-23, Laxamana delivers a kill to go to game point.  With Harvest serving for game point, FD's Gabriel Sarmieto comes up with a hard hit to the middle, but Keith comes up with a huge defensive play to keep the play alive. FD has an opportunity via "free ball" to force a deuce, but a net violation was called, and the Eagles take the first set 25-23.
Second set
Harvest goes up 7-3 with Keith serving two straight aces and setter Shinohara surprising the Friar back row with a kill.
The Friars come back to tie the game with kills from Hoben Barcinas and David Del Carmen. The Friars find momentum with Mafnas and Alvarez making plays at the net to win the second set 25-18.
Third set
FD makes some defensive stops and starts off the third set, going up 6-0. Alfred Leon Guerrero had two blocks, and Balajadia served an ace during the run to put FD up early.
The Eagles made small runs to keep the set close, but the Friars held on for a 25-20 third set victory.
Fourth set
Harvest gets two straight aces from Rainheart Lemuel to start the set up 3-0. The Friars answer with Del Carmen flying high for an emphatic jam. Del Carmen served an ace on the ensuing possession to give FD a 6-5 lead.
The Eagles go on a 6-0 run sparked by kills from Brian Xia and Lemuel to go up 22-15, forcing FD to call a timeout. Harvest maintains their momentum and gets a kill from Laxamana, followed by an ace by Shinohara to win the set 25-19.
Fifth set
Friars go ahead 7-4 with Barcinas recording a kill and Mafnas skying high for two kills in the middle. The Eagles later answer with Shinohara setting up Laxamana to trail 8-6.
Balajadia connected with Alvarez twice to put the game out of reach. The Friars played clean down the stretch to win 15-8.
"Coach told us going into that fifth set that this was test – a test we are going to be faced with all season." 

– FD libero CJ Lobaton
"We got the win, but there is still a lot more work to be done," said Mafnas. Mafnas had 10 kills, four aces and three blocks for the game.
"We have to find that consistency of making good passes, sets, and hits. We need to get back to finding that connection we had last season," added Mafnas.
Sarmiento and Del Carmen had eight and six kills, respectively, for the Friars. FD's Barcinas had four kills and two blocks.
Kaae had a team-high 10 kills and three aces for the Eagles. Laxamana contributed nine kill, and Shinohara had three blocks for Harvest. Harvest middle blocker Evan Perez had four kills.
The Friars will take on the ND Royals next Friday (3/24) at FD. The Royals defeated the Friars in the pre-season semi-final last week. The Eagles will look for their first win of the season against the St. Paul Warriors next week on Saturday (3/25) on their home court.
In the JV game, Harvest defeated FD (25-20, 23-25, 25-17) in three sets.
PHOTO GALLERY BROUGHT TO YOU BY:

QUICK HITS
3rd place: Big ups to the Para Todu Rugby Club for finishing 3rd out of 16 teams in the Manila 10's Rugby Tournament today. Biba Guam Rugby!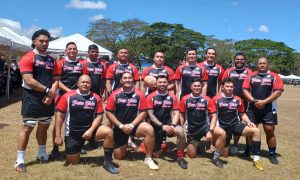 ——————————————
Guam MTB National Championship: Edward Oingerang and Jennifer Camacho are your 2023 MTB national champions. Oingerang finished the course in 1:13:24 while Camacho won her second straight title in 54:08.