[sixcol_five_last]
By Errol "DynamiX" Alegre Jr.
In a game where every second counted, Jake Leon Guerrero made sure to utilize whatever time he had left to lift his Class of 1996-1997 to a close 68-67 win over Class of 1995 Wednesday night in the FD Alumni Basketball Tournament. With just four seconds remaining on the clock, Leon Guerrero found himself wide open under the basket after a teammate's missed shot; Leon Guerrero aggressively grabbed the offensive rebound and went up strong for the putback layup and win.
Class of '95 came out on fire from the three-point line, scoring five of them in the first half. Their hot shooting forced the class of '96-'97 defense to press up at the three, allowing '95 to take advantage of their big man and offensive powerhouse, Lawrence Fejeran. Fejeran was an unstoppable force from inside the paint and outside the arc, scoring half of his team's points in the first half. The Class of '96-'97 gave an aggressive performance on both sides of the court as well, but were unable to match the precision shooting of '95 as they found themselves trailing by nine at the end of the half.
Class of '95 managed to hold on to a double-digit lead throughout the first six minutes of the second half. Along with the hot hand of Fejeran, '95's Jay Leon Guerrero also gave a lights-out performance, continuously utilizing the long forgotten ten-foot jumper to break the stiff '96-'97 defense. But with quick feet and even quicker hands, the Class of '96-'97 rallied to a 16-3 run sparked by back-to-back treys from Glen Camacho, which gave them a 59-58 lead with seven minutes left of play.
'95's Fejeran decided to take advantage of the referee, who finally began to use his whistle, by drawing fouls through hard drives to the basket. Class of '95 was able to gain back their lead with two made free throws and a layup from Fejeran. '95 intelligently held on to the ball with outside-the-arc passes while the clock continued to run down. However, their plan suddenly back-fired when a pass was stolen by the scrappy hands of Camacho who put Class of '96-'97 back on top, 64-63, as he made the fast break layup with only one minute left of play.
After numerous trips to the charity stripe by Leon Guerrero and Fejeran, the game was tied at 66 with 13 seconds left on the clock. '96-'97 sent Fejeran back to the line with an intentional foul. After making his first then missing the second, '96-'97 quickly rushed the ball up the court to call a timeout. With ten seconds left, '95 sacrificed boxing out by using help-defense to contest any attempted layup. This proved to be a costly mistake as Leon Guererro grabbed the offensive rebound to put the ball back in the basket for the win.
Glen Camacho and Eddie Pelkey led '96-'97 with 12 points each while teammates Jacob Sanchez and Chris Ogo contributed ten apiece.
Class of 1995's Lawrence Fejeran led all scorers with 36 points while Jay Leon Guerrero contributed 15 in the loss.
[/sixcol_five_last][ubm_premium_banner_rotation banners=14, 18, 38 interval=9 width=120 height=600 orderby=rand]
[fbshare url=http://www.gspnlive.com/?p=13422 type="button"][fblike url=http://www.gspnlive.com/?p=13422 style="standard" showfaces="false" width="450″ verb="like" font="arial"]

Foody's 5 Fun Facts
Harvest Eagle Trinity Terlaje
DID U KNOW?
After winning the title with ND in 2019, Tiyan Titan head coach Conrad Kerber has the Lady Titans sitting at 2nd place in the league with one week left in the season, the highest placement the Titans have ever been.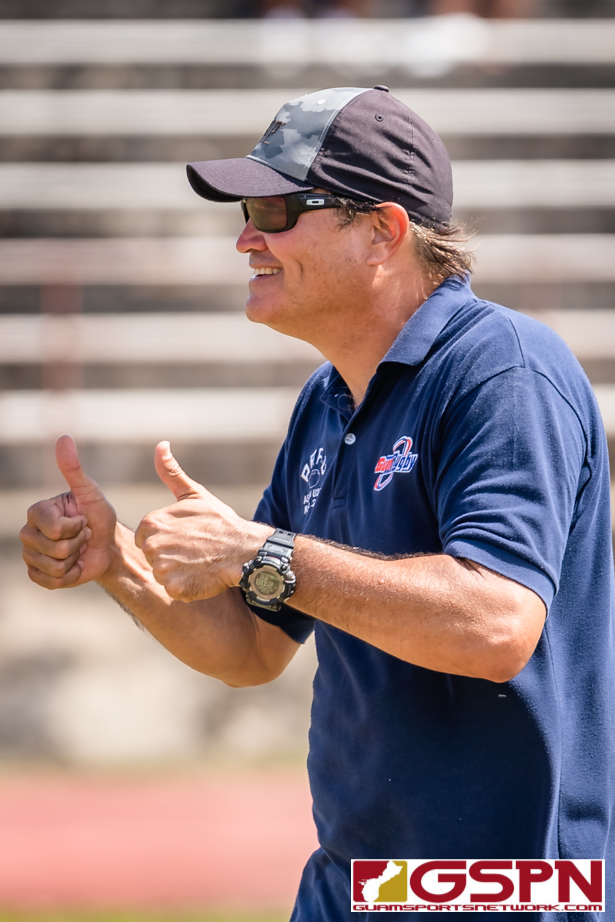 COMING SOON …
– Zach and Larry Return to Guam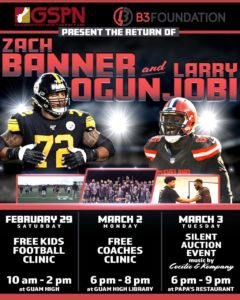 Brawl MMA March 13
QUICK HITS
One FC champion Brandon Vera and ambassador Miesha Tate visited the troops on Guam during a USO Tour.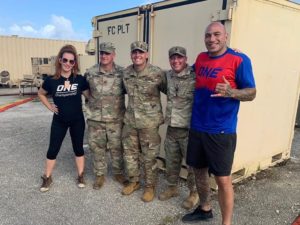 —————————————————-
190 runners took part in the 48th Hafa Marathon (half marathon).
Here are the top 5 finishers:
Ryan Matienzzo 1:13:17
Kris Lawrence 1:24:12
Taiga Sato 1:25:05
Chris Rasmussen 1:26:48
Carlos Leon Guerrero 1:28:46