[sixcol_five_last]
By Nathaniel San Nicolas
As the Golden Hoops tournament approaches its final games, Bank of Guam and Legacy Club played a hard fought match that seemed even throughout the entire evening. Despite the effort on both sides, it was Bank of Guam who survived to play another game, eliminating their opponent 61-47 in the 18+ competitive division.
From the start of the match, neither team wasted time getting points on the board as sharp shooters Renz Redolozo and Rodrigo Grande, Jr. of the Legacy Club opened up draining a pair of threes apiece, but it was Nate Torres of Bank of Guam who answered back with a couple of three-pointers himself. The relentless defense from both sides kept the game tight, as Bank of Guam's Anthony Babauta gave trouble to the Legacy guards, recording three steals in the first half alone. However, Legacy's Brantze Ngiratebl served as a force in the paint, recording a few blocks denying the Bank of Guam players.
After a hard fought first half, Bank of Guam was the team that decided to step up the tempo as Carlito Reyes started things with a boom by completing a three-point play after being fouled hard on a drive to the basket; this was the only momentum needed for Lance Osborn and Roque Charfauros to lead Bank of Guam on an 11-2 run to start the half. But Ngiratebl was not going to let things slip as easily, showing his versatility blocking a shot on one end then recovering on the offensive side to lay in a bucket for two. However, despite the hard work from the Legacy Club, they still struggled to find a rhythm and the defense from Bank of Guam was not taking things for granted playing tough through the entire half until the final whistle was blown.
Nate Torres led Bank of Guam with nine points. Legacy's Grande led all scorers with 12 points in the losing effort.
On Friday, the Bank of Guam Club will go up against the Andersen Defenders in hopes of gaining another victory to move forward in the playoffs.
In other games
Tamuning Typhoons def. Four Stars 70-30
Inarajan Hawks eliminated Malesso Rebels 60-49
Inarajan Hawks eliminated Four Stars 62-59
[/sixcol_five_last][useful_banner_manager_banner_rotation banners=44, 51, 14 interval=8 width=120 height=600 orderby=rand]
[fbshare url="http://www.gspnlive.com/basketball/b-o-g-advance-past-legacy/" type="button"][fblike url="http://www.gspnlive.com/basketball/b-o-g-advance-past-legacy/" style="button_count" showfaces="false" width="450″ verb="like" font="arial"]

QUICK HITS
The Guam Smokin' Hot women's softball team captured first place in the Asia Cup Softball Championships 2023 in Bangkok, Thailand.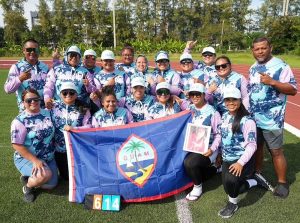 ——————————————————-
Roque Martinez gets the unanimous decision win Saturday night in his debut fight in South Korea's Black Combat promotions.
The 37-year-old controlled the tempo all three rounds and bloodied his opponent with some 3rd round ground and pound.