PRESS RELEASE – With the increase in the number of participants in various soccer leagues, the number of referees available for league matches also needs to increase proportionately. In order to fit this need, Guam Football Association will be hosting referee courses for those interested to fill in the positions.
"The key qualities for any referee are one, the referee needs to be fit and second, the referee needs to be fair," said Brett Maluwelmeng, GFA Referee Administrator. "The two go hand-in-hand – the referee needs to be in the right position to make the right calls during the game.
"A good referee also needs to be firm in his or her decisions. The referee needs to have the courage to make a call and to also stand by his or her decision," Maluwelmeng added.
Those interested in officiating soccer matches but have no prior experience must be of at least 14 years of age and attend an open, three-session course from Sept. 12 to 14. The sessions will be held 6 p.m. to 8 p.m. on all three nights.
Current GFA referees or those with prior experience looking to be assigned to officiate games in the upcoming middle school leagues and the Budweiser Men's Soccer League will be required to attend refresher courses. For the upcoming middle school league, GFA will be holding a two-night course on Sept. 6 and 7 from 6:30 p.m. to 9 p.m. both days. The three-session refresher course for referees for the upcoming Budweiser Men's Soccer League will be held Sept. 18 to 20 from 6:30 p.m. to 9 p.m. each night. All courses will be facilitated by George Stewart, Guam's lead referee instructor, at the GFA facility in Harmon.
Those attending any of the courses will need to bring a watch with a stopwatch function, a whistle, pen, notebook and cleats. Current referees need to also bring their referee wallet with cards.
The sessions will include a discussion on the Laws of the Game, and depending on which league, certain modified rules. Participants also will partake in a match analysis, as well as a practical session on the pitch, which will include learning proper hand signals for various plays.
Referees also will earn money for games they officiate. The pay scale differs among the various leagues.
For more information about the referee courses, call the GFA Main Office at 637 4321 or E-mail Maluwelmeng at [email protected]

QUICK HITS
Guam MTB National Championship: Edward Oingerang and Jennifer Camacho are your 2023 MTB national champions. Oingerang finished the course in 1:13:24 while Camacho won her second straight title in 54:08.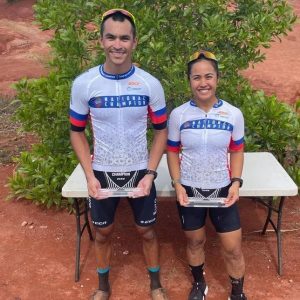 ——————————————
Kobe Miyashita, with St. John's coach Arvin Flores, was named the 2023 IIAAG Middle School Boys Volleyball MVP!