[sixcol_five_last]
By Crystal Aguon
The GW Geckos retain their undefeated position after defeating the Guam High Panthers in two sets. It was a full house and with a great display of sportsmanship by both teams. The Panthers put in their best efforts, however, the Geckos couldn't be contained finishing the night with the scores 25-18 and 25-10.
The game started off with a beautiful bump, set, and finishing kill by Geckos power hitter Geana Leon Guerrero. Two unstoppable aces from Geckos Auneka Chaco, combined with a block and kill from middle blocker Zea Nauta, pushed the score spread to 7-1, forcing the Panthers to call a timeout. As the Panthers regrouped themselves, Panther Alyssa Swingle took the smart route and tipped the ball into open area for a side out. Unfortunately, the point wasn't enough to lift the Panthers' game; a couple of errors on the Panthers' side, and three consecutive aces by Geckos' Sia Erice Duenas, brought the lead to 13-2. After points were being traded back and forth between teams, the score read 20-9 and it seemed like it was going to be an easy set for the Geckos. But the Panthers continued to fight back. Another great hit from Panthers' Swingle gave her team hope. It was then when the Panthers found their game and began to capitalize on Geckos errors.
A cross court kill from Panther Tiffani Unsiog and continuous errors from the Geckos began to close the gap at 22-15. Geckos' Duenas urged for the set to end and made a kill to set the score at 23-15 with two points left to push. Two Geckos errors and an ace from Swingle made the game tight at 23-18, but Panther luck didn't last long when they then got called for a carry. At set-point, Geckos Lean Guerrero tipped the ball right inside the sideline to end the set at 25-18.
The second set was a continuation of beautifully executed volleyball. Rallies were long, and nerve wrecking. This was no ping pong game as both teams displayed spectacular bump, set, spike motions. There were numerous digs, on the Geckos side; Auneka Chaco had seven digs this set and Panthers libero Tessa Jaynes had four. It was Aguigui who led the set with two kills and four straight aces in the beginning of the set to give her team a 10-3 lead. However, a few violations on the Geckos cost them a few points. With the score at 15-10, the Geckos never looked back. A kill from Chaco, Leon Guerrero, and two from Aguigui sealed the win. The Geckos finished strong with an ace that finished the set and game. The Geckos now improve to 3-0 while the Panthers fall to 0-3.
Standout player Aguigui said, "It's placement over power, that's how you get points" finishing the game with seven kills and four aces.
In JV action, the Geckos cruised by the Panthers 25-11, 25-13 and St. Thomas Aquinas took out the ND Royals 23-25, 25-12, 25-14.
The Royals beat GAA in the varsity matchup 25-14, 25-12.
[/sixcol_five_last][ubm_premium_banner_rotation banners=46, 38, 44 interval=8 width=120 height=600 orderby=rand]
[fbshare url=" http://www.gspnlive.com/?p=15541″ type="button"][fblike url=" http://www.gspnlive.com/?p=15541″ style="standard" showfaces="false" width="450″ verb="like" font="arial"]

Foody's 5 Fun Facts
ND Royals Volleyball Setter Gabrielle Piper
DID U KNOW?
Guam National Track & Field sprinter and St. John's Cross Country/Track Star Madison Packbier is the daughter of former Track Star Tara Steffy granddaughter of GNOC's Bob Steffy.
COMING SOON …
– Marianas Open Aug. 31
– FIFA: Guam vs. Maldives Sept. 5
– Submit VI on Sept. 6
QUICK HITS
Former JFK All-Island lineman Christopher Parker transfers to De Anza College in Cupertino, CA. De Anza finished last season 10-1 and won the American Conference Championship Bowl. Good luck Chris!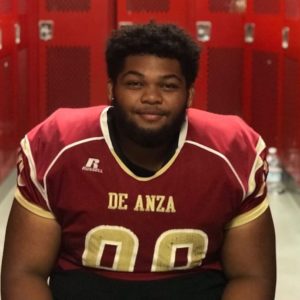 —————————————————-
Die-hard Rams fan Kenny Artero is in Hawaii to catch his beloved team play the Cowboys at Aloha Stadium in a preseason NFL game. Artero got a chance to meet Hall of Fame running back and Rams legend Eric Dickerson.