[sixcol_five_last]
By Robert Balajadia
Baby Joe "The Juggernaut" Taimanglo entered PXC 32 as the featherweight champion and left the octagon the same way, a champion. No fights went to the judges as PXC 32 featured three TKO's and five Submissions proving how vital it is to have a decent jiu-jitsu background in today's mixed martial arts scene.
The UOG field house was packed with local mixed martial art fans as PXC 32 featured the return of many fighters as well as two championship matches. Taimanglo was the fights headliner and stuck true to what he told GSPN earlier in the week by successfully defending his title against Jang Yong Kim. The other title match was won by Lim Hyun Gyu as he defeated Ryan Bigler in the first round via guillotine to capture the first ever PXC welterweight belt.
Joe Taimanglo def. Jang Yong Kim 1st round via TKO referee stoppage
Taimanglo wasted no time in implementing his game plan forcing the pressure on Kim with short jabs until landing a two shot combo that spun Kim around. Taimanglo landed another straight that dropped Kim allowing "The Juggernaut" to pick away from the top forcing referee Tony DeAngelo to stop the fight.
Kim was looking to take Taimanglo to the ground but the defending champ did a good job at sticking to his game plan ending the fight in the first 40 seconds. Taimanglo acknowledged the fighters from Korea for defeating training partners Ricky Camp and Ryan Bigler and told the crowd he really wanted to win it for Guam.
"I respect Kim's training camp, I respect their wrestling so my game plan was to stand up. I felt I had the better stand up so I wanted to keep the fight that way," stated Taimanglo.
Lim Hyun Gyu def. Ryan Bigler – 1st round via Submission (guillotine)
Lim Hyun Gyu is the new welterweight champion of the PXC with a big win over Ryan "Biggs" Bigler. Gyu brought it to Bigler early rocking the local fighter with two solid punches that caused "Biggs" to stumble to the ground.
Bigler regained balance and shot for a takedown to avoid the strikes from Gyu but a good sprawl led to a tangle at the cage where Gyu started to sink in the guillotine choke. Bigler appeared to be escaping the choke but Gyu stayed with it until forcing Bigler off the cage, ultimately forcing him to tap midway through the opening round.
Kyle Reyes def. Ronny Borja – 2nd round via Submission (rear naked)
Kyle "Boom" Reyes put on a MMA clinich in his return to the octagon after a two-year absence by defeating Ronny "The Project" Borja with a well-placed rear naked choke in the second round. Reyes and Borja spent most of the match on the ground as both flexed their jiu jitsu skills. Reyes seemed to get the better of Borja in the standup game while also having top position when on the ground.
Reyes nearly had Borja in an arm bar in the middle of the second round as Borja somehow slipped past the hold. Reyes transitioned well keeping Borja on his back majority of the match until setting up for the rear naked choke.
Jung Hoon Koh def. Ricky Camp – 3rd round via TKO referee stoppage
With rounds one and two in Ricky Camp's pocket, Jung Hoon Koh quickly turned the tables pinning Camp against the cage in the final round landing vicious strikes forcing referee Justin Benavente to end the fight.
Koh took a beating in the first two rounds with a cut above his eye proving to be the more bloodied fighter. Camp tagged Koh with a solid shot near the end of round two with Koh dropping his guard allowing Camp to pick away. Koh was a hit away from dropping before using a double leg takedown to sit atop Camp to end the round.
Camp approached the third round with caution picking his spots and catching Koh with a few jabs. Koh tangled up with Camp forcing him to the cage where Koh masterfully timed repeated strikes bringing Camp to the ground slowly ending the fight.
Josh Alvarez def. Mark Nique – 1st round via Submission (arm bar)
Mark Nique came in strong using his reach as an advantage kneeing Alvarez in the face that dropped and bloodied him. Alvarez quickly recovered and worked from the bottom nearly setting up an arm bar but that Nique escaped. Nique tried to stand up which allowed Alvarez to sneak the arm bar for the quick submission win.
Kyle Aguon def. Derick Rangamar – 1st round via Submission (head-and-arm choke)
With less than 10 seconds on the clock, Aguon pushed Rangamar against the cage to secure the head-and-arm choke to grab the first round win. Rangamar spent all but the first few seconds of the match on his back. Aguon delivered elbows and strikes from the top that damaged Rangamar leaving him unable to defend the choke.
Tyrone Jones def. Brian Howard – 2nd round via Submission (rear naked)
Tyrone "Bones" Jones got a warm welcome to the PXC by the fans and celebrated with a second round rear naked choke to defeat Brian "The Shotgun" Howard. Jones was looking to go to the ground early and spent majority of the first round looking for the rear naked choke on Howard.
Howard and Jones looked gassed in the second round. Howard caught Jones early with two jabs to the face that brought Jones to the ground where Howard looked to lock in a kimora. Jones escaped the submission hold and resumed to take the back of Howard where he used a few punches to set up his rear naked choke.
Jared Mellon def. Joe Arriola – 2nd round via TKO referee stoppage
PXC 32 began with an amateur bout against Mellon and Arriola and it was obvious that Arriola wanted to end the fight quickly, swinging away with heavy hands missing on his first two attempts. Mellon countered with a takedown judo slam that hurt Arriola. Mellon dominated the first round taking little damage. Arriola managed to escape a rear naked choke while also surviving a full mount ground-and-pound, and make it to round two.
Arriola started out the second round trying to drop Mellon with haymakers but Mellon avoided the swings and managed to bring Arriola to the ground again. Mellon took the back of Arriola and used timely strikes to the unprotected face of Arriola forcing referee Justin Benavente to end the fight.
[/sixcol_five_last][ubm_premium_banner_rotation banners=14, 35, 38 interval=9 width=120 height=600 orderby=rand]
[fbshare url=" http://www.gspnlive.com/?p=14076″ type="button"][fblike url=" http://www.gspnlive.com/?p=14076″ style="standard" showfaces="false" width="450″ verb="like" font="arial"]

Foody's Fun Facts
Foody's Fun Facts with Arren Yatar
UOG Tritons Pitcher Arren Yatar shares some of his fun facts and tells us about his favorite YouTube channel!
Foody's Fun Facts
Foody's Fun Facts with Arren Yatar
UOG Tritons Pitcher Arren Yatar shares some of his fun facts and tells us about his favorite YouTube channel!
Foody's Fun Facts
Foody's Fun Facts with Arren Yatar
UOG Tritons Pitcher Arren Yatar shares some of his fun facts and tells us about his favorite YouTube channel!
COMING SOON …
Asia Pacific Little League
National Triathlon Championships
GML Makeup Games
FD Alumni Basketball Tournament (ongoing)
QUICK HITS
UOG hired Tatiana Sablan as the new volleyball coach. Sablan served as the original volleyball coach for UOG back in 2016 and she has been rehired to lead the more "beach" oriented program in 2022-23.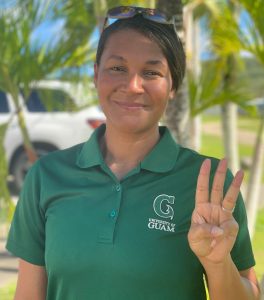 ———————————————–
Palau history: Outfielder Bligh Madris was called up by the Pittsburgh Pirates today to become the first Palauan to make it to the major leagues. The lefty Madris was batting .304 with five home runs and 20 RBI at Triple A before getting the Call Up!