PRESS RELEASE – As AK Chevrolet continues their support and partnership with GUAM FOOTBALL ASSOCIATION as a Platinum
Corporate Sponsor of the organization  as announced July of last year, the success of the Men's National Team, the Matao, continues to rise.  With their recent victory in the AFC Challenge Cup Qualifiers against Taipei, defeating Taipei with a strong 3-0 win, there holds much promise for the islands soccer stars on an International level.
This Saturday, April 13th, from 1PM to 4PM at the AK Chevrolet Showroom, an event will be held to celebrate – the Road to Victory Event featuring some players of the Matao and Coach Gary, Technical Director at GFA and Head Coach of the Matao.  There will be autograph signings and the public will have a chance to participate in some Amateur Soccer Skills Contests for a chance to win great prizes.
Immediately following the weeks, younger members of the GFA with their U-14 Boys, also known a the Mini Matao, will be leaving to China to participate in the AFC U-14 Championship Qualifiers in Beijing, China playing teams from China PR, Northern Marianas, Korea Republic, and Chinese Taipei.
Members of the media are welcome to feature this story as the start of a continuously growing action packed year of soccer, an increasingly popular sport on Guam and abroad. Chevrolet works to Find New Roads within the sport of soccer locally as the official training facility goes through renovations and the brand adorns the fields and pitches with prominent and innovative branding displays.
All media in attendance will receive more information about the partnership with a warm and welcoming appreciation from AK Chevrolet and GFA representatives.
About Atkins Kroll
Atkins Kroll, Inc. is the oldest corporation on Guam celebrating 98 years in business and is the leading distributor of vehicles on island. Atkins Kroll is part of Inchcape plc, the leading independent international automotive retailer.

2022 GSPN I MÅS METGOT COMPETITION
I Mås Metgot Athlete Spotlight: April Flores
2022 GSPN I MÅS METGOT COMPETITION
I Mås Metgot Athlete Spotlight: April Flores
2022 GSPN I MÅS METGOT COMPETITION
I Mås Metgot Athlete Spotlight: April Flores
QUICK HITS
Guam boys Kekoa Toves and Matias Calvo went head-to-head on the rugby pitch as American International College took on Dartmouth College, both top-ranked men's rugby programs in the country.
Calvo (FD) is the captain of Dartmouth and scored, but Toves (Sanchez) and his AIC squad came away with the win in Springfield, Mass.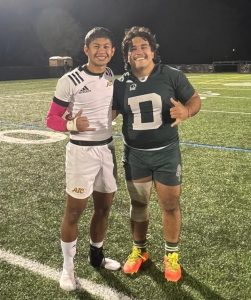 ———————————————–
1LT Belizabeth Nicole V. Rengiil is known to be the first female from Guam and Palau to make the All-Army Women's Rugby Team. She is an active duty Signal Officer with the US Army and is stationed at Joint Base Lewis-McChord in Washington.
Her team won the Armed Forces Women's Rugby Championship with a 4-0 record.
Belizabeth is the daughter of Edwin and Juliana Rengiil with siblings Johanna and Edwin-Isaiah Rengiil from Mangilao.