[sixcol_five_last]
Sunday, May 26, 2013 – CENTRAL LANES BOWLING CENTER, Tamuning, Guam
Bart Lanada took advantage of some pretty tough lane conditions enroute to victory and the May Senior Bowler of the Month title.
The lane pattern for the tournament left a few senior bowlers in total confusion while Lanada brought his spare game with him and led the senior pack after the opening 6 game qualifier.
In the shootout rounds, 10th seed Norbie De Silva slipped past 9th seed Ray Manibusan and 8th seed Chuck Meno in the first bracket. In the second bracket, 7th seed Buddy Saludo charged past 5th seed Jim Pinaula and 6th seed newcomer Jess Castro,
The round 2 quarterfinals saw De Silva stopped by 3rd seed Bal Perez 185-163, while Saludo continued his quest with a 197-173 over 4th seed Terry Roberto.
In the semifinals, Perez upset 2nd seed Jhun Viray while Saludo fell to Lanada to set up their championship.
It was when the lanes started to favor Lanada as his consistent spare shooting coupled with missed spares by Saludo paved the way to the first local title for Laneda in quite a while.
The next senior tournament will be 11:00 AM, June 23rd Central Lanes. This tournament is open to all male senior bowlers aged 50 or will be 50 this year.
[/sixcol_five_last]

Foody's 5 Fun Facts
ND Royals Volleyball Setter Gabrielle Piper
DID U KNOW?
Guam National Track & Field sprinter and St. John's Cross Country/Track Star Madison Packbier is the daughter of former Track Star Tara Steffy granddaughter of GNOC's Bob Steffy.
COMING SOON …
– 1st Quarter High School Sports Kicks Off
– FIFA: Guam vs. Maldives Sept. 5
– Submit VI on Sept. 6
QUICK HITS
Former JFK All-Island lineman Christopher Parker transfers to De Anza College in Cupertino, CA. De Anza finished last season 10-1 and won the American Conference Championship Bowl. Good luck Chris!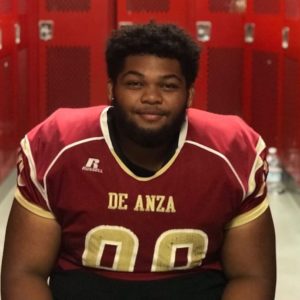 —————————————————-
Die-hard Rams fan Kenny Artero is in Hawaii to catch his beloved team play the Cowboys at Aloha Stadium in a preseason NFL game. Artero got a chance to meet Hall of Fame running back and Rams legend Eric Dickerson.