[sixcol_five_last]
By Ed Chargualaf
More hard hitting mixed martial arts action is coming to the Commonwealth of the Northern Mariana Islands as the Rites Of Passage 14 – Mayhem comes to the Saipan World Resort.
According to event promoter Cuki Alvarez, "Fight fans! April 19th is gerra time!"
The Rites of Passage is the initiation for fighters looking to make a name for themselves. For this event, fighters will be coming from Saipan, Tinian and Guam. Successful fighters have been able to go from the Rites of Passage to larger venues, including Trench Wars and Pacific Extreme Combat (PXC). Some fighters who have been able to advance are mainstays in other fight promotions, include Mylo Lassiter, Frank "The Crank" Camacho, Shane "Pikaboo" Alvarez, Alverick Alvarez, Josh Duenas and Crisp Laayug.
"All the fighters have been training hard and are ready to showcase their stuff," added Alvarez. "I'm super excited for this fight because there are two title matches and it's going to be mainly Guam versus the CNMI in this card."
Rites of Passage 14 will be an exciting night of MMA and K-1 fights, including two championship bouts for the bantamweight and welterweight titles.
Guam's Mikey "Flash" Taitano from Spike 22/Ground Fu will be taking on Saipan favorite Martin "Ningbo Slice" Cepeda from Trench Tech for the newly created welterweight title and in the bantamweight title bout, the champion Josh "The Hedgehog" Alvarez, will be facing undefeated challenger Trench Tech's Vince "The Clinch" Masga.
The 21-year-old Taitano is coming off an impressive 31 second victory in PXC and looking forward to getting back in the cage after almost a year.
"I consider myself a well-rounded fighter," Taitano said. "All I know is that he (Cepeda) is a brawler and is down to scrap."
"I know what I've done in the sport and I have trained hard," he added. "It's going to be a great fight."
"I've been getting ready for this fight for three months now," Cepeda responded. "My prediction for this fight is a first round knockout. My opponent better make sure you're ready for me because there is nothing stopping me from getting the biggest prize of my MMA career and that's the welterweight title."
In his first title defense, the 24-year-old champion Josh Alvarez has incorporated additional cardio and crossfit workouts and is looking for an early victory.
"I am not too sure how the fight is going to go," Josh Alvarez said. "If he takes me down, I plan to submit him. If he stands up with me, I want to put the pressure on him. I am trying not to go the distance."
"I am just doing my thing and training hard for this fight," Masga said. "My game plan is let it rip and my prediction is we're going to have a hell of a fight!"
"I just want to thank all the sponsors who are making this event possible. Docomo Pacific and Miller Lite, especially," Cuki Alvarez mentioned. "It's been five months since our last event and everyone from fighters to spectators are looking forward to another great night of fights."
Doors are scheduled to at 7:00 PM and tickets are $20 for general admission and $30 for VIP seating.  For more information, contact Cuki Alvarez at 670-483-4662.
FIGHT CARD
K-1 Fights
Justo "The Gayu" Castro (Team Zeng Zung) vs. Leonard "The Machine Gun" Sablan (Independent) 135 lbs

Alexander "Sherkan" Allen (Team Ultimate) vs. Ko Palacios (Trench Tech) 165 lbs

Kevin "The Bull" Camacho – (Guam Muay Thai) vs. Pete "Project K" Keju 175 lbs

Sonny Chargualaf (Team Countershot Guam) vs. Renz " The Intense" Benghit (Team Zeng Zung) 151 lbs

Ricky Camp (Spike 22/Ground Fu) vs. Regino "The Kid" Mundo (Team Zeng Zung) 135 lbs
MIXED MARTIAL ARTS
Sid Nepaial (Team Pinchi) vs. Seong Ho Chung (Trench Tech) 140lbs

Leo Mendiola (Team Legit) vs. Jared "Smiley face" Santos (Team Countershot) 115lbs

Mat Fisher (Independent) vs. Garry "Dissa" Ray 140 lbs

Kyle Toves (Team Lights Out) vs. Craig "Earthquake" Borja (Team Zeng Zung) 145 lbs

Franklin Santos (Independent) vs. Vince Camp (Spike 22/Ground Fu) 115lbs

Joe Ray Manglona (Team Zeng Zung) vs. Danny Cruz (Team Zalaka) 150-155 lbs

Eric "Superman" Villanueva vs. Danny "The Truth" Santos

Ryan "The Predator" Toves vs. Pete " The Beast" Cepeda 155 lbs

Derick "El Peligro" Rangamar vs. Mark "The Dark" Nuique (Trench Tech) 135 lbs

Bantamweight Title Match: Josh "The Hedgehog" Alvarez (Team Countershot) vs. Vince "The Clinch" Masga (TrenchTech)

Welterweight Title Match: Mikey "Flash" Taitano (Spike 22/Ground Fu) s. Martin "Ningbo Slice" Cepeda (Trench Tech)
[fbshare url=" http://www.gspnlive.com/mmaboxing/rites-of-passage-14-preview/ " type="button"][fblike url=" http://www.gspnlive.com/mmaboxing/rites-of-passage-14-preview/ " style="standard" showfaces="false" width="450″ verb="like" font="arial"]
[/sixcol_five_last][useful_banner_manager_banner_rotation banners=38, 53, 9 interval=8 width=120 height=600 orderby=rand]

Foody's 5 Fun Facts
NFL Fan Edition: Sherwin Paet
DID U KNOW?
Frank 'The Crank' Camacho was a competitive youth golfer in Saipan with dreams of making it to the PGA.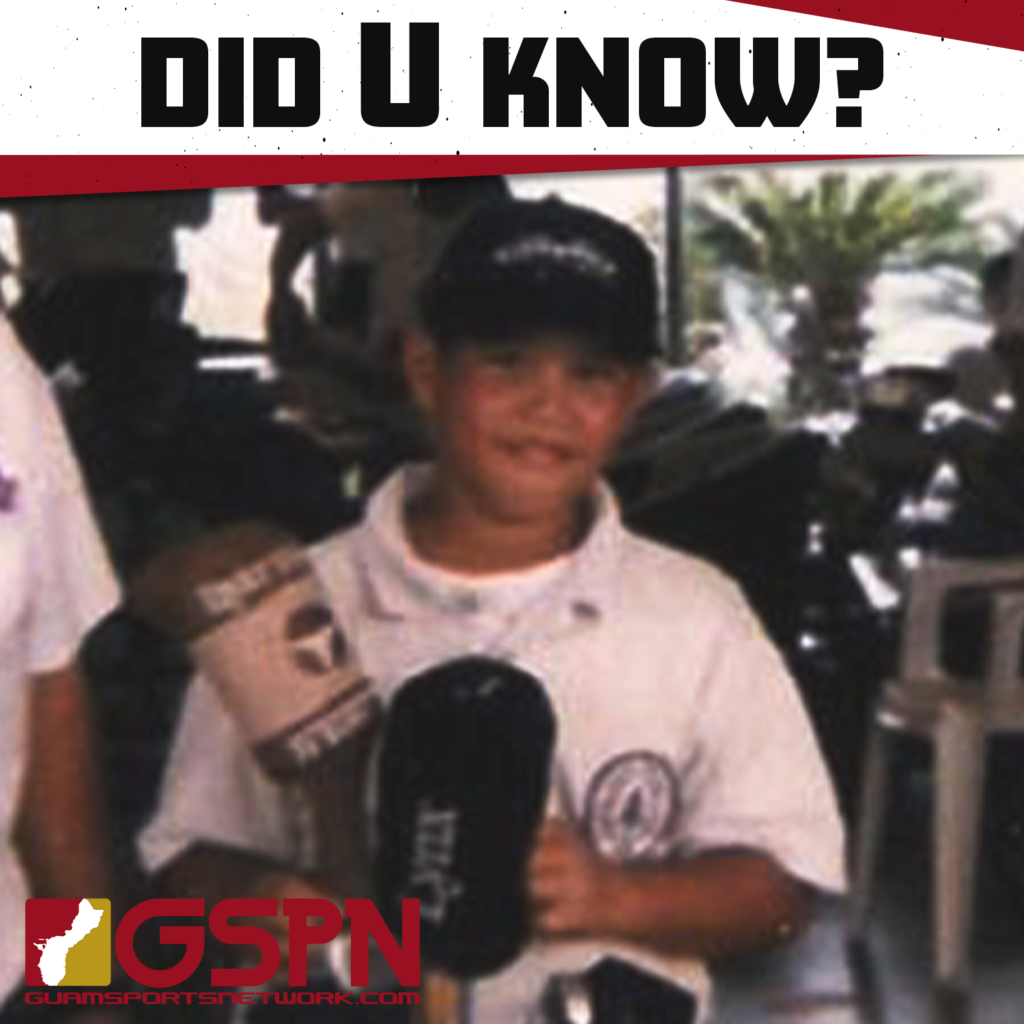 COMING SOON …
ALL SPORTING EVENTS HALTED DUE TO THE CORONAVIRUS ISSUE
QUICK HITS
Brazilian Jiu-jitsu gains another CHamoru black belt.
Johnny-James Lujan earned the honor in Colorado from Professor Tom Lynn, who is also a former US Olympian in taekwondo.
Lujan is the son of Johnny Lujan formerly of Mongmong and Janille Jamero Lujan formerly of Sinajana.