[sixcol_five_last]
By Patrick Lujan
Republican Senators Chris Duenas and Tommy Morrison teamed up with veteran Democrat Senator B.J. Cruz to author and introduce Bill 19 in the new 32rd Guam Legislature which will force gaming activities to be taxed 20% of its gross incomes and put it right back into the island's sports facilities.
GSPN sat down with the two Republican lawmakers to discuss the details of the bill that will affect our island's athletes. Here's an excerpt of the discussion.
GSPN:  Bill 19 wants to regulate all gaming activities on Guam, yet the GNOC is getting all, if not most, of the attention because of their bingo operations that had a reported $3.7 million of income last year. Is the GNOC the largest sports-related organization this bill is focused on?
Sen. Duenas: Most definitely, all gaming activity allowed under the current statute is being looked into and treated fairly. In our research, there are only two organizations not in good standings with Rev & Tax: the GNOC and the cock fighting. Now the Cock Pit has always wanted to be in good standings. They are using the same reasoning that GNOC uses now, that the Gaming Commission  in not empanelled. The second part of your question is, most certainly, (GNOC) is the largest, single operation and only entity on Guam – sports or otherwise – that allows it to operate under this special license and it allows it almost unregulated amounts of money through ticket sales (GNOC Bingo) participating in a large Oceania partnership. In our research there's no organization that has any such arrangement. As far as other current gaming activities…as far as Rev & Tax is concerned, they are all paying their fair share and the taxes that are due.
GSPN: What prompted you to author such a bill?
Sen. Morrison: It goes back to supporting our athletes and it's a win-win all around in supporting our mayors, DPR and GDOE with its sports facilities.
GSPN: You have Senator B.J. Cruz as a co-author. It's not too common to have Republicans and Democrats co-author bills. What is the significance of having a veteran senator support this bill?
Sen. Duenas: Besides the fact that Sen. B.J. is a (former) Chief Justice and veteran lawmaker who understands the law, he's also a former president (of GNOC). He understands and shares the frustration that there seems to be a lack of equity across the board when it comes to accounting for and distributing the funds associated with this organization. It's good to be clear up front: we have always stated that we want to work with the GNOC. But I have to say in our research and findings and speaking to the sports federations, there is a great deal of disappointment about the accountability and this current arrangement.
Sen. Morrison: For 15 years, I've been a GNOC athlete (baseball). You drive on base and you see state-of-the-art facilities. You drive around (off base) and you see the facilities we have to practice on. That shouldn't happen and it's a reflection on our leadership. You need good facilities if you want to advance our athletes and I believe that. You don't have athletes that compete at a higher level that does not use state-of-the-art facilities. GNOC has done a lot for our athletes but with Bill 19, it could do a lot more.
Sen. Duenas: These two (senators) bring a lot of legitimacy to the bill more than anything else. I've heard the complaints from the community who've sacrificed their families and help their children live their dream of competing at the highest level, but (Sen. Cruz and Sen. Morrison) put a name and face to this bill.
GSPN: The bill gives the Director of Rev & Tax authority to perform the duties of the Gaming Control Commission until one is formed. What is a reasonable timeframe to get the Commission in place in order to fulfill the intent of Bill 19?
Sen. Duenas: The Director should be given no more than 30 days to promulgate everything with his compliance division and should assess the fees necessary that is required to support the division. I think that's absolutely reasonable. We (senators) also believe that the attention that this will draw will prompt the Governor and other responsible members to understand the need to have this Commission in place and move forward as quickly as possible. Or they may believe that we don't need a Commission and that the Director and his compliance division is good enough to carry out and support the law.
GSPN: An interim tax rate of 20% on all GRTs to the affected parties will be levied. Why 20% and not any other figure?
Sen. Duenas: I think it's reasonable. When you take the equivalent of stateside lotteries and other gaming activities as a starting point, this is actually very conservative. The bottom line is, everybody skirts when there's no regulation but we believe that that's a very reasonable amount.
GSPN: Do you have a projected amount of yearly income this will bring in?
Sen. Duenas: We used the latest filings from GNOC (the last two years). It's possibly $1 million, depending what the ticket sales reflect, and that's just for this one activity. Conservative figures show that it could easily be $1 million a year.
GSPN: The bill breaks down the allocation by years and where it's going to go. What was the thinking behind that breakdown?
Sen. Duenas: Our thinking was to hit the ground running with those organizations that are currently feeling the most pressure on having to come through on updating facilities. The Mayor's Council obviously gets so many mandates without support.  Parks & Rec is right on their heels.
Sen. Morrison: The way it cycles over a three-year rotation will benefit all three entities that affects the entire community.
GSPN: Back to the GNOC amount. 20% of $3.7 million is $740,000. That's a lot of money. Senator Duenas, you mentioned in the media that they have only paid the government their $50 licensing fee last year. Is that one of the reasons why this bill was formed?
Sen. Duenas: Certainly there needs to be accountability with anyone doing business with the government whether it's a non-profit or a for-profit company. The government shouldn't treat anybody differently. That ($50) would wake up any compliance division and say, 'there's something pretty wrong here'. It was more of a research discovery. We were blown away. We couldn't believe what we were finding. It certainly gave us more energy for the bill but it wasn't the reason for the bill at all.
Sen. Morrison: We're making some adjustments to an existing law to make it work and help benefit our athletes.
GSPN: How can the public submit their comments on this bill?
Sen. Duenas: I would encourage them to go to the Guam Legislature website, all the senators' emails are there, but in particular, because we have authored this bill, they can send their comments to Sen. Cruz, Sen. Morrison or myself. It would be inclusive and part of the record. They can also call our offices and we can transcribe their comment as long as they are willing to give their names and go on the record.
GSPN: What has been the feedback from the community since you announced this bill?
Sen. Morrison: It's been overwhelming support from the community and the athletes I've been running into. They're also learning about the bill and off the top, there's very good support for it.
Sen. Duenas: There are some who want to be a little more clear on the details and I've also been running into people who buy tickets and they'll be happy to know that if they don't win, the community still wins.
[fbshare url=" http://www.gspnlive.com/gspn/senators-break-down-bill-19/ " type="button"][fblike url=" http://www.gspnlive.com/gspn/senators-break-down-bill-19/ " style="standard" showfaces="false" width="450″ verb="like" font="arial"]
[/sixcol_five_last][useful_banner_manager_banner_rotation banners=53, 38 interval=8 width=120 height=600 orderby=rand]

QUICK HITS
Guam MTB National Championship: Edward Oingerang and Jennifer Camacho are your 2023 MTB national champions. Oingerang finished the course in 1:13:24 while Camacho won her second straight title in 54:08.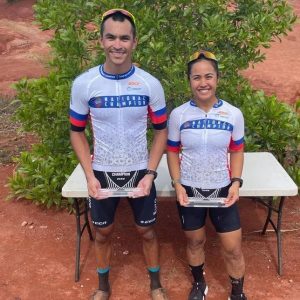 ——————————————
Kobe Miyashita, with St. John's coach Arvin Flores, was named the 2023 IIAAG Middle School Boys Volleyball MVP!