By Nate San Nicolas
The FD Alumni Tournament trickled down Thursday night to it's Final Four. In a tournament filled with barbecue, basketball, and brotherhood, it's tough to think about the final day. However, that final championship day is something the Classes of 2004 and 2012 have their eyes set on as both teams were able to advance past the semifinals.
2004 – 57, 2009 – 50 The championship was on the line for the dangerous teams, both headed by national team players in 2004's William Stinnett and 2009's Dominic Sablan. The host class of 2004 had been looking for that championship since the start of the tournament, and hasn't dropped a game heading into this semifinal. However, the class of 2009 wasn't going to let them take it that easily. Both Stinnett and Sablan are on the men's basketball team heading to the Micronesian Games Saturday night to Pohnpei.
From the start of the game, Sablan and Steven Gatewood of 2009 were the offensive forces for their team. The speed of Sablan proved why he was #thecrossboss making way to the rim creating space and nailing shots and layups. Then #buckets by Gatewood continued to fall, as he took it to the rim and rained shots beyond the arch.
However, 2004 were not going to let the young guns run around so easily. Down 20-10, Matt Leon Guerrero took control at the point and took the ball strong to the rim for a soft finish twice, then recorded an assist to bring his team within two. Stinnett then used his muscle and skill to take to the rim and showed why he is one of the best on island. With the game tied at 20-20, it was back and forth hustle and physicality from both teams, but the teamwork between Stinnett and Leon Guerrero gave them a 33-26 lead at the half.
The second half was all about defense from both sides. As both teams switched to zone, each side only scored two points in the first right minutes. But 2009 found their space as Sablan lead the charge scoring six unanswered points to tie the game at 35 a piece. Just when you think 2009 had the momentum, Stinnett took charge drawing fouls and giving his team the bonus early on. Stinnett had no made field goals late in the game, but all his points came from charity line and only missing one of 12. That consistency have his team a ten point lead with under a minute left.
Although Sablan and Gatewood were on fire for 2009 early on, the ball just didn't seem to want to fall through the hoop late in the game. The win catapults 2004 to their second straight championship game after beating 2009 with a score of 57-50. Stinnett led all players with 29 points and Sablan led his squad with 25 points of his own.
"Tomorrow is going to be a challenging night, because we are the hosts. Cooking the food, opening and closing. Those are things to worry about before the game," replied Stinnett on returning to the championship, "But we our whole team this year and we are confident in ourselves about tomorrow."
2012 – 61, 79/80 – 44 When your pregame routine consists of a good coat of Bengay, you know you're veterans of the game, and that potent smell definitely came from the elder class of 79/80.
To start the game, 2012's Stanley Wong was on fire from the start, draining three shots from behind the arch and a couple of mid range jumpers. However, Joe Javellana of 79/80 carried on his streak from the night before nailing three shots behind the arch himself. From there, it was back and forth with the sharp shooters, but the hustle seemed to be too much for the physical play by the elders as the first half ended with 2012 up 28-19.
The second half seemed to be the same picture with hustle out matching muscle with 2012 running up the score with Wong hitting long range shots and Glen Gogue adding fire to the flame with his own long range as well. Javellana and his brother Noy 'The Legend' Javellana tried to shorten the lead, but shots by the entire 2012 team seemed to just keep falling And just like that, the final four was cut down to two.
You have the experienced host Class of 2004 with powerhouse Willie Stinnett against the 2012 young bucks with John Ilao leading the way down the court. Both teams have dangerous weapons to turn to, with Wong as a threat beyond the arch for Ilao and Leon Guerrero to bring up the ball for Stinnett. All we know for certain is that at the end, a Friar is going to win.
PHOTO GALLERY:

Athletes Birthdays by W5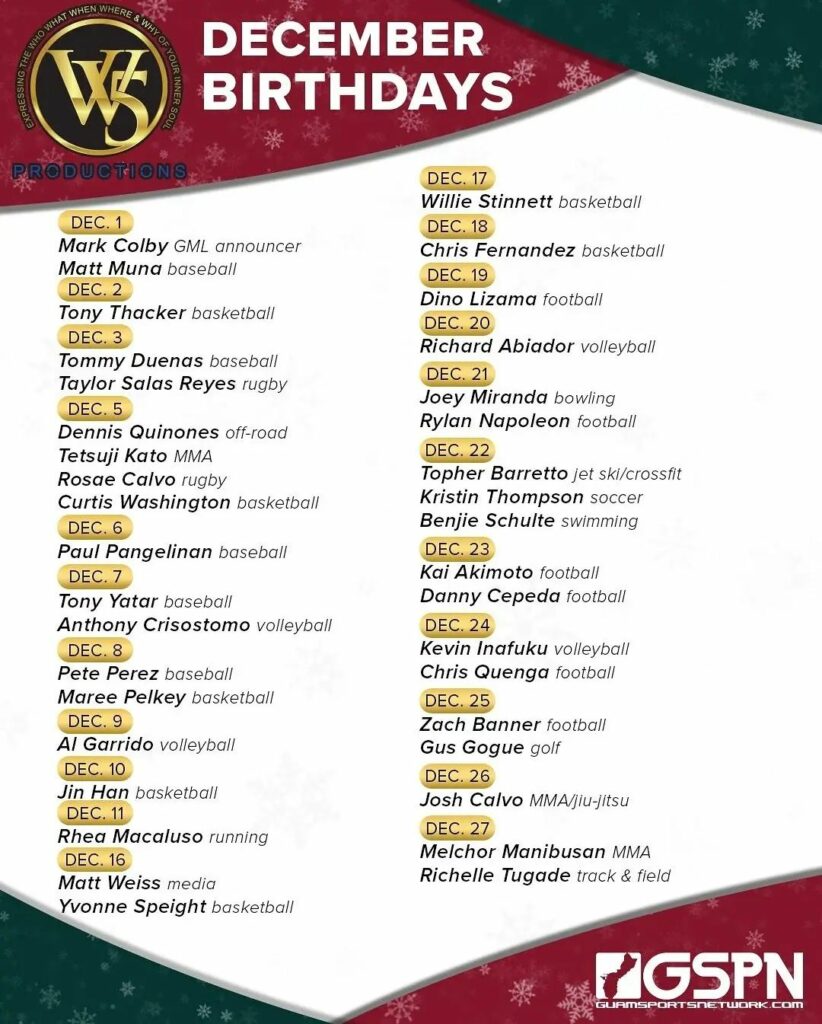 GPS Sports Calendar
SU

MO

TU

WE

TH

FR

SA
Events for December
5th
No Events
Events for December
6th
Events for December
7th
Events for December
8th
No Events
Events for December
9th
Events for December
10th
Events for December
11th
06:00 AM - 08:00 AM
Umatac
Events for December
12th
No Events
Events for December
13th
No Events
Events for December
14th
No Events
Events for December
15th
No Events
Events for December
16th
Events for December
17th
Events for December
18th
19

20

21

22

23

24

25
Events for December
19th
No Events
Events for December
20th
No Events
Events for December
21st
No Events
Events for December
22nd
No Events
Events for December
23rd
No Events
Events for December
24th
No Events
Events for December
25th
No Events
26

27

28

29

30

31

1
Events for December
26th
No Events
Events for December
27th
No Events
Events for December
28th
No Events
Events for December
29th
No Events
Events for December
30th
No Events
Events for December
31st
No Events
National Guard Athletes
Scott Eclavea
Scott Eclavea is a jiu-jitsu black belt and an accomplished MMA fighter. The Guard has given him an outlet in combatives to display his martial art skills, where he's become a head instructor for that program. Eclavea has served since coming out of high school and the Guard has only changed his life for the better.
COMING SOON …
LIVE FOOTBALL ON GSPN
Semifinals: #1 FD vs. #4 Southern (Friday 7 pm)
GSPN Preseason Basketball Tournament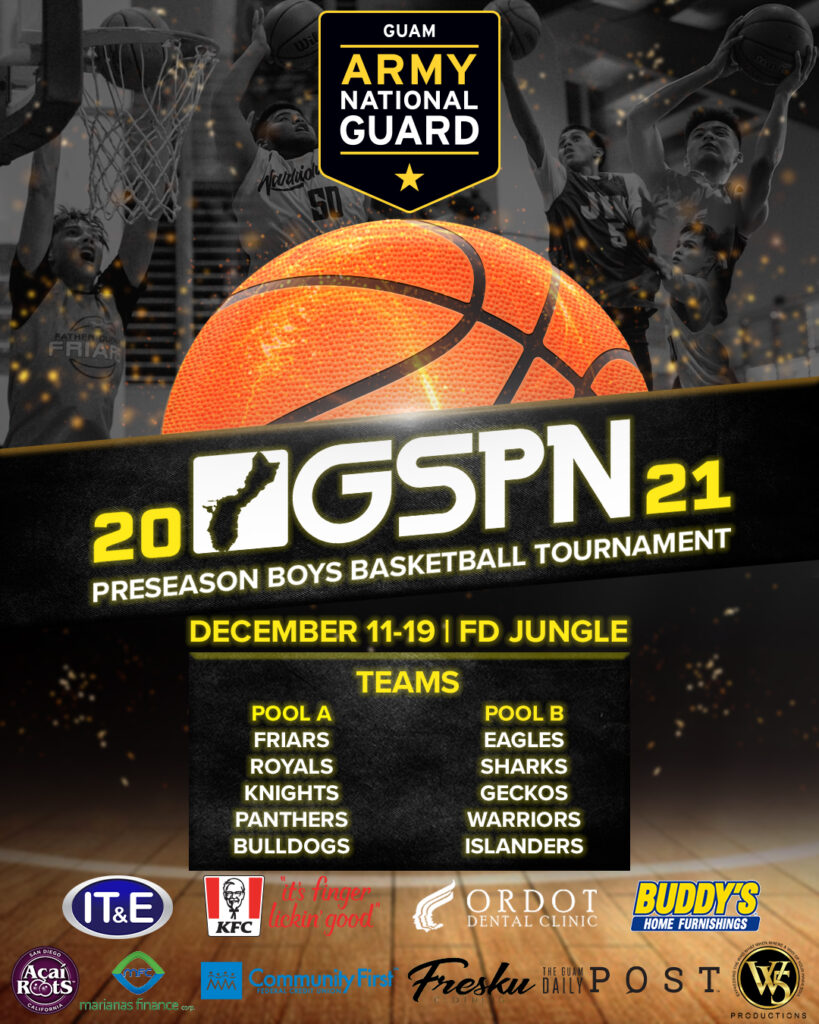 QUICK HITS
Robert Artero Maley recently captured the 182-lb. division of the Costa Mesa Classic, winning via pin in 4 out of 5 matches. Robert is a 4-year varsity wrestler at San Clemente HS (Tritons) and is currently ranked 15th in California's high school scene. He is the son of Jacque Artero Maley (AOLG 1991).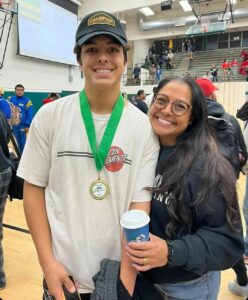 ——————————————–
Pat Taitano and Rich Abiador, teammates on the 1995 SPG volleyball team, have led their high school girls volleyball teams to the Washington State Championships in Yakima, Wa.
Taitano coaches Mt. Rainier High while Abiador leads North Creek High.
There for support is Dr. Mark Perez, a health professor at Central Washington University and a former UOG volleyball player.