By Robert Balajadia
[useful_banner_manager_banner_rotation banners=39,40,42,43,44 interval=5 width=300 height=300 orderby=rand]
While Guam gets ready to hold their own in Pohnpei at the 2014 Micro Games, a special group of individuals will be taking the under water scenic route in an attempt to grab medals in underwater fishing.
2014 Underwater Fishing Team
James Borja – Competitor
Raymond Flores – Competitor
Michael Cassidy – Alternate Competitor/Safety Diver
Kenneth Borja – Manager
Stephen Meno – Asst. Manager/Safety Diver
The team is full of veteran competitors, namely James Borja who competed in the 2002 Micro Games that was also held in Pohnpei.
"All of the team members are experienced spear fisherman and have competed in numerous spearfishing competitors on Guam and Saipan," stated Borja in an online interview.
The team also has international experience competing with Australia, New Zealand, Tahiti, New Caledonia and Hawaii in the Inter-Pacific Spearfishing Championships previously held in Kauai, Australia's Great Barrier Reef and Raiatea, French Polynesia.
One of the biggest challenges Guam will be facing is the home-field disadvantage. The home waters are in the backyard of the Pohnpei team and they already know where the best spots to fish are so every other team is at an obvious disadvantage.
"The home team will have a big advantage of knowing the fishing zones.  They will know where to find the various fish species, when they will most likely be there such as morning or evening, incoming or outgoing tide or what phase of the moon.  They will also be familiar with which way the currents run with the changing tides, said Borja.
Then again, that would just make winning gold that much sweeter! Besides, they've got a game plan that has yet to fail them.
"We're going to try and scout the fishing zones as best we can before the competition to find areas within the fishing zone with qualifying fish, which way the currents move and general fish behavior.  Hopefully, the weather conditions stay the same from the scouting day to the competition and not have an negative affect on fish behavior and water conditions."
Lack of training is not an excuse the team will be looking to use having practice run for six hours on the weekends and long swims two-three times a week to build stamina!
Guam had done well in previous the previous Micro Games winning in these categories.
1998 Micronesian Games – Palau
Team Gold
Individual Gold
2002 Micronesian Games – Pohnpei
Team Silver
Individual Gold
2006 Micronesian Games – Saipan
Team Silver
Individual Silver
2010 Micronesian Games – Palau
Team Gold
Individual Bronze
Although the Guam spear fishermen won't be sporting a uniform like all the other teams the easiest way to find them in Pohnpei is to just look out for the biggest catch.

Foody's Fun Facts
Favorites From Year 2
COMING SOON …
SATURDAY
Boys Volleyball: Champion vs. Champion
Saturday 6 pm: FD vs. Tiyan
UFC Fight
July 25: Trevin Jones vs. Tony Kelley
QUICK HITS
Nadine Del Carmen graduated from Santa Clara University on June 11. She was named captain of the Santa Clara women's tennis team in her senior year and she will be attending Georgetown University in the fall to pursue her masters and will be playing for the Hoyas women's tennis team.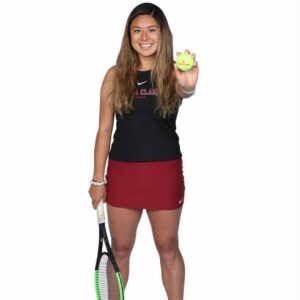 ——————————————————–
After a star-studded collegiate career at UCLA, Bubba Nickles turns her focus on the Tokyo Olympics with Team USA after the Bruins were eliminated in the College World Series. Nickles endured a broken arm on April 7 and worked her way back into the Bruins lineup for the WCWS. She will go down as one of UCLA's best softball players in its storied history.