PRESS RELEASE – Saturday Action
Yona Redhawks 13 Talofofo Rangers 8
WP: Mark Parks CG, 7IP, 4K, 2BB, 10H, 6ER, HP
StrikeZone POG: Jimmy Manila (Redhawks) 3-4, 2 triples, 3R, 4RBI
Angelo Taijeron (Rangers) 3-3, 2B, 3R
Redhawks jumped out to an early lead and held off the Rangers late innings rally to hold on to the 13-8 win. Jimmy Manila ignited the Redhawks offense going 3 for 4 with two triples to earn SZ POG. Mark Parks worked through several jams but finished with the complete game win.
Agat Cardinals 7 Chalan Pago Amigos 5 (8 innings)
WP: Josh Aguigui 4IP, 4K, BB, 5H, 4ER. HP
StrikeZone POG: Francisco Portodo (Cards)  1-1, 3B, RBI, BB …GWRBI triple in 8th inning
Rayzor Quintanilla (Amigos) 2-2, 2B, 2R, 2RBI, BB, HP
The Amigos would rally in the 5th inning scoring 4 runs to tie up the game with Rayzor Quintanilla who was 2 for 2 in the game provided a clutch rbi double.
The Cardinals Francisco Portodo would break the 5-5 tie with a rbi triple in the top of the 8th inning to give the Cardinals their second win of the season (2-0). Reliever Josh Aguigui would close out the final four innings with 4 strikeouts to pick up the win. Portodo picks up SZ POG.
Northern A's 18  Rays 5
WP: Jesse Miner Jr. 5 2/3IP, 5K, 3BB, 8H, 4ER
StrikeZone POG: Miller Santos (A's) 5-5, 3 doubles, 3R, 2RBI
Ryan Palomo (Rays) 2-4, 2R, SB
The Northern A's moved to 2-0 with another convincing win taking down the Rays 18-5 in the Saturday night cap. Miller Santos had 5 hits for the A's and picks up Strike Zon POG. A's starter Jesse Miner Jr picks up the win going 5 2/3 innings allowing four earned runs with five strikeouts.
Sunday Action
Barrigada Crusaders 13 AXE Stars 5
WP:  Mike Bautista 5IP, 5K, 6H
Strike Zone POG: Mike Bautista & JR Hattig
JR Hattig (Crusaders) 2-4, HR, 3R, 2RBI, BB
Andrew Benavente (Stars)  3-4, 3B, R, 2RBI
Down 5-4 to start the last inning the Crusaders rallied for 9 runs ignited by a 2 run homerun by JR Hattig to take the 13-5 win over the Stars. JR Hattig and Mike Bautista share SZ POG with Hattig hitting the go ahead homer and Bautista coming out of the bullpen to shut down the Stars allowing no runs over five innings for the win. The Crusaders improve to 2-0 on the season.
Dongo Yigolos 7 Ralphy's Blue Jays 6
WP: Cody Dowless CG, 7IP, 6K, 7H, 3BB, 4ER
StrikeZone POG: Cody Dowless (Yigolos)
Josh Perez (BJs) 2-2, R, RBI
Carl Quintanilla (Yigolos) 3-4, 3B, 3R, RBI, SB
Dongo Yigolos scored two runs in the top of the 7th to break a 5-5 tie and held off a 7th inning rally to hold on to the 7-6 win over the Ralphy's Blue Jays. Cody Dowless went the distance for the Yigolos allowing four earned runs with six strikeouts to earn SZ POG. The Yigolos improve to 3-0 and sit atop the Budweiser Amateur Baseball League standings.
Vipers 14 Agana Heights Blues 4 
WP: Fred Malaca CG, 7IP, 10K, 2BB, 5H, 3ER, HP
StrikeZone POG: Fred Malaca (Vipers)
Guillermo Sablan (Blues) 2-2, 2RBI
Brandon Unpingco (Vipers) 1-1, 4R, 2BB, 2HP
Steve Diego (Vipers) 2-3, 2B, 3B, 3R, 3RBI, BB, HP
The Vipers would break a 4-4 tie in the 6th inning with Steve Diego tripling in Ron Reyes to give the Vipers a 5-4 lead. The Vipers would add insurance in the 7th inning scoring 9 runs to put away the Blues 14-4. Viper's starter Fred Malaca was impressive going 7 innings allowing three earned runs with ten strikeouts to pick up SZ POG.

QUICK HITS
The Guam Smokin' Hot women's softball team captured first place in the Asia Cup Softball Championships 2023 in Bangkok, Thailand.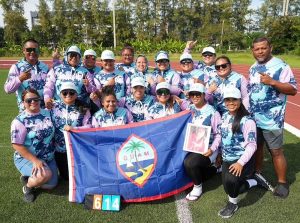 ——————————————————-
Roque Martinez gets the unanimous decision win Saturday night in his debut fight in South Korea's Black Combat promotions.
The 37-year-old controlled the tempo all three rounds and bloodied his opponent with some 3rd round ground and pound.