(Clark Freeport Zone, Pampanga) Guam's All Star Boys in the Little League Majors division suffered the loss against Saudi Arabia, 10-3, in the Consolation Game for 3rd place. place. Guam broke a 2-2 tie in the bottom of the 4th when Gavin Lim scored from 3rd on a throwing error. However, in the top of the 6th, Guam could not close the deal. Saudi Arabia went on a two-out rally scoring eight runs as Guam went through five pitchers in the loss.
Little League Majors Division
1 2 3 4 5 6 R H E
Saudi Arabia 2 0 0 0 0 8 10 9 2
Guam 2 0 0 1 0 0 3 6 5
Juniors Division
In the Juniors Division, Chinese Taipei defeated Guam, 12-1, in the semi-finals. Ruel-Yang Gulin took the win, while Andrew Blas suffered the loss. With the loss, the Guam Juniors are eliminated from the tournament. Chinese Taipei will face Hong Kong for the Championship on Saturday, July 5, 2014.
1 2 3 4 5 6 7 R
Chinese Taipei 1 5 2 1 0 3 x 12
Guam 0 0 1 0 0 0 x 1
WP: Ruel-Yang Gulin
LP: Andrew Blas
Big League Division
Guam's Big League All Stars went nine innings with the Commonwealth of the Northern Marianas (CNMI) in a pitching duel between Guam's Bill Quenga and CNMI's Lancaster Secharmidal. Both teams went scoreless for eight innings. The CNMI scored two runs on a two-run home run in the top of the 9th.
Guam came back in a two-out rally in the bottom of the 9th on the game winning hit by Nick Cruz to take the win, 3-2. Bill Quenga pitched nine innings for the win, while CNMI's Bret Halstead took the loss.
Despite the win, and finishing 2-1 in the 2nd round, Chinese Taipei wins the Championship after posting an undefeated record of 3-0 in both rounds.
1 2 3 4 5 6 7 8 9 R H E
CNMI 0 0 0 0 0 0 0 0 2 2 4 2
Guam 0 0 0 0 0 0 0 0 3 3 9 0
WP: Bill Quenga, 9.0 IP, 2R, 4H, 8SO.
LP: Bret Halstead
Guam finishes both rounds at 2-1.
Guam: Daniel Cruz, 1-4, RBI. Nick Cruz, 2-5, 2RBI. John Aquino, 2-4.Reynaldo Garza, 3-4.
Guam's Senior Division All Stars had the day off in preparation for the Championship against the CNMI on Saturday, July 5, 2014, at 11:00 a.m. local time.
For updates, scores, and schedules, visit www.littleleague.org.ph.

Athletes Birthdays by W5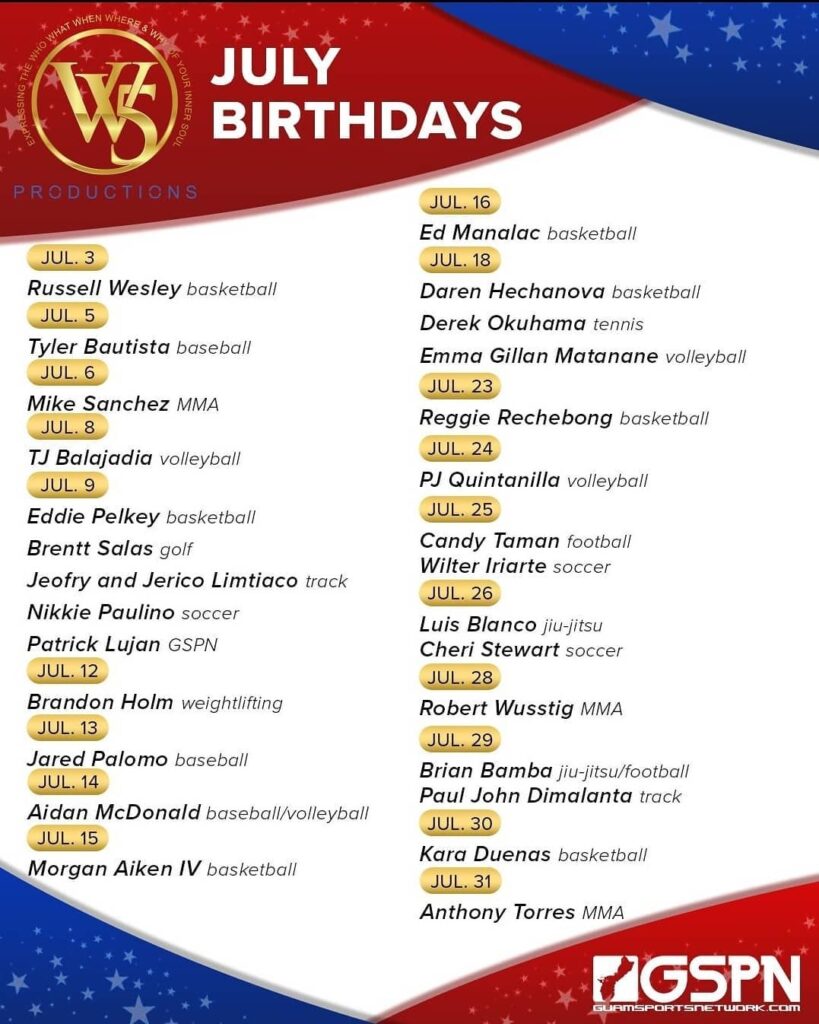 Foody's Fun Facts
Favorites From Year 2
COMING SOON …
2020 Tokyo Olympics
UFC Fight
Aug 1: Trevin Jones vs. Tony Kelley
QUICK HITS
——————————————————–
Guam's Joey Miranda met up with Chamorrita Softball Star Bubba Nickles and Olympic Teammates Dejah Mulipola and Aubree Munro out in Tokyo as we approach the Olympics!
Photo credit: GNOC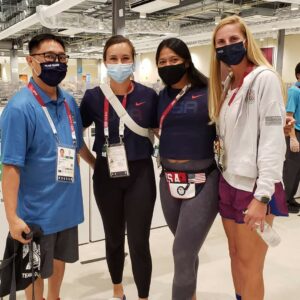 ——————————————————–
Former Guam resident Tre Taylor has committed to play cornerback for the Southwestern Junior College Jags.
Turner attended Harvest and FD before transferring to Hawaii where he played for Saint Louis, the 5th ranked team in the nation.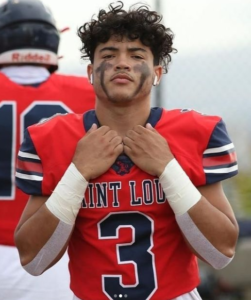 ——————————————————–
The big man Zach Banner getting to throw out the first pitch earlier today for the Pittsburgh Pirates!