By Patrick Lujan
It all started out as an idea in the Fall of 2013 to help promote his non-proft Soles4Soles organization which, ironically, helps people in need around the world with shoes and clothing.
Eddie 'Barefoot Bandito' Vega, a 1978 graduate of JFK High School, just accomplished something no other human has done in the world, and that is to run 50 barefoot marathons in a calendar year – breaking the mark on July 3, 2014 during the CAR Summer 7 Day Five Marathon Series in Long Beach, CA.
"I felt the biggest sigh of relief after crossing the finish line knowing that I have finally achieved my goal, one that I initially thought was nearly impossible, of getting the Guinness World Record," said the 54-year-old who currently calls North Carolina home. "I really didn't feel any differently other than a big burden has just been lifted because I did not disappoint my friends and family."
GSPN has been tracking Vega from the very beginning as he himself chronicled his feat starting with his initial plans and acceptance from Guiness to start the venture.
"Thank you, GSPN, for following my journey and especially for the publicity that helped create awareness for the 300 million children worldwide who are without shoes," Vega added.
Like any other plan, it doesn't usually pan out the way one would like. And with marathons, like life itself, there are obstacles that present themselves to add to the challenge.
During his halfway mark, the Bandito wrote about the challenges – mentally, physically and logistically.
He even got hit by a car running a marathon in Michigan on May 4. Did that stop him?
Absolutely not!
He even ran the 102-miler Bataan Death March Run in the Philippines that did NOT gain credit because he used shoes.
He pressed on with more adjustments throughout his schedule. Talk about perseverance and desire.
He'll run marathons the next five days to break yet another world record of most barefoot marathons in consecutive days with 10.
The submission date to Guiness is not until the end of the year. That means the Barefoot Bandito will try and make this record close to unbreakable and shoot for 100.
"That only means that there will not be as much pressure on me to complete the rest of the marathons I have scheduled until December 31st because any barefoot marathon above 50 is really just icing on the cake. But. knowing the all records are meant to be broken, I will make sure that my record will stay in the books for years to come and the way to do that is to make it nearly impossible for anybody else to break it by setting the bar very high."
That's an average of about two marathons per week.
Vega was born in the Philippines and raised on Guam since age 6, did not start running full marathons until 2007.
As of July 3, 2014, he has run 142 full marathons and 10 ultramarathons (distance of 50K or greater). Of these, 70 of the marathons were run completely barefoot. It is noteworthy to mention that as of June 22, 2013, Vega completed a marathon in all 50 United States while wearing shoes and, as of November 10, 2013, he also completed a marathon in all seven Continents. Vega is also on schedule to complete a barefoot marathon in all 50 States in one calendar year.
You can help Vega reach his goal to generate enough donations for 300 pairs of shoes for every marathon he runs barefoot in each of the 50 United States for a grand total of at least 15,000 pairs of shoes. Through the Soles4Souls charity program, every $1 donated will provide one pair of shoes to an impoverished child in the Philippines and the Pacific Islands who lacks adequate footwear to provide them with valuable protection from harmful wounds and infectious diseases.
You can make a donation directly to Vega's fundraising website: www.gofundme.com/ barefootbandito.
Vega is a former resident of Jonestown, Tamuning who attended Dededo Junior High School, Saint Anthony Catholic School and Tamuning Elementary School.

Foody's Fun Facts
Favorites From Year 2
COMING SOON …
WENDY'S ALL-STAR BASKETBALL
Friday, June 18
FIBA Asia Cup Qualifiers
June 18: Hong Kong vs. Guam
UFC Fights
June 20: Roque Martinez vs. Josh Parisian
July 25: Trevin Jones vs. Tony Kelley
QUICK HITS
Nadine Del Carmen graduated from Santa Clara University on June 11. She was named captain of the Santa Clara women's tennis team in her senior year and she will be attending Georgetown University in the fall to pursue her masters and will be playing for the Hoyas women's tennis team.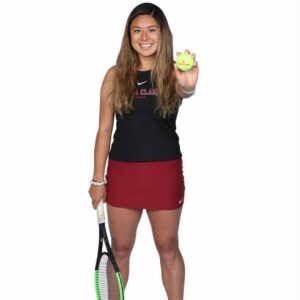 ——————————————————–
After a star-studded collegiate career at UCLA, Bubba Nickles turns her focus on the Tokyo Olympics with Team USA after the Bruins were eliminated in the College World Series. Nickles endured a broken arm on April 7 and worked her way back into the Bruins lineup for the WCWS. She will go down as one of UCLA's best softball players in its storied history.