[useful_banner_manager_banner_rotation banners=9,17 interval=8 width=120 height=600 orderby=rand]
By Kolby Chang
Local amateur fighters got a chance to showcase their style of fisticuffs at the tenth annual Guam International Boxing Council boxing and kickboxing event presented by Domino Lux and San Miguel Beer on Friday night at the Yigo gym.
Six boxing matches and five kickboxing bouts took place at the event. In the evening's final bout, Elite Muay Thai's Eric Sian and Guam Muay Thai's Ryan Perez threw caution to the wind and battled to the final bell in an entertaining back and forth war. Sian bulled Perez against the ropes throughout the bout and slammed Perez to the canvas several times using trips but Perez refused to lose as he fired back with big punches and kicks.
Sian walked away with the unanimous decision victory but it did not come easy against a very game Perez. 'Ryan was tough man. He didn't want to go down and I was swinging hard,' Sian said.
Sian, a brown belt in Brazilian jiu-jitsu at Purebred Jiu-Jitsu Academy, made his debut in the world of stand up fighting on Friday night and is now looking forward to competing in more kickboxing matches.
"It's a challenge. It's really tough. It's totally different from doing jiu-jitsu and it's a good way to step out of the box for a little bit," Sian added.
The previous bout between Guam Muay Thai's Christian Yanger and Ground Fu's Dorris Green nearly blew the roof out the building when Green demolished Yanger with a violent uppercut that sent him through the ropes. Yanger visibly got under the skin of Green with a pre-fight Muay Thai ritual that Green used as motivation.
"It kind of interrupted my game plan because after all of that I didn't know what to expect," Green said.
Green came out the aggressor and had Yanger on the ropes late in the first round with constant pressure. A left kick to the body from Green crumpled Yanger over and a left hook followed by a thunderous right uppercut turned out Yanger's lights and got the crowd on its feet.
In the evenings other matches, Robin Ecalevea of Guam Muay Thai got the split decision over Ground Fu's Junar Jesus after working Jesus over with thudding kicks to the body and controlling the clinch.
Vic Taitano of Ground Fu took out Elite Muay Thai's Mike Sanchez with a swift knee to the solar plexus that brought Sanchez down to all fours and forced the referee stoppage in the first round.
The event opened with six matches in the sweet science and Countershot's Mark Nalicat and Lights Out's Joseph Roque did not disappoint. After dropping Roque twice in their three-round encounter, Nalicat earned the win via unanimous decision.
Ryan Toves of High Blood Pressure Gym got the unanimous decision nod over Ultimate Martial Arts' Norman Defang in the second bout of the night.
Jorel Meno of Ultimate Martial Arts defeated Matthon Tomagan of Kontenda's by referee stoppage in the second round. Meno kept his foot on the gas throughout the match and bloodied Tomagan midway through the first round and would later drop Tomagan to force the standing eight-count.
Donovin Jay Santos of Lights Out stopped Andrey Olis of High Blood Pressure Gym in the third round with a flurry of punches that simply overwhelmed Olis and forced the referee to halt the bout after Olis could not continue.
Clinto Peredo of Raval's Gym got the split decision win over Spike 22's Zachary Flores in a highly competitive match that saw both boxers land good shots and counter effectively.
Jeremy Edwards of Guam Muay Thai used his length and ability to counter to grind out a win Ground Fu's Christopher Camacho via unanimous decision.
PHOTO GALLERY:

QUICK HITS
The Guam Smokin' Hot women's softball team captured first place in the Asia Cup Softball Championships 2023 in Bangkok, Thailand.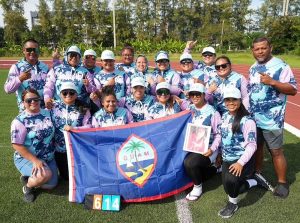 ——————————————————-
Roque Martinez gets the unanimous decision win Saturday night in his debut fight in South Korea's Black Combat promotions.
The 37-year-old controlled the tempo all three rounds and bloodied his opponent with some 3rd round ground and pound.