PRESS RELEASE – FAB
Agat Cardinals  5,  Dongo Yigolos  3
WP: Nick Cruz    LP: Cody Dowless
Strike Zone POG:  Brian Bunag (Agat) 2-3, 2 runs, 2 rbi
LEO PALACE PARK-   Budweiser Amateur Baseball League action took back to the diamond after battling soggy weather the past two weeks with the Agat Cardinals taking on the Dongo Yigolos.  Agat starting pitcher Nick Cruz and Yigolos starter Cody Dowless would battle it out with Cruz coming out on top as the Cardinals held off the Yigolos in a close 5-3 win.
The Cardinals jumped out to an early lead in the 2nd inning taking advantage of errors and Brian Bunag delivering a clutch rbi single to give the Cardinals a 3-0 lead.
Jacob Concepcion would get the Yigolos on the board in the 3rd inning with an rbi single scoring John Concepcion to cut the lead to 3-1.
Bunag would spark the Cardinals again in the 4th inning singling to lead off the inning and stealing 2nd.  Zach Tajalle would single and Sablan would drive in Bunag to give the Cards a 4-1 lead.
The Yigolos would rally scoring a couple unearned runs in the 5th and 6th inning but Cruz would hold off the Yigolos for a 5-3 win.  Agat's Brian Bunag was 2 for 3 with two runs and two rbi to pick up Strike Zone Player of the Game.
With only a couple regular season games remaining in the Budweiser Amateur League nly one game separates the top three teams in the AAA Division with the Rays on top at 11-5 the Dongo Yigolos in 2nd place at 11-6 and the Cardinals in 3rd place at 11-7.  The Chalan Pago Amigos are trailing close behind in 4th place with a 9-8 record.
BABL action continues this Saturday with games at 3pm and 6pm and Sunday with games at 12pm and 3pm at Leo Palace Resort.  Follow Budweiser Amateur Baseball League action live on Facebook/AmateurBaseball Guam and check out scores, schedules and stats at  www.guamstrikezone.com.
This weekends Games
Sat3pm    AXE StarsvsVipers
Sat6pm Agat CardinalsvsChalan Pago Amigos
Sun12pm Agana Heights BluesvsYona Redhawks
Sun3pm     Dongo YigolosvsRays

QUICK HITS
The Guam Smokin' Hot women's softball team captured first place in the Asia Cup Softball Championships 2023 in Bangkok, Thailand.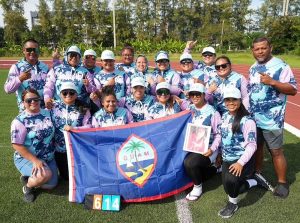 ——————————————————-
Roque Martinez gets the unanimous decision win Saturday night in his debut fight in South Korea's Black Combat promotions.
The 37-year-old controlled the tempo all three rounds and bloodied his opponent with some 3rd round ground and pound.